Visit Rockbridge
5 WAYS TO VISIT ROCKBRIDGE ACADEMY
1. Attend one of our Open House events.
January 18th, 7:30 PM [Preview Night]* @ TBA
March 18th, 8:30 AM to 2:00 PM @ the Main Campus (911 Generals Highway in Millersville)
Come review our curriculum, ask questions, and visit classrooms.
*Preview Night is the main event on the Admissions Calendar and is designed for prospective parents and students of all ages. The event features student demonstrations, administrator discussions, and a rhetoric student and teacher panel. Guests attending this very special event will learn more than they can imagine about our school. In addition to meeting our delightful students, visitors will also have a chance to ask teachers, coaches, parents, and alumni how Rockbridge Academy makes a transformational impact on its students' lives.
2. Join us for Interactive Story Time--for our youngest visitors.
Story Time offers children 6 and under (with a parent) a chance to listen to a read-aloud story and bring the story to life with hands-on learning activities. Rockbridge Academy's K-3 Campus hosts the event in the morning for a reading adventure.
Because this event fills up quickly, we strongly encourage you to RSVP as soon as possible.
Dates for Story Times are:
October 12, 2018 @ 10 AM
January 11, 2019 @ 10 AM
March 8, 2019 @ 10 AM
CLICK ON THE IMAGE TO RSVP!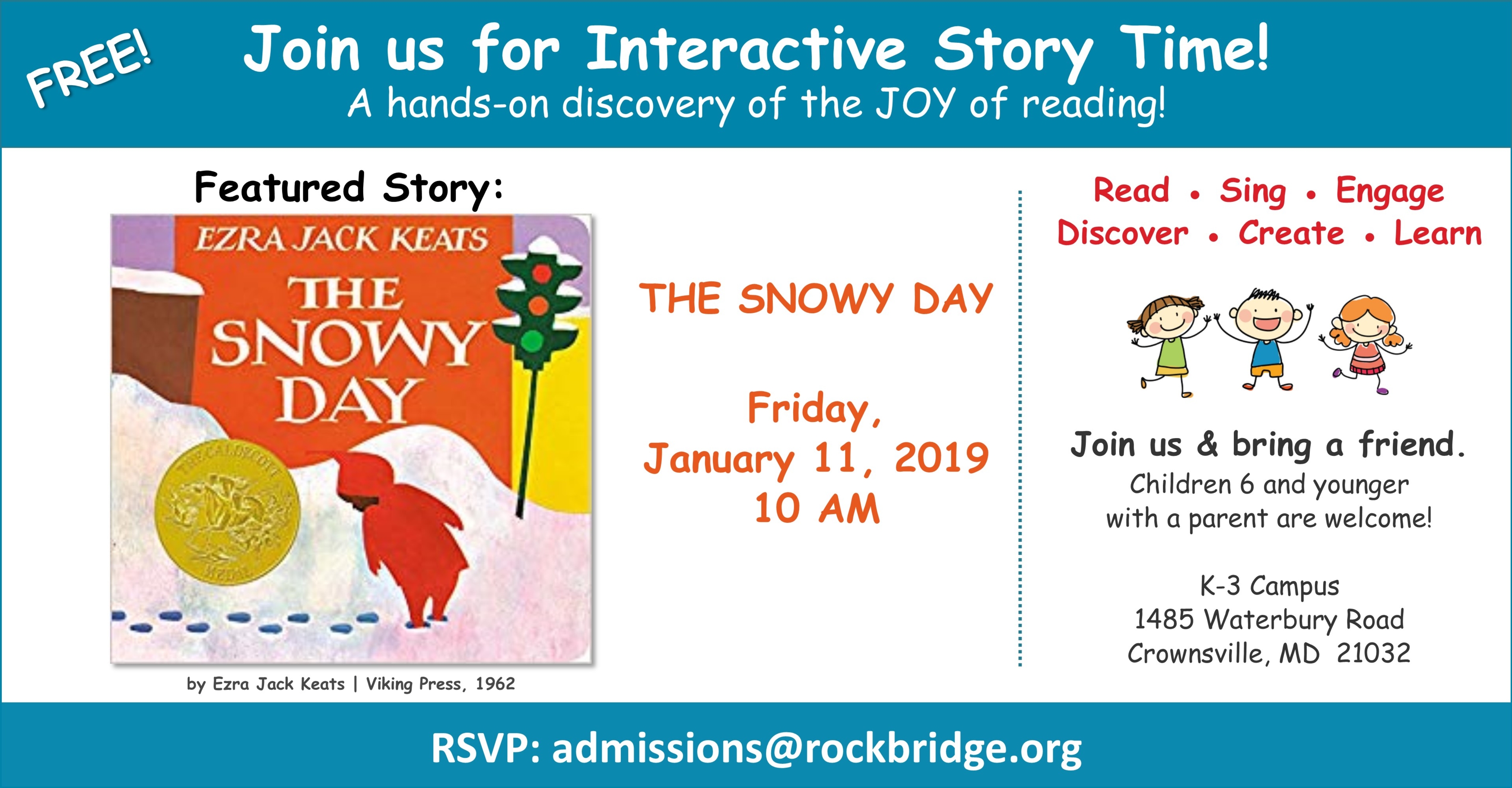 3. Come for an individual tour.
Individual tours are designed for prospective parents to learn more about Rockbridge Academy in a casual setting. Attendees will have the opportunity to hear directly from the admissions director and ask questions. We encourage visiting parents and students to observe a sampling of grammar, dialectic, and rhetoric classes. Meet our dedicated teachers and your child's potential new classmates, and be sure to ask them why they love learning at Rockbridge Academy.
Tours during regular school hours – starting anytime from 8:30 AM until 2 PM – are available by appointment throughout the school year and in the summer. Tours typically take at least an hour.
To schedule a tour, please call 410-923-1171 or email Admissions Director Julie Marsh at jmarsh@rockbridge.org.
4. Walk-in Wednesdays welcome all.
Walk-in Wednesday tours are similar to an individual tour which give prospective parents the opportunity to see the school first-hand alongside the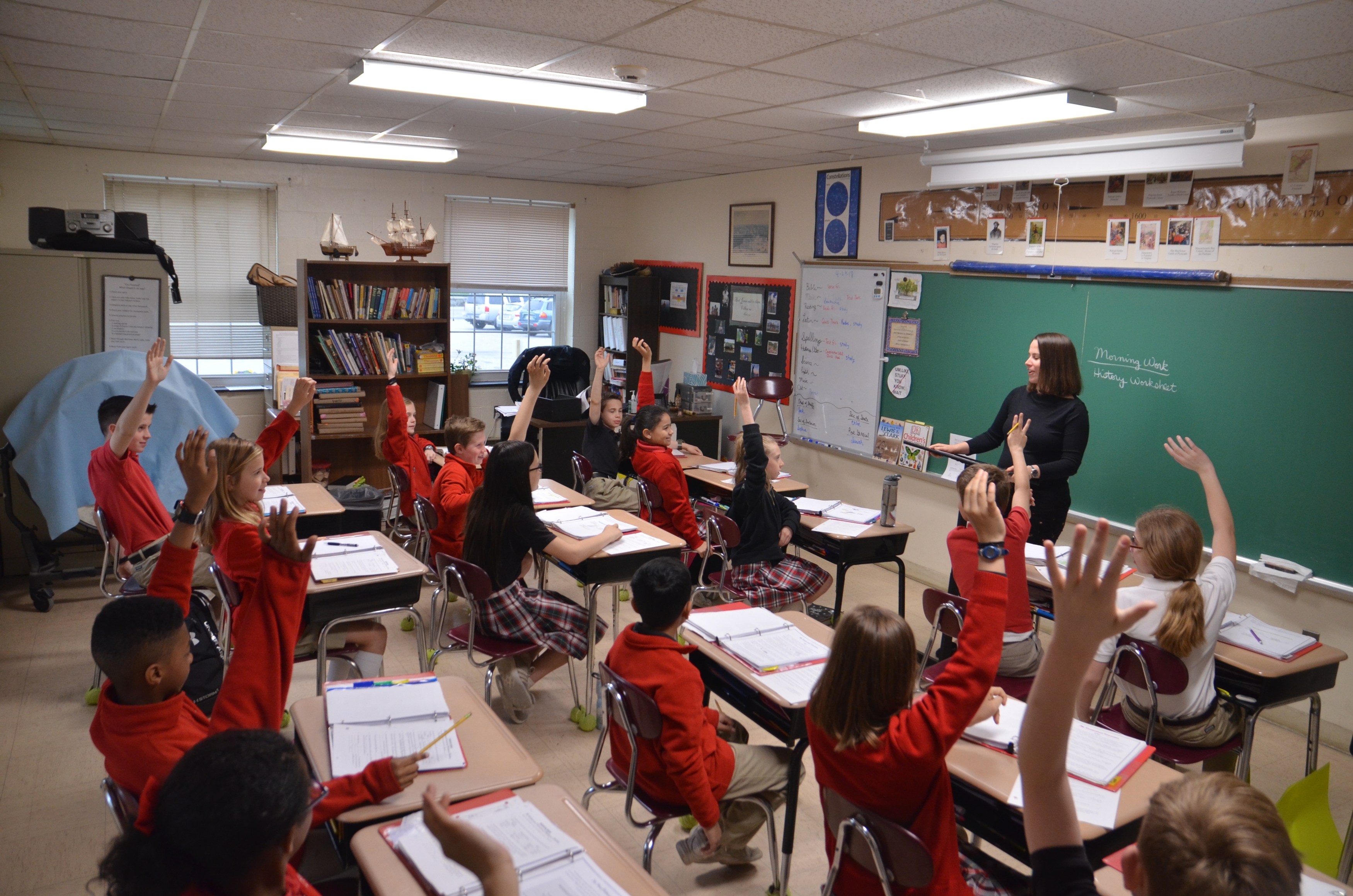 admissions director. Depending on turn out, visitors may be combined with other prospective families for a group tour.
No advanced notice required! Drop by our Main Campus (911 Generals Highway in Millersville, MD) on any Wednesday at 9:00 AM for our Walk-in Wednesday tours. Tours begin at the Main Campus, and both campuses are visited.
5. Shadow for a day.
Rockbridge Academy welcomes students who are currently in 4th grade or above to shadow with a current student to visit for part or all of a typical school day as you consider becoming part of the Rockbridge Academy community. Spending time in classes helps students and their families determine if the classical Christian curriculum is a good fit. As part of the application process for 5th grade and above, students write and submit a hand-written essay entitled, "Why I Want to Attend Rockbridge Academy." The shadow day will help to inform that essay.
All families with students wishing to visit during regular class time are asked to contact Julie Marsh, our Admissions Director, at jmarsh@rockbridge.org. We strongly recommend that parents complete a tour or attend an open house event prior to their child's shadow day. Please know that some days will not be ideal for shadowing due to tests or special events, so please be prepared to provide a few date options.
General Information
Rockbridge Academy offers multiple opportunities for prospective parents and students to learn more about our school. We welcome prospective students in grades 4 and higher to shadow a potential classmate to see a day in the life at Rockbridge Academy.
Things to consider when you visit:
Is there enthusiasm among students and teachers?
Are students attentive in classrooms?
Does the school desire what is best for my child?
Is there a caring environment?
Does the school share my values and teach a Christian worldview?
Is the campus safe?
Does the school encourage parent involvement and respect parents' sovereignty over their family?
Are students taught how to think?
Will my child receive personalized attention?