The Motor Lab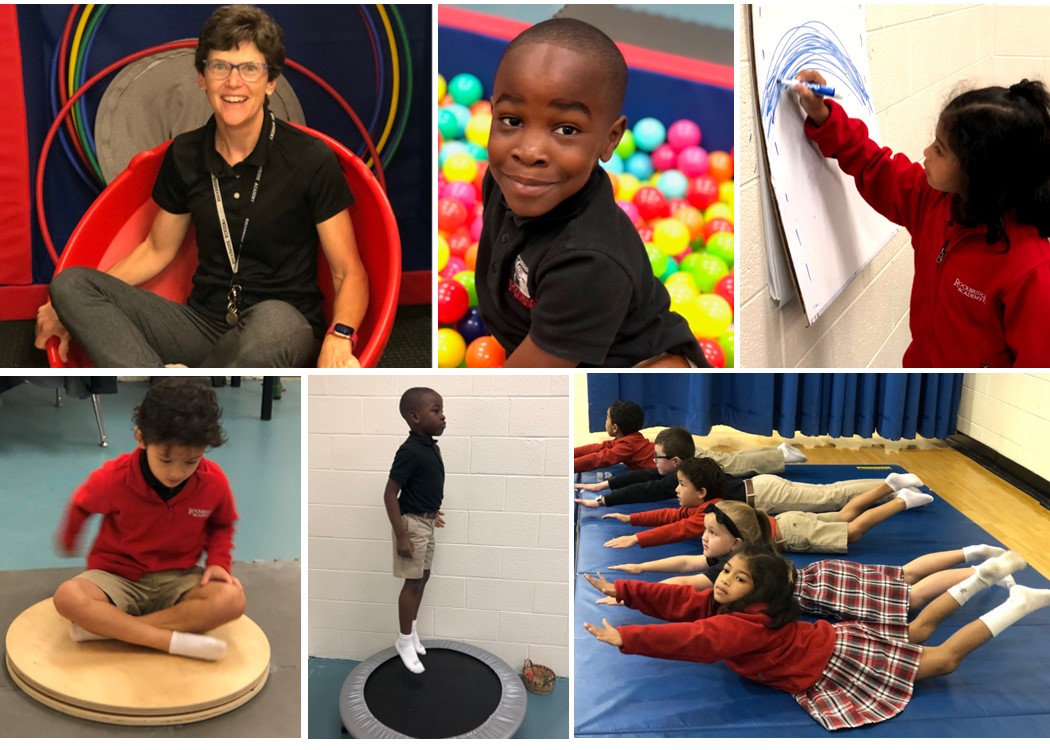 By Melanie Kaiss, P. E. Instructor and Motor Lab Director
The Motor Lab has been up and running (pun intended), and we have been having a grand time! All K-2nd grade students visit the Motor Lab twice a week to jump, roll, crawl, draw and spin. Activities in the Motor Lab target six specific areas of cognition that contribute to a child's facility for learning. Activities include a ball pit for the tactile system, a spinning board and balance beam for vestibular development, the trampoline and bear crawl stations for locomotor learning, and a key group of beginning exercises that build core strength, arm strength, neck and shoulder strength, and ATNR (asymmetrical tonic neck reflex) development. Wow! That's a lot to get out of 15 minutes, but it works! Classroom teachers have already noticed a difference in classroom attentiveness when students return from Motor Lab. Students, too, are excited about each new activity.
During each session of the Motor Lab, students progress through six different activity stations in groups of 2-3. Each child in the group takes a turn performing the activity for 1-1 1/2 minutes. Students are signaled to move to the next station when they hear a bell. Each week a new activity station is rotated in, while another is rotated out, to allow for varying degrees of difficulty and intensity. In these eight short weeks of school, students have developed considerable efficiency with the routines of entering, completing, and leaving the Motor Lab. Shoes have to come off, and go back on, and, at times, 16 children move around a small room filled with various equipment. Again, our students have done a great job acclimating to these new routines. They've demonstrated not only physical growth, but growth in obedience, consideration of others, and personal responsibility. This is exactly the kind of learning we value most at Rockbridge Academy, learning that integrates mind, body, and soul to the praise and glory of God. If you would like a peek at the Motor Lab, please stop by! Email first to be sure of our schedule.
Thank you to the generous families who contributed to making this Motor Lab possible! Please pray that this program will lay a strong foundation for our youngest learners!
The 5th grade Colonial Ball is one of the most anticipated feasts of the year in the K-6 grammar years.
We take the 5th grade Colonial Ball quite seriously around here! Students look forward to this day of celebration as they study their way through American history. The lunch feast includes colonial recipes prepared by many parents. The students engage in colonial pastimes including dipping candles, writing with quill pens, and playing the colonial version of bowling. To top it off, the class "retires to the ballroom" where they dance the day away with the Minuet, the Virginia Reel, and a square dance to "O Johnny."
Later in the spring, the class will take an overnight trip to Colonial Williamsburg—a mini-grand tour of sorts where they will visit shops and tour buildings set in the colonial era.
Learning Requires More Than A Classroom
While the classroom at Rockbridge Academy is a dynamic experience, true learning requires more than just sitting behind a desk. Students at Rockbridge Academy experience history through annual History Feasts and events like the K-6 History Parade or 9th Grade World War II Day. Our science curriculum leads students to explore their world through events like regular Kindergarten Enrichment visits to Kinder Farm, 4th Grade Leaf Identification Days, or the 10th grade DNA lab day at Owen Science Center. Curricular field trips in grades K-6 range from the 1st grade trip to the St. Mary's City to the annual fifth grade overnight trip to Williamsburg, or the 6th grade trek through the battlefield at Gettysburg. Upper school experiences like Junior and Senior Soirée prepare students for social skills beyond high school. Meanwhile, day trips to historical and educational sites in the greater metro area culminate in one of the capstones of the Rockbridge Academy experience, the 18-day Grand Tour to Greece and Italy, where rising seniors reflect on their breadth of classical knowledge while being challenged to interact with the wider world.
Mrs. Stevens, upper school art and humanities instructor, took 13 painting students and a handful of parents to New York City to take in the various forms of art throughout the city. It was 3 full days of touring the city, the museums (The Met and The Cloisters), the 911 Memorial, the New York Public Library, Central Park, Times Square, the financial district, and various cathedrals. We saw the Brooklyn Bridge by ferry, walked over 20 miles throughout Manhattan, conquered the subway system (or at least we didn't lose anyone!), and attended service together at Redeemer East Side.
All the while, Mrs. Stevens, challenged the students to think about what they saw:
Why was this art created?
Who was it for?
How important is the language of symbols?
Who chooses what a culture values and preserves?
How does curation impact our experience of art?
What repeated themes are seen in art?
What are the purposes of public art?
How is our creative capactiy evidenced in our worship?
What is the responsibility of the Christian artist in the Church and the world?