Dress Code Philosophy
Rockbridge Academy seeks to glorify God in both the character and culture of the school. The manner of dress and personal grooming of students should reflect the Christian, classical, and scholarly image of Rockbridge Academy. The expectation is cheerful and consistent compliance with uniforms from the parents and students, and correspondingly cheerful and consistent enforcement by the school staff.
The Dress Code Policy is an expression of the following values: unity, simplicity, order, and modesty. Consistently following the code contributes to the learning atmosphere by lessening distraction. The uniform, by design, is non-conspicuous and free of trends that are associated with social status. Compliance with the code is a daily challenge to students to place others before themselves.

Uniform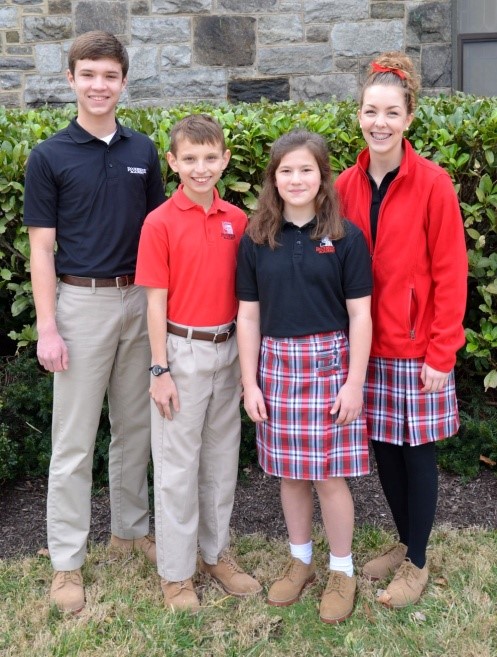 The Rockbridge Academy uniform standard includes a Daily Wear option for all students. Upper School students opting to wear this uniform must also be prepared for the days when the Dress Uniform is required. The Dress Uniform is required whenever a student is giving a speech or oral presentation, when going on field trips or attending an in-school assembly, and when directed by the principal for appropriate school events. The Dress Uniform may also be worn any day outside of the required days.
Grammar students are required to wear the Field Trip Uniform for Monday Morning Catechism, on field trips, and for special events and ceremonies as instructed by their teachers. Tuesdays through Fridays, athletic shoes may be worn year round. Athletic shoes are required on the student's PE days. Boys may wear khaki shorts on any non-Dress Uniform day in September, October, April, and May.
The uniform has been updated effective April 2023. The period from April 2023 to June 2024 will be a transition period during which students may choose to wear either the old uniform or the new uniform. The two uniforms share many common items; however, students may not combine unique elements from the two uniforms unless specifically noted. For the most up-to-date uniform information and for more details regarding our dress code policy, please click here.
If you need to view the prior uniform policy, please click here.
Purchasing Uniform Clothing Options
All uniform pieces are to be purchased from Lands' End. Rockbridge Academy's school code with Lands' End is 900030701. Parents should be aware that Lands' End frequently offers discounts of up to 40% on items at their website, as well as free shipping.
Rockbridge Academy also supports the Rockbridge Academy Uniform Swap. Access our online, year-round used uniform inventory HERE. Shop or submit outgrown uniform pieces anytime! Acceptable used brands include Lands' End, Dennis, Arthurs and Kaynee. Need help? Send questions to uniformswap@rockbridge.org.