Rockbridge Academy Blog
May 17, 2023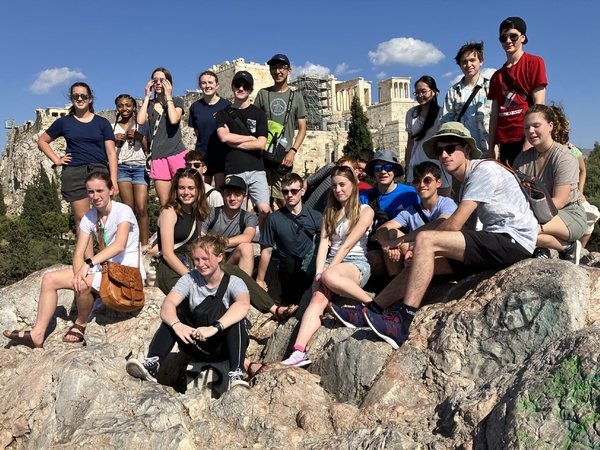 It is the trip everyone looks forward to from kindergarten, the capstone of classical Christian education at Rockbridge Academy: Grand Tour. Grand Tour is a seventeen-day trek through some of the most historic places in Greece and Italy, where we spend nights in seven different hotels and a ferry, eat amazing food, and experience ruins, churches, museums, and breathtaking views. I'm grateful for the incredible experiences and learned valuable lessons along the way.
1. The priorities of man have not always been the same.
What a society creates says much about what they value. For instance, the Parthenon is a Greek temple in Athens whose construction began in 447 BC and is mostly still standing today. Clearly this temple was built to last. Many of the cathedrals, chapels, and basilicas we see in Italy are multiple centuries old and still in use today. We don't have anything like that in the United States. In fact, we usually have the exact opposite. Our culture values efficiency, not longevity. We mass produce cookie-cutter houses in huge neighborhoods, get our coffee in cardboard cups without leaving our cars, and Amazon Prime just about everything. It is easy to forget that our priorities were not always the priorities of the past and still aren't the priorities of people in other parts of the world. I went to restaurants where we ate dinner for three hours and saw buildings that are three times the age of our entire country. It was fascinating to step into another culture and experience their different values and priorities.
2. Man's creations do not last forever.
Despite such an emphasis on longevity, it became abundantly clear that man's creations do not last forever. Even with the impressive efforts of the ancient Greeks, there are extensive portions of the Parthenon missing and much of what we saw in Greece are now in ruins. The fact that any of these temples, villages, and buildings still exist in some capacity today is incredible. However, the ruined state of man's labor serves as a humbling reminder of man's limitations. The fallen pillars and marred stones stand in stark contrast to the giant mountains in Delphi, clear water on the Gulf of Corinth, and beautiful countryside in Assisi, all of which remain majestic and unscathed. This is God's creation, utterly immovable and long lasting, and it is far greater than anything man could dream up himself.
3. All of man's creation points to the ultimate Creator.
Although man's creations are unimpressive beside God's majestic work, we continue to create. It would be absurd to assume that anything man makes is entirely from his own volition and ideas. All that is in this world was inspired by God and is under His dominion. This being the case, everything we create points to the ultimate Creator. This fact was incredibly evident on Grand Tour. Greece's many ruined temples are evidence of the emphasis placed on a supreme being, and the art and architecture of the Enlightenment is steeped in religion. One can not walk out of the Borghese Gallery without at least contemplating a higher power. The way Saint Peter's Basilica constantly drew my eyes heavenward or the way Michelangelo's sculptures celebrated God's greatest creation reminded me of the one whom we all will ultimately glorify. Creating is a gift unique to mankind, and it is a gift that magnifies the true Creator.
4. "All are from the dust, and to dust all return" (Ecclesiastes 3:20).
Possibly my favorite site we visited on Grand Tour was the Catacombs. The Catacombs of San Callisto is an ancient burial site in Rome where approximately five hundred thousand Christians were buried. We were able to descend into the Catacombs, walk through a few of many passageways, and see now empty graves and burial chambers which used to hold ordinary Christians as well as popes and martyrs. At one point along the way, I saw a glass case that held the disintegrated remains of a boy who had been buried in the Catacombs. What had once been a walking and talking human like me was reduced to powder, and all I could think of was that verse from Eccesiastes: "all are from dust, and to dust all return," (Ecc 3:20). In Genesis 2, God created the first man out of dust from the ground and breathed life into him. It was a quieting experience to walk where my brothers and sisters in Christ had once laid their dead and remember that even the bodies of God's people will one day return to the ground. However, it was also a joyful reminder of God's grace and faithfulness that the dust of our bodies is not the end of our lives, but rather the beginning of our soul's eternity with Him.
5. Beauty is essential.
If you go on Grand Tour and your jaw does not drop at least once a day, you are missing something. Beauty is everywhere, but it is incredibly evident on this trip. It was present in the Grecian countryside, in the main temple ruins, in the middle of the Adriatic sea, and in every painting, church, and sculpture. As we began to see these churches, I wondered about the morality of putting so much money and resources simply into making something beautiful. After all, Christians can worship God in a hole in the ground just as well as they can in the Sistine Chapel. However, the further along we got, the more convinced I was of the importance of beauty. I will not pretend to know the motives behind all of the beautiful churches, paintings, and sculptures we saw, but I can speak to the reaction they evoked. I and those around me were continually in awe. The beauty of these places created an environment that demanded reverence. Yet, for me, it was never toward the beautiful thing itself or the man who made it, it was always for a God who allows beauty such as this to exist. Man was created to marvel, and it seems that proper beauty evokes its siblings, goodness and truth, in such a manner that makes our God simply undeniable.
I could not be more grateful for the opportunity God has given me to go on this trip and learn these lessons along with many others. Grand Tour is a time to learn: learn about yourself, learn about your classmates, learn about God, and learn about His majestic creation. Grand Tour is truly unique, and its blessings are beyond words. I look forward to seeing what future Rockbridge students learn in Europe!
Olivia Reardon, '22, is attending Messiah University where she continues to pursue her passion for reading, writing, teaching, and dance. While she loves learning, quality time, and ice cream, she is particularly passionate about serving Christ in all that she does and says.
May 11, 2023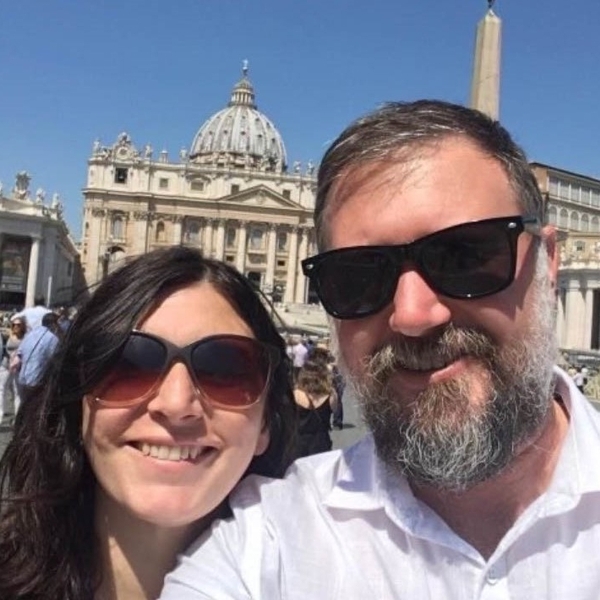 One year ago, Mr. Northup retired from teaching at Rockbridge Academy after being diagnosed with brain cancer. Mr. Northup greatly impacted my life so when I was given the opportunity to write about his life, I took it. This article is dedicated to Mr. Northup and his family for their 17 years of love and support of Rockbridge Academy.
I know many of us are wondering how he is handling the cancer, but more so why he, of all people, got cancer. Mr. Northup was one of the greatest Bible teachers I (and all of Rockbridge) could have asked for. He displayed his faith in every word and deed, and his love for his students and the subjects he taught was unmatched so, why did Mr. Northup get cancer? This question can be restated in this infamous question: why do bad things happen to good people?
That was my main question for Mr. Northup, and he answered it. Before I reveal exactly what he said, make sure to actively look for the providence of God in Mr. Northup's life throughout the rest of this article.
Mr. Northup was born in Rhode Island and moved to California a year later. At eight years old in California, he dreamed of becoming a real-life Tarzan but he had two problems preventing him from becoming the rope-swinging monkey-man. For starters, he lived in California, and one cannot be Tarzan when climbable objects are limited to a "cactus and a palm tree in the backyard." This problem was solved when he moved back to Rhode Island the same year where trees grew as commonly as the California cacti. His other problem was more serious: he needed a Jane, but where to find the perfect girl? He did not need to look far; across the street lived the future Mrs. Northup, Merry Dupre. Mr. Northup said that from a young age he knew he was going to marry her. If she made a great Jane, which she did, then she would make a great wife. Obviously, he convinced the girl across the street that he was worth keeping around as they have been married for 27 years and have had five children.
Mr. Northup's youth in Rhode Island involved street fights and big older brothers. Our teacher was small for his age but hotheaded. He was known for roughhousing and the kids on his street beat him up multiple times. However, they stopped picking on him after Merry's brother began looking out for him. Her brother was big and strong with a statement 70s hairstyle, a mohawk.
While Mr. Northup had his fair share of fighting, he also spent a good amount of time in church. He was brought to church as a child, but only began searching for God in his teenage years. He told me that, "Everyone at church had a testimony but I didn't." Mr. Northup decided to change that by becoming a rebel until he had a good story to tell.
Mrs. Northup said this time was short lived once they had their first child, Samuel, when he was 17 and a daughter, Nadia, at 18. With two children and little stability, Mr. Northup decided to start bringing the family to church, but he made a mistake and joined, as he called it, a "cult" instead. The church that the Northup family joined preached that one's salvation depended upon their daily missionary work. One had to share the gospel every day to a random stranger to secure their own salvation. Mr. Northup realized that this teaching did not match his understanding of the Bible from his youth. The dissonance between his understanding of the Bible from childhood and what this church was preaching lit his heart afire for God and truth.
Mr. Northup was hungry and curious to know God's word, so he sought out the youth pastor from the church he grew up in and began a mentoring relationship with him. To make ends meet he worked as a mechanic until he pursued seminary at age 20. He brazenly decided to attend Moody Bible Institute in Chicago. At first, the college rejected him but that did not stop our teacher. He caught a flight from Rhode Island to Chicago to meet the admissions board face to face. He told them, "I am going to come, but how do I do this?" Seeing the passion of this young teacher changed the hearts of the board. Mr. Northup's grades were not great, and he was behind in the necessary schooling, but his heart was ready to tackle any obstacle presented to him. The college offered him a deal: he would take night classes until he was ready for full admission into regular daytime classes. Eventually, Mr. Northup worked his way up to those daytime classes and even earned a full ride. During this time, he moved his family out to Chicago and received free housing from a nearby church in exchange for his cleaning services. His living costs were low, so he only had to provide food for his family. Thankfully, the window washing business was booming and he received a job cleaning windows for around $100 an hour.
Here, Mr. and Mrs. Northup had their third child, Josiah. After finishing college with a wife and three kids, he moved back to Rhode Island, desiring to impact children's lives. He first thought about working at summer camps, but a week or two was too short to create a lasting impact. He then considered becoming a pastor, which he did for three years, but he still wasn't achieving his goal of teaching children. He decided to change careers once more and become a teacher.

The first and only school Mr. Northup taught at was Rockbridge Academy. When deciding where to teach, Mr. Northup and his wife asked the question, "Who do we want our kids to be?" They came upon this one, strange way of teaching called classical Christian Education. They fell in love with the idea of teaching children with a focus on the liberal arts but centered around Christ. Mr. Northup told me concerning classical Christian Education, "This is the way Christians ought to be training their kids." The Northups found a classical Christian school called Rockbridge Academy which they thought embodied the classical Christian spirit and teaching they desired for their kids. Mr. Northup applied to work here and hit it off with the school board, landing the job for a Bible teacher. He served at Rockbridge for a total of 17 years and during this time, had two more children, Luke and Emma. I asked him which Bible class he enjoyed teaching the most and he answered, "Christ in the Old Testament . . . We get to explore the question 'where specifically is Christ?'"
Sadly, as we all know, Mr. Northup has left Rockbridge and pursued treatment for his cancer. He said that in these hard times, his wife, Merry Northup, has been his continuous rock and constant companion, a true helper. He is also very grateful for the time he can now spend with his immediate family and his three grandsons. God's providence, which has shown itself time and time again, is clearly woven throughout Mr. Northup's life. God has provided in countless ways from protection in his youth to free housing in college and ultimately a job at Rockbridge Academy. To end this story, I want to provide you with Mr. Northup's answer to the question, "Why do bad things happen to good people?" He said, "This sounds cheap, but I don't think that people are good; I think that God alone is good and He's gracious. I don't expect that I should get things because I'm good or because I'm not. He is. That's one part. The rest is grace. He's been gracious to me with everything from my family to provision. I don't expect that I should be taken care of. Everything is grace. I am grateful for the provision of my family. I can't do anything more than simply be grateful. I don't know if that's the right way to think about it, but that's what I think."
Hannah Bates is currently in 11th grade and a member of the Rockbridge Review (student-run school newspaper) editorial team.