Rockbridge Academy Blog
September 21, 2022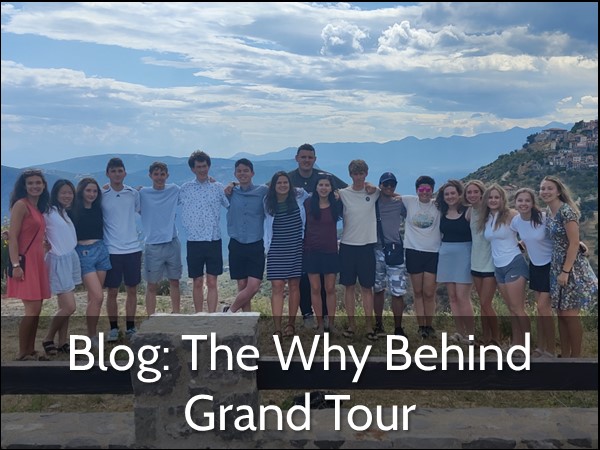 Ever since kindergarten, my fellow students and I looked forward to Grand Tour as the highlight of our Rockbridge Academy careers. From Latin and history classes to field trips to cultural feasts and soirée dinners, all of our education foreshadowed our class trip to Greece and Italy in the weeks following our junior year. When I try to explain Grand Tour to family or friends outside of this community, I usually refer to it as "a sort of senior trip." The truth is, though, Grand Tour is not just your typical senior trip—a relaxing week at the beach or skiing in the mountains. Grand Tour enriches both our classical education and Christian relationships within each class.
First, Grand Tour is distinctly classical. We don't visit England, Germany, Israel, or anywhere else directly involved in our national or religious history; we visit Greece and Italy. This confuses some people: isn't our recent history more important and influential for us now in America? After all, they would say, Greece and Rome haven't affected monumental worldwide events for thousands of years. Some of this is true, but, as a classical education emphasizes, what did happen way back when irreversibly shaped the entire western world. We see Greek and Roman culture in our government, art, architecture, language, sciences, philosophy—the list goes on and on. For hundreds of years, as Europe formed out of the chaos of the Dark Ages, leaders looked back to authors like Plato, Aristotle, and Vergil to see how a successful and prosperous country should run, and how its leaders should act.
This past summer, the school worked hard to make sure both the classes of 2022 and 2023 could experience the Grand Tour:

Throughout our Rockbridge education, we study these authors, thinkers, and cultures, tracing their influence all the way to the modern era. Instead of only learning from our immediate past, we go back to creation, where everything began. We then move to Greece and Rome, where ideas and ideals were more developed. Lastly, we see how all these past events have impacted today, where we can make a difference. This is what separates classical Christian education from other models: an integration of God's sovereign story into every class and all of history.
Second, Grand Tour is not only educational for the mind; it also fosters a precious brother-and-sisterhood between classmates and fellow believers. In fact, I saw the presence of Christ more strongly in our informal Bible study and hymn singing the Sunday we spent ferrying across the Adriatic Sea than in many luxurious cathedrals. Relationally, my whole class grew in leaps and bounds.
In May, before the end of school, the teachers told us to write out our "best selves" and our vision for our class's "best self." We then picked two accountability partners, who would encourage us to maintain those best versions throughout the trip. On our way to Delphi about a week into the trip, Mrs. Ball warned us that this was when most classes fell apart and started to get tired of each other's company. Instead of succumbing to our tiredness and the temptation to do exactly that, we turned it into a joke: "Oh no, Drama at Delphi!" That evening, nothing had happened yet, and we were feeling pretty good about ourselves. Still, Mrs. Ball and Mr. Keehner were not convinced and encouraged us to have "accountability sessions" with our partners in order to check on how we were doing so far. One talk led to another, and soon several of us were involved in deep conversations about our actions as individuals and as a class. We started to realize that we definitely weren't as relational gracious as we had believed and identified some major problems with our thoughts and actions. We grew closer as we went through this sanctification process together.
That night, and successive rooftop, balcony, and garden discussions, made me more thankful than ever for a strong, supportive community of Christians who are still growing, just like me. On Grand Tour, we shared more of our hopes and struggles than we had ever been able to do before. In fact, I had the privilege of watching a dear classmate come to Christ on the trip; the new light shining from within her almost blinded me, it was so bright and evident. We hope and pray that these class experiences will enable us to better enjoy each other, lead the school, and praise our Savior for His goodness in this coming year.

Jane Farr, '23, loves playing soccer and various intramural sports at Rockbridge as a break from studying. The rest of the time, she can usually be found reading, playing the flute, or making yummy food to share with family and friends.

September 08, 2022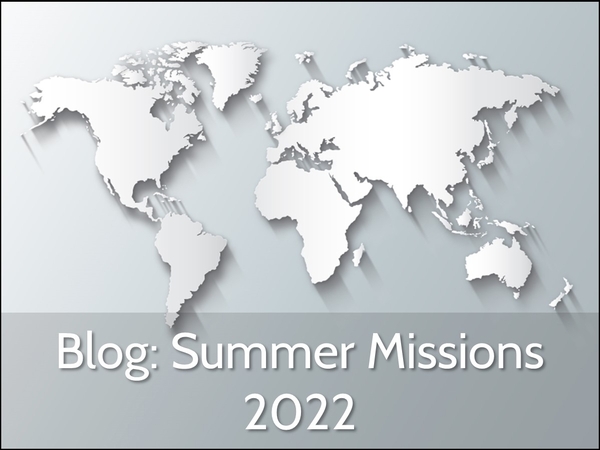 Here at Rockbridge Academy, we highly value service towards others as every human is made in the image of God and loved and valued by Him. As a result, Rockbridge students are continually immersed in service activities, and the summer is no exception. Our students served kids in VBS (vacation Bible school), ran Christian summer camps, helped at medical clinics in Guatemala, taught English in Mexico, and everything in between. From local churches to out-of-state camps to overseas missions, our students have been busy serving God's people. Here are what a few students have to say about their experience.
Sarah Daly, Class of 2021, served as a camp counselor at Summer's Best Two Weeks in Pennsylvania. She said, "Working at camp has taught me a lot about how God works despite and even through my weakness. I've been confronted with my inability to change campers' hearts and I've been forced to trust that He is working while the campers are here and after they leave. It's hard to spend two weeks loving and ministering to campers and then send them back to sometimes very spiritually dry homes, but I've been forced to trust God to bear fruit in their lives. He is faithful and good."
Working out of state has allowed Sarah to interact with people she doesn't normally. Sarah said, "I've been really encouraged to work with a staff of around 100 college students who come from many different backgrounds but all are united by their love for the Lord. Hearing everyone's unique testimony had reminded me that God is continually preparing a people for Himself."

Bailey Lamar, Class of 2024, traveled to a school in Mexico to assist with VBS and English training for high school students. He said, "My missions work showed me how important prayer is for a community. We were teaching English at a school in Mexico and got a chance to hear how the school was founded. A missionary went all around Mexico looking for land to start a Christian school. He found the land he knew would be perfect, and began asking the owner to sell it to him. The owner told him no. For a year he asked, and the owner refused each time. Finally he prayed, telling God that he would ask one last time and praying that this time the owner would say yes. He did. Hearing this story amazed me, because I saw God can use one man's prayers to bring many to Christ.

Being in a different country, Bailey was immersed in a different culture where he met people different from himself. He said, "Working with other teenagers in Mexico really showed me how Christians can be hospitable; they were the nicest people I have ever met. They would always ask us questions and be interested in what we said, and they would always joyfully include us even if it meant they had to speak their second language or carry us in their soccer games. Their hospitality is something I hope all Christians can imitate."

This past summer after her 11th grade year, Eden Logan, had the opportunity to go to Uganda and lead a children's Bible study camp, help with home visits, and generally spread God's gospel and love. She said, "I have never been more heartbroken and joyful than when in Uganda. I witnessed a ministry that takes despairing, diseased kids and gives them hope and life–both physically and through Christ. The joy I saw there, despite such poverty, inspired me more than ever to work overseas as a medical missionary, and I pray that God will lead me back there!"
Eden also was presented with the opportunity to meet and learn from people very different from her. She said, "I saw a farmer, so poor his house was literally crumbling, worshiping God from the depths of his soul. I realized, even though I could barely understand his words, the Holy Spirit had connected us in our love for the Lord. God's people are more united than I had ever realized, even across boundaries of language, oceans, and culture."
God's people are everywhere, which means you can serve wherever you are. These students have blessed people around the world, some just walking out the front door while others stepping onto an airplane. No matter how different a culture or a people may seem, we all have at least one thing in common: we are all made in the image of God. And, between Christians, there is an unmistakable bond that transcends language and culture. We all serve the same living God and one day we will stand before Him as one people proclaiming His name with one voice. I am thankful for all that our community does to serve and I hope the examples of these students can remind us that all kinds of service is needed and every action done to further God's kingdom is infinitely valuable.
Recent Posts
Categories
Archives