Rockbridge Academy Blog
Posts Tagged "running"
November 04, 2021
When I was in 9th grade, I puzzled over the final lines of Rudyard Kipling's poem "IF": "If you can fill the unforgiving minute / With 60 seconds worth of distance run / Yours is the Earth and everything that's in it, / And—which is more—you'll be a Man, my son!"
Running for a minute can't literally make you mature. But as I am in my fifth year of coaching middle school cross country, I'm realizing that those lines hold a lot of truth. Coaching cross country has been a metaphor for many spiritual lessons God has been shaping in my life.
As you might expect, cross-country shows me the power of courage and perseverance. Students don't have to be star athletes to join our middle school team. They only have to be willing to work. Drastic improvement is a frequent occurrence on the middle school team. Runners who nearly melted after warm-up in August are running two miles with no trouble by November. A friend reminded me that our college had a T-shirt that said, "Come as you are, leave different." I would say this is true of cross country. It's not just showing up that causes you to change, though; it's the hard work you put in day after day. All are welcome, but be warned—you WILL see improvements if you work.
This is just the obvious lesson, though. It's the other lessons that I least expected and that I love most. For example, cross-country has taught me to not fear discomfort. It's pouring rain? So what. We're running. It's hot outside? So what. We're running. You can't feel your fingers? Don't worry. They'll warm up while running. It sounds miserable, right? But somehow, choosing to take on the challenge lets us see we don't have to be afraid of what life may throw at us. So much of our culture's mindset is focused on making life comfortable. But choosing to be uncomfortable—choosing to put myself in pain in order to train for the worthy goal of winning a race—shows me how much I miss when I avoid discomfort at all costs.
By not being scared of a few aches and annoyances, I've experienced so much more of God's good earth than I would have otherwise. The fun of leaping over (and in) puddles in the pouring rain. The fall sunset that cuts through the trees with its warmth. The force of the wind that almost blows me over as I stand on the sidelines, cheering on runners as they tear against the wind towards the finish. I would have missed all these memories had I been huddled by my heater instead. And I would have missed these chances to glorify and enjoy God, who made this earth and gave me the life and health to delight in it.
I don't enjoy the cross country season alone, though, and cross country has taught me the power of a team. Cross country is not a contact sport. But cross country is, nonetheless, a team sport. It would be nearly impossible to train as hard, run as far, and have as much fun as we do during the cross country season if we didn't have each other: coaches, runners, and parents. We set goals for each other and hold each other accountable for meeting our times. We sing songs for each other and run alongside each other when we are tired. We bring Gatorade and cookies to celebrate races, and we make posters to cheer on our big brothers and sisters on the varsity team. At the end of practice, we huddle together, sweaty and smelly, literally laying our hands on each other, and pray for each other.
We walk through much of life alone, and in cross country no one can run your race for you. But it's the teammates—who run with you when you're tired, give an encouraging word when you're down, and get you a Gatorade when you're sick after a race—who make it possible to press on. Thankfully, this kind of love doesn't stay contained to the cross country field. I have made friendships with students, parents, colleagues, and church families, and I know I can lean on them even after the championship race has been run and awards have been given. I hope they know they can lean on me too.
The author of Hebrews, like Kipling, saw running as a metaphor for life: "Therefore, since we are surrounded by such a great cloud of witnesses, let us throw off everything that hinders and the sin that so easily entangles. And let us run with perseverance the race marked out for us." He saw that this race was not a solitary event; the runner is surrounded by a "great cloud of witnesses." My cross country runners have witnessed to me about the power of perseverance, the joy that can come amidst suffering, and the tremendous effect the love of a team can have on a person's attitude about life.
October 29, 2020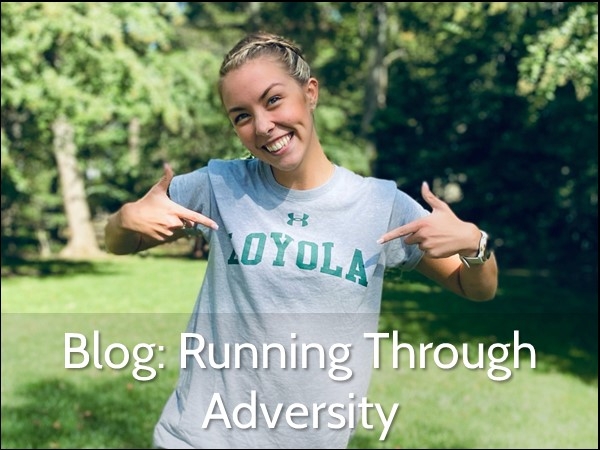 Lauren Bailey views every opportunity to run as a privilege. While Lauren's teammate for two years, I would be nervous on the starting line right before a varsity cross country race, and she would remind us to appreciate the chance to run. Even now that she has graduated from Rockbridge, this mentality has stuck with our team.
Lauren Bailey is a 2020 Rockridge graduate, who is now a freshman studying at Loyola University and running on their Division I cross country and track teams. She started running in fourth grade and has loved it ever since. Since the Bailey family lived at Belvoir while Rockbridge owned it and held cross country practice there, she joined the middle school for practices often in fourth grade, officially joining the team as soon as she could when she entered fifth grade.
Despite her love for running, her running career came with the setback of frequent injuries. "It was my dream to run in college," Lauren told me. Yet her injuries made it difficult for her race times to progress systematically, stunting the potential for colleges to be actively recruiting her. Because of this, "I just assumed that I couldn't [run in college]," she said. Now that her dream has come true, however, she told me: "to say that I'm excited is an understatement."
Lauren originally applied to Loyola University without expecting to try out for cross country. She valued the school's community atmosphere, along with the liberal arts education offered there; she is double majoring in political science and philosophy. When training this summer, her plan had been to try to walk onto the cross country team as a sophomore, yet she decided to reach out to the coach this year instead, thinking, "the worst that she could've said was no." Lauren showed the coach her times and training logs from the past few months, and was interviewed by the coach over Zoom. In addition, making the cross country team necessarily means she will also participate on the track team, which is ranked Division I as well. Covid-permitting, the team plans to travel rather extensively along the east coast region in the regular season and to Arkansas, Oklahoma, and Boston for the larger meets.
Over Lauren's many years of running for Rockbridge, Mandy Ball, head coach of varsity cross country, watched Lauren's love of running blossom. Formerly the physical education teacher, she encouraged Lauren to join cross country after watching Lauren run the timed miles in PE class. When asked to describe Lauren's running personality, Ball said, "She's a tiger, I think." Explaining what she meant, she added, "For her, the more adverse the conditions, the better she performs." Recalling the numerous times Lauren got injured, Ball pointed out: "She kept coming back."
Two of Lauren's favorite memories were from her junior and senior year. Lauren remembered the varsity team's trip to California in her senior year, saying it "was absolutely unforgettable." She happily spoke of the team atmosphere, saying, "I loved all our inside jokes." In addition, unlike many of her teammates, including myself, she described a 2018 race in Northern Virginia as "my most favorite race in the entire world." Due to excessive rain, this Saturday meet is remembered as "the mud meet." It is also where Lauren first led the team in informal zumba.
Sydney Hudson, a junior on Rockbridge's varsity cross-country team, recalled how Lauren led the team in zumba before a race as an effort to "keep us warm on the start line, calm our nerves, and make us laugh."
Often seniors find themselves wondering what legacy they will leave. Lauren's love of running truly shone through, encouraging those around her. "Lauren had such a love for running and it was infectious. Running brought her so much joy," Hudson wrote. "She viewed running as a blessing, whether easy or hard. She truly emulated to us what it meant to run for the Lord and His glory." Now, Lauren continues in her pursuit of running, setting an example in joy and perseverance.