Rockbridge Academy Blog
The Class of 2021: Uncertain Year, Unshakable Hope
October 06, 2021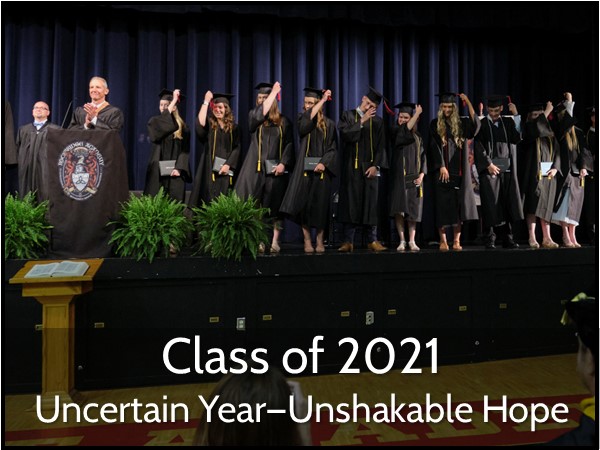 The heart of man plans his way, but the LORD establishes his steps. Proverbs 16:9
The class of 2021's senior year was characterized by a lot of uncertainty. They weren't certain that they would come back to school in the fall. They weren't certain that there would be sports seasons or musical performances. They weren't certain that they would go on Grand Tour. They weren't certain that they would even have a graduation! In the midst of all this uncertainty, I had the privilege of watching last year's senior class handle many, many disappointments with grace and a firm reliance on the Lord's sovereign plan for their good.
One of these huge disappointments was the cancellation or reduction of many sports seasons this year. During the fall months, the seniors led our varsity soccer teams through practices, drills, and scrimmages. Unable to compete in their last season, Captains Luke Sweeney, Christopher Crane, Katie Trovato, and Leah Ball turned the focus to others and faithfully served their teams by preparing the younger athletes for next year's season. Meanwhile, Jack McLaughlin captained the varsity cross country team in a more-normal-but-still-not-normal season. During the winter months, Captains Marika Skwarek and Luke Sweeney led the varsity swim team in practices and a few meets. In the spring, Rockbridge was able to have a relatively normal season, with Captains Jack McLaughlin and Luke Sweeney leading the baseball team to finals, and Captains Emma McLaughlin, Emily Lawing, and Katie Trovato taking the girls to the lacrosse finals. For every team, each day was a gift because no one was certain they would be there the next.
In the new COVID-world of online AP exams, cancelled SAT's, and restricted travel, the seniors still had to apply and commit to colleges. Christopher Crane, Ruby Furniss, Leah Ball, and Emily Lawing all drove to different states just to take the SAT over the summer, while others navigated virtual info sessions, tours, and interviews. In the end, God blessed this very talented class with many acceptances to highly ranked universities, trade schools, and service academies across the nation. I remember talking to Kait Atwood and Sarah Daly at lunch one day as they reflected on God's goodness to them during the college application process. God's plan for each of them was different than they had initially expected, but they were both confident and joyful that God had chosen paths for them that were far better than they could have chosen for themselves.
Faced with frustrating circumstances like the cancellation of Grand Tour, the seniors found creative ways to serve others, enjoy fellowship, and leave a lasting legacy on the younger grades. In February, the seniors organized a school-wide donation drive to support the West Annapolis Pop-Up Pantry and create some fun competition between the grades. That same month, senior Sean Fitch ran an entire marathon in the freezing rain and sleet, while other seniors and friends encouraged and ran with him during the process. In addition to less formal mentoring of younger students, the seniors continued the tradition of reading books to the Kindergartners every Wednesday. In October, they enjoyed a semi-formal dinner organized by some of their loving mothers in place of their cancelled Junior Soiree. Throughout the year, the seniors gathered to go on hikes and watch the sunrise together. They also organized a senior spirit week and were even able to go on a boat cruise with the junior class for senior soiree. The class of 2021 turned what could have been a disappointing senior year into a memorable one by cherishing the moments they had left with each other and with the Rockbridge community.
It's been a blessing and a privilege to personally know many of the students in the class of 2021. It was bittersweet for me to see my friends walk across the graduation stage, signifying both the end of their Rockbridge careers and of their childhoods. While saying goodbye is sad, graduation was also a time to celebrate all the hard work these students have done and all the ways they have grown over the years. This growth was most evident to me over the past year. Valedictorian Lera Wilson pointed out in her graduation address that the corona-virus had given the senior class "crowns" of wisdom and honor as they persevered through the difficult circumstances around them.
Proverbs 16:9 reminds us that "[t]he heart of man plans his way, but the LORD establishes his steps." The class of 2021 experienced this hard but beautiful truth first hand over the past year. In doing so, they served as a testament to God's sovereignty and faithfulness, both to each other and to those around them. While our world was being shaken to pieces, they reminded me of the unshakable hope we have in Christ. While their circumstances screamed for anxiety and panic, their peace was truly unexplainable. They were only able to continue serving and encouraging others because they were striving towards a kingdom greater than their own.
Congratulations, class of 2021! I'm confident that God will continue to establish your steps as you begin the next chapter of your walks with Him.
Noelle McDowell, '22, loves to train and compete with her teammates on Rockbridge's Cross Country and Mock Trial teams. She is a mega-extravert and loves to do crazy things with her friends and family.
The class of 2021 made final decisions to the following colleges:
Auburn University, The Catholic University of America, Covenant College, East Carolina University, Emory University, George Washington University, Grove City College, Indiana University, Johns Hopkins University, Purdue University, Regent University, Rensselaer Polytechnic Institute, Liberty University, Made Institute, UMBC, U.S. Naval Academy, University of Maryland College Park, University of Tennessee, Washington University, Wheaton College.
The 27 members of the class of 2021 also garnered $4,588,872 in scholarship offers! Thanks be to God.