Rockbridge Academy Blog
Running Through Adversity
October 29, 2020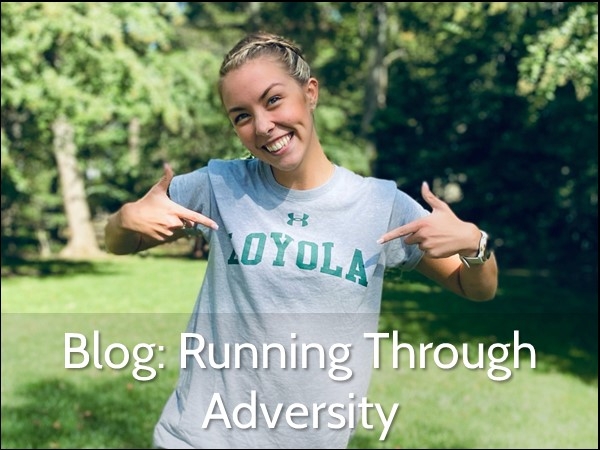 Lauren Bailey views every opportunity to run as a privilege. While Lauren's teammate for two years, I would be nervous on the starting line right before a varsity cross country race, and she would remind us to appreciate the chance to run. Even now that she has graduated from Rockbridge, this mentality has stuck with our team.
Lauren Bailey is a 2020 Rockridge graduate, who is now a freshman studying at Loyola University and running on their Division I cross country and track teams. She started running in fourth grade and has loved it ever since. Since the Bailey family lived at Belvoir while Rockbridge owned it and held cross country practice there, she joined the middle school for practices often in fourth grade, officially joining the team as soon as she could when she entered fifth grade.
Despite her love for running, her running career came with the setback of frequent injuries. "It was my dream to run in college," Lauren told me. Yet her injuries made it difficult for her race times to progress systematically, stunting the potential for colleges to be actively recruiting her. Because of this, "I just assumed that I couldn't [run in college]," she said. Now that her dream has come true, however, she told me: "to say that I'm excited is an understatement."
Lauren originally applied to Loyola University without expecting to try out for cross country. She valued the school's community atmosphere, along with the liberal arts education offered there; she is double majoring in political science and philosophy. When training this summer, her plan had been to try to walk onto the cross country team as a sophomore, yet she decided to reach out to the coach this year instead, thinking, "the worst that she could've said was no." Lauren showed the coach her times and training logs from the past few months, and was interviewed by the coach over Zoom. In addition, making the cross country team necessarily means she will also participate on the track team, which is ranked Division I as well. Covid-permitting, the team plans to travel rather extensively along the east coast region in the regular season and to Arkansas, Oklahoma, and Boston for the larger meets.
Over Lauren's many years of running for Rockbridge, Mandy Ball, head coach of varsity cross country, watched Lauren's love of running blossom. Formerly the physical education teacher, she encouraged Lauren to join cross country after watching Lauren run the timed miles in PE class. When asked to describe Lauren's running personality, Ball said, "She's a tiger, I think." Explaining what she meant, she added, "For her, the more adverse the conditions, the better she performs." Recalling the numerous times Lauren got injured, Ball pointed out: "She kept coming back."
Two of Lauren's favorite memories were from her junior and senior year. Lauren remembered the varsity team's trip to California in her senior year, saying it "was absolutely unforgettable." She happily spoke of the team atmosphere, saying, "I loved all our inside jokes." In addition, unlike many of her teammates, including myself, she described a 2018 race in Northern Virginia as "my most favorite race in the entire world." Due to excessive rain, this Saturday meet is remembered as "the mud meet." It is also where Lauren first led the team in informal zumba.
Sydney Hudson, a junior on Rockbridge's varsity cross-country team, recalled how Lauren led the team in zumba before a race as an effort to "keep us warm on the start line, calm our nerves, and make us laugh."
Often seniors find themselves wondering what legacy they will leave. Lauren's love of running truly shone through, encouraging those around her. "Lauren had such a love for running and it was infectious. Running brought her so much joy," Hudson wrote. "She viewed running as a blessing, whether easy or hard. She truly emulated to us what it meant to run for the Lord and His glory." Now, Lauren continues in her pursuit of running, setting an example in joy and perseverance.