Rockbridge Academy Blog
Leading by Example: The Class of 2020's Impact on Rockbridge Academy
July 31, 2020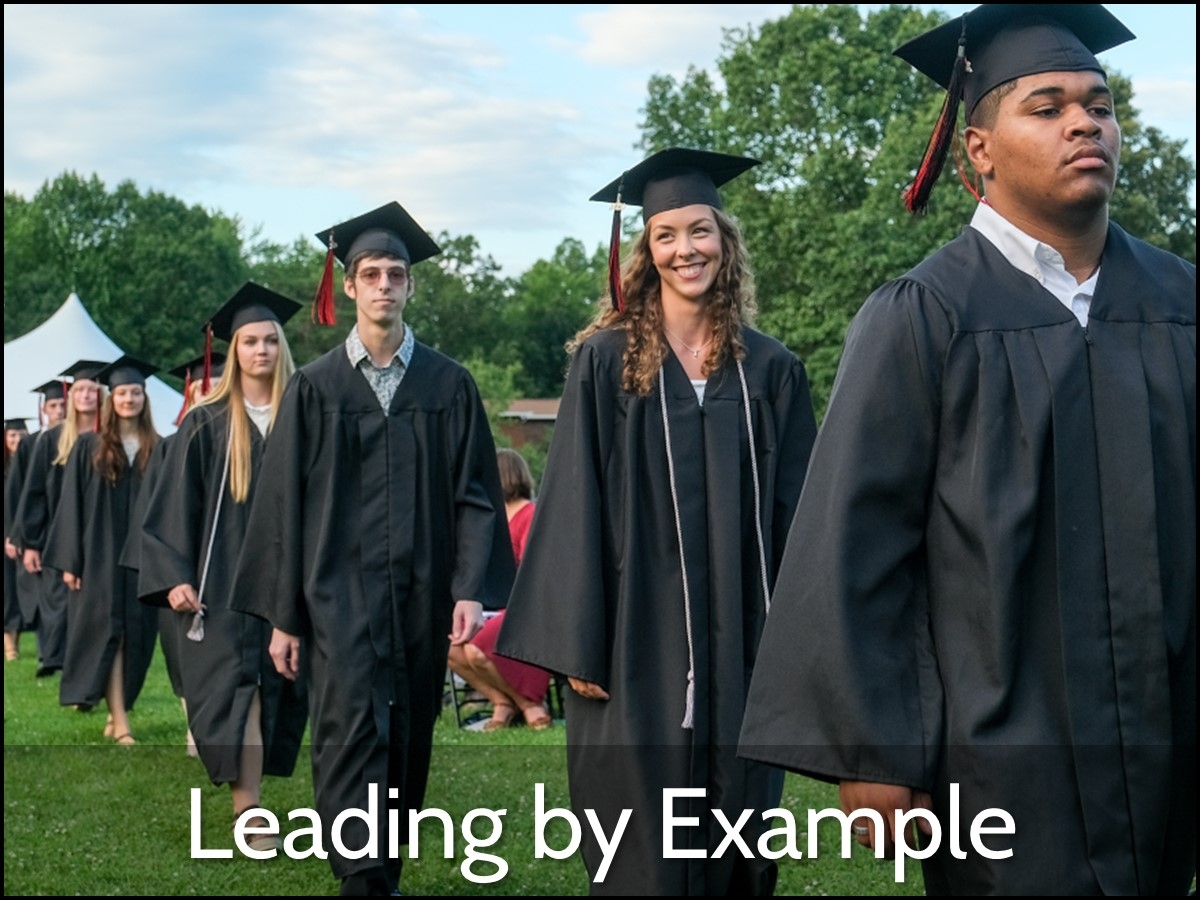 I was sitting outside in mid-July watching the first ever outdoor Rockbridge Academy graduation when it hit me. The young men and women in caps and gowns, that I had grown so accustomed to having around, weren't seniors anymore. They were graduates—off to start a new chapter in their life, likely far away from Rockbridge. As the school year approaches, the idea that the class of 2020 won't be there is becoming all too real. And, as a rising junior, watching this class graduate made me realize how I want to graduate: having made an impact, a difference in the lives of those I will leave behind. It was a privilege to watch this class graduate because they have done just that. This fall, the class of 2020 will be gone, off to do God's will elsewhere, but through their exemplary leadership, they left behind lessons in love, joy, and faith that won't be forgotten.
This class taught me much about how to love one another in a Christ-like manner. Their constant encouragement and support of one another is a great example of how to be a good friend. When my brother, Zach, tore his ACL, I watched his classmates come together and support him by praying for him, visiting him after surgery, and encouraging him through a difficult time in his life.
Not only was this class a tight knit bunch who cared strongly for one another, they poured out this love on younger students. As a new student at Rockbridge this year, I barely knew anyone, but on the first day of school multiple seniors went out of their way to get to know me. I stepped out of my car and was immediately welcomed by Lauren Bailey who later took the time to follow up with me at lunch. There was not a day that went by in which I didn't see a senior assisting someone else. Whether that was giving rides between campuses or to events, sharing helpful advice, or just being someone to laugh with, they were there and eager to serve. Their leadership in events such as FCA, sports, and clubs will surely be missed; but they have left me with a deeper understanding of how to love one another in Christ.
Radiant, abundant joy exuded from the class of 2020. On any given day you could hear laughter pouring into the halls from either twelfth grade homeroom. They kept laughing through quarantine in their late night zoom calls where they shared jokes and showed off their pets. These graduates brought their joy wherever they went, but that isn't to say they were never serious; I have watched them tackle difficult tasks with persistence, carry each other's burdens, and deal with important matters discerningly. At the 2020 March for Life, Rockbridge's group got separated into multiple small groups, many of which didn't have adults in them. I witnessed the seniors take charge, letting people borrow their phones, offering to wait for parents with younger students, and leading everyone in making a human chain in order to get to the metro station across the march without losing anyone. I am continually inspired by this class's ability to be hardworking and dedicated while still being able to laugh and have fun. This kind of joy is infectious and their laughter and smiles brightened Rockbridge. This class has shown me how to find the joy in every circumstance and share it with those around me.
Each graduate's faith was highlighted through their demonstration of love for others and uncircumstantial joy. During quarantine, this class kept our FCA bible studies alive by way of Friday morning zoom calls. Ryan McDowell, Alex Lawing, and Jillian Schwartz led us through Phillipians and 2 Timothy where they explained God's word and applied it to our lives while many other seniors offered valuable insights. This class has always been ready and willing to share their own stories in order to help or inspire others. My faith has been strengthened in indescribable ways from my time at Rockbridge, and these graduates have played a huge part in that. I am sad that their continual example won't be around anymore, but I couldn't be more grateful for the ways in which their faith has ministered to me.
This class has made a tremendous impact on myself and many other students. As a rising junior, my class will soon be in a position where we too can make an impact on the other students. Being an example is a responsibility that should not be taken lightly, and I am so thankful for the example of the recently graduated class. They taught me to never be too busy to help someone out, to take the time to enjoy the wonderful gifts God has given me, and to trust in the Lord for my future. I want to graduate having taught these lessons to the classes that come after me. This class will be missed deeply. However, after seeing and cherishing the effect they had on Rockbridge, I know they will continue doing great things for the Lord wherever they go. So, while Rockbridge won't feel quite the same without them, their influence in how to love like Christ, be persistently joyful, and have a faith that can move mountains, will live long after they leave.
Olivia‌ ‌Reardon,‌ ‌'22,‌ ‌loves‌ ‌to‌ ‌write‌ ‌and‌ ‌can‌ ‌usually‌ ‌be‌ ‌found‌ ‌reading‌ ‌a‌ ‌good‌ ‌book.‌ ‌She‌ ‌is‌ ‌part‌ ‌of‌ ‌a‌ ‌dance‌ ‌company‌ ‌and‌ ‌enjoys‌ ‌spending‌ ‌time‌ ‌with‌ ‌friends‌ ‌and‌ ‌eating‌ ‌ice‌ ‌cream.‌