Rockbridge Academy Blog
Letting God Work Through Relational Ministry
November 17, 2022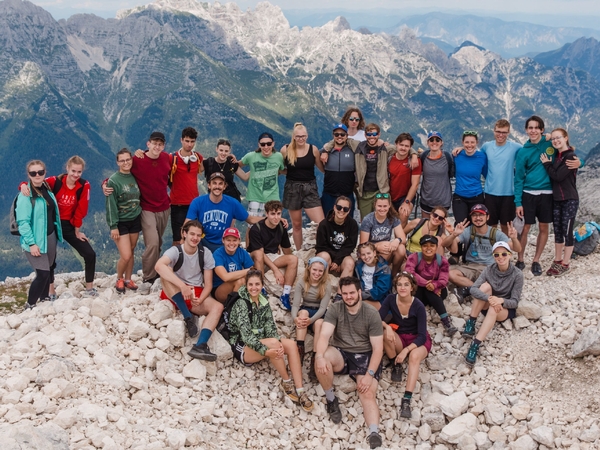 Faithfulness over time works wonders in the heart of man. This past summer, I had the wonderful opportunity to experience this firsthand. I traveled to Budapest, Hungary for a month with the Navigators, a worldwide Christian organization.
I learned so much from this trip, but I learned something special—that Hungarians take friendship very seriously. Once you make friends with a Hungarian, you will be friends for life. Because of this cultural norm for friendship, ministry in Hungary is relational. This basically means forming relationships and building trust are a necessary part of sharing the gospel in Hungary.
One sweet example of spiritual conversations stemming from relational ministry happened when my team and I took a trip into the mountains of Slovenia with twenty-three Hungarian college aged students. In most of their minds, this was just a really cool summer camp opportunity. For my team, it was a gateway to relationships, trust, and spiritual conversations. One day, my group was sitting in a beautiful grassy field at the foot of a mountain. As we waited to begin hiking, we split into pairs to discuss the question, "What is trust?" I was paired with Martzi, a student in school studying psychology. He typed me as an extrovert five minutes after he met me. (Who would've thought Sarah Williams would be typed as an extrovert? I was proud of that!) I had talked to him a good bit before, so when it came to this question, we were able to jump right in. Martzi is not a believer, but he shared with me that he liked this community because they were different. He felt like he could trust us immediately. "You are all such good people," he said. "My other friend groups aren't like this." As the conversation went on, I explained to him why I am able to trust at all. "Because I put my trust in Jesus," I said, "I no longer need to lean on my own understanding. He fills my heart, and he is more than I could ever imagine or desire. When Jesus directs my path and I trust Him, He multiplies my ability to extend trust to others and be vulnerable." Martzi nodded, and we continued talking about his experience in the Christian community. It was such a special conversation stemming from shared trust in one another.
Another example of a memorable conversation happened about a week before we left to return home. In Slovenia, I became friends with a girl named Anna (pronounced like Anna in Disney's Frozen) who is a fairly new believer. We met on the first day of the camp and after a few days she came up to me and said, "I know we've been joking around a lot, but I would really love to be real friends and get to know each other better!" This was so encouraging to my heart. Trust had been built. From that day on, we spent lots of time together. We talked about many things, including the importance of having Christian friendship and community. A few days before I left Hungary, I asked her what she thought of our team coming into her community and then leaving after only a month. "It just seems strange to be here, make friends, and leave," I said. She looked at me and said something I won't ever forget. She said, "Just because someone is in your life for a short period of time does not mean that you can't make a difference to them." She continued, saying, "It's like if the people in your life were beads on a necklace. Just like each bead makes some sort of change to your necklace, every person you meet makes some sort of change to you. Even if you only spend one week with someone, you have the ability to make an impact. The bead that represents you on their necklace will never be unthreaded. Therefore, every interaction you have with another person, for however long, is special and important."
Just because someone is in your life for a short period of time does not mean that you can't make a difference to them.
I thought about what she said the whole way home. Every interaction I have is an opportunity: an opportunity to impact lives for Jesus. We know the good news of the gospel. In Christ, the joy of Jesus should pour out of us to everyone that we come in contact with. He can and will use us to be the bead in someone's life that makes a difference for the kingdom when we surrender everything to Him.
The best part about this is that you don't have to travel halfway across the world to do relational ministry! Though I highly recommend that Rockbridge students consider short term missions work, it is first vital that we as Christians and as the Rockbridge community start by focusing on the way we interact with those we see every day. Faithfully showing Jesus to those around us is such a beautiful way to glorify God and enjoy Him. I urge you to think about the way you can share Jesus with those around you. Not just once, but faithfully. Not to build yourself up, but to humbly serve the Lord and build His kingdom.
If any student is interested in learning more about short term missions or what the Navigators ministry looks like on a college campus, my email is sarahkwilliams17@gmail.com. Please feel free to reach out with any questions! I would love to have a conversation with you.

Sarah Williams, '20, is in her third year at Clemson University. She is studying psychology and business management and is planning on pursuing Biblical counseling. She is thankful for the Lord's providence in allowing her to have such beautiful communities both in Maryland and South Carolina.