News and Events
MOCK TRIAL
The February 7, 2018, competition was the first one for the students on the defense team, and the fourth competition for the team as a whole. Rockbridge remains undefeated as they go into the fifth week of competition.
Last year, the team was undefeated in Anne Arundel County and went on to the Circuit Championships. Congratulations to the Mock Trial team! Go Scots! Join them this Wednesday as they take on Annapolis Area Christian School at the Circuit Court for Anne Arundel County (8 Church Circle, Annapolis, MD 21041).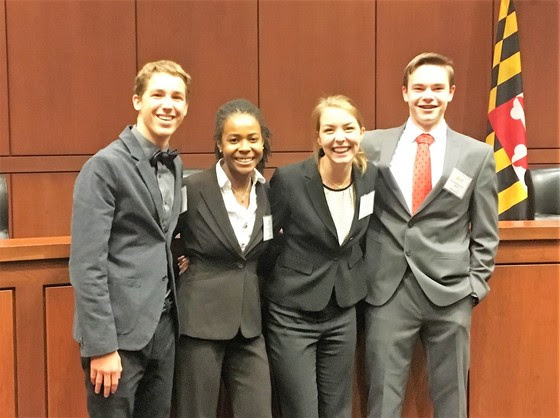 Congratulations to our students who competed in the Maryland State Moot Court Competition!
On Saturday, November 10, 2018, Rockbridge Academy juniors, Charity Arrington and Lauren Bailey, competed in the Maryland State Moot Court Competition. The competition involved student attorneys arguing a case on appeal to a mock Supreme Court. This year's competition involved issues concerning the legal interpretation of the First and Fourth Amendments. Student attorneys are required to prepare an argument for presentation, but the greater challenge comes from answering questions from the panel of judges. Students are asked questions presenting hypothetical extensions of their arguments, as well as questions about the relevant case law. The Rockbridge team, competing for their first time, performed stupendously, making it through four preliminary rounds to the state finals. They lost by a narrow three-point margin, ultimately placing second in the state. Congratulations to these outstanding students!
Also, a shout out to our alternates, Ben Ault and Owen Schulze, who also prepared for the entire two months with the team!
VFW (Veterans of Foreign Wars) Voice of Democray and Patriot's Pen Winners
Congratulations to Ryan McDowell, Rockbridge Academy junior, and Michael Grube, Rockbridge Academy 7th grade student, on their participation in the VFW (Veterans of Foreign Wars) Voice of Democracy speech contest and Patriot's Pen essay contest.
Ryan won 1st place in the state of Maryland and will advance to the national competition in March. Michael won 6th place in the state of Maryland. Both received monetary awards.