Our Stories
Jesus Is Better...Forever!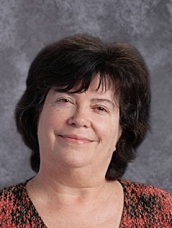 I have been asked to write a final word as my date of retirement nears. It was easy to decide, really. I came to Rockbridge 20 years ago with knowledge of this truth, "Jesus is the most excellent way." I longed for a school that would help me to teach that truth to my children. I believed that Rockbridge was such a place, and I pray it remains that kind of place for generations to come. We are all longing for the best for our kids, aren't we? But do we really know what the best is? The writer of the Book of Hebrews mentions at least 13 times that Jesus is better, superior, or more excellent. Why does he say this with such passion and repetition? Because he was keenly aware that his audience was being wooed away from that truth to embrace something less.
Is our time any different? Some may ask why I state the obvious. "Everybody at Rockbridge Academy already knows that Jesus is better, Denise, even your kindergartners. Why waste your last words on what is clear and apparent to all?" I would assert that everyone might know it, but few of us believe it, including myself. The writer of Hebrews clearly believed that any of us could fall away from that truth. He reminds us that our disordered loves, our fallen nature, our chaotic, messy souls continuously search for other gods to worship. What is so sneaky about it is that most often these rivals for our hearts are good things.
There are many points of comparison within the Book of Hebrews to demonstrate that our hearts will only be well-ordered if we truly believe Jesus to be better, and all of these things are good. Jesus is compared to all past prophets who speak to us as mediators. He is compared to Moses and Joshua, and he is better. Jesus is compared to the angels who are sent as ministering spirits to us while he is the Conquering King to whom alone we owe worship. Jesus is compared to all past priests from the line of Aaron who all die, but He lives above eternally to intercede for us. Jesus is a better hope and the guarantor of a better covenant. He is a better sacrifice. Because of his blood, Jesus prepares a better place for us, a heavenly one. He is the better temple eternal in the heavens. All these Old Testament people, places, and things are good, but incomplete. They are preparatory, all pointing to the great truth that "Jesus is better…forever!"
So we are not so different from first generation Christians it would seem. Like our brothers and sisters of the past, we are still needing to hear that our hearts are easily drawn away to idols that are good but steal from us what is best. C.S. Lewis states in The Weight of Glory, "It would seem that Our Lord finds our desires not too strong, but too weak. We are half-hearted creatures, fooling about with drink and sex and ambition when infinite joy is offered us, like an ignorant child who wants to go on making mud pies in a slum because he cannot imagine what is meant by the offer of a holiday at the sea. We are far too easily pleased." A similar idea to that is a child wanting to stay at South of the Border rather than traveling on to Disney World. They are too easily pleased with the pleasure of the moment to make the further leg of the trip.
"It would seem that Our Lord finds our desires not too strong, but too weak. We are half-hearted creatures, fooling about with drink and sex and ambition when infinite joy is offered us, like an ignorant child who wants to go on making mud pies in a slum because he cannot imagine what is meant by the offer of a holiday at the sea. We are far too easily pleased." c.s. lewis
In all times, our hearts have easily misled us. We are encouraged on every side today to look inside ourselves to find truth and define the world with our own internal feelings. We need this reminder from the writer of Hebrews, "Therefore, since we are surrounded by so great a cloud of witnesses, let us also lay aside every weight, and sin which clings so closely, and let us run with endurance the race that is set before us, looking to Jesus, the founder and perfecter of our faith, who for the joy that was set before him endured the cross, despising the shame, and is seated at the right hand of the throne of God." Hebrews 12:1-2. We need to run together with the church of Christ throughout all time. We need the body of Christ, his church, to preach the truth to us and our children. We need to encourage one another here at Rockbridge Academy in times of difficulty and delight that there is only One who is best. We need Jesus to save us from ourselves and transform us. We must have his help to order our lawless, tangled, topsy-turvy hearts so we never lose our first love. We all grow weary. We all lose heart. So my last words to you are, "Standfast, Scots. Jesus is better…forever!"
Denise Hollidge currently serves as our grammar school principal and will be retiring spring of 2021 after 20 years of service at Rockbridge Academy. She is married to Steve Hollidge and has 4 Rockbridge Academy graduates: John ('07), Anna ('09), Mary ('13), and Daniel ('15).
By Sonmin Crane, Communications Manager
What do high school seniors do when every event in their senior year has been canceled on them? At Rockbridge Academy, they rally together and inspire an event that can't be impacted by Covid; indeed, it is an event for those in need because of Covid. The seniors of Rockbridge Academy led the entire school in a week-long food drive competition to feed the hungry and those in need in the greater Annapolis area through the West Annapolis Pop-Up Pantry, which was started to help those impacted by Covid. This culminated in a day of service for the seniors who delivered all 5,565 items to the pantry!
Rockbridge Academy has been able to hold in-person classes since September. However, this year has been wrought with cancellations of many events (or pretty much all) for the class of 2021—from their homecoming to musicals to concerts to special field trips and more.
However, the class of 2021 was determined to make memories as they rallied the entire school and held a school-wide food drive competition. Yes, one half of the school competed against the other to see which side could give more! In total 5,565 items were literally counted, bagged, loaded, hauled, sorted, and shelved. Items were donated to the West Annapolis Pop-Up Pantry in Annapolis, MD, and delivered in nearly 20 different cars.
The pantry had to turn folks down over the weekend because they ran of out food, so this huge influx of needed items came at just the right time. Thank you, Rockbridge class of 2021, for looking to the interests of others at a time like this.
Appreciating Cultural Diversity
By Natalie Watson, 11th grade student

From Bollywood dancing to British hunting traditions to eating Brazilian brigadeiro, members of the club have been learning about different cultures. Cultural Appreciation Club meets over Zoom on Wednesday nights at 5 o'clock once a month, where surprise guest speakers share about their cultural heritage, giving students the opportunity to learn about diverse cultural traditions and values.
Tomilade Akinyelu, a junior at Rockbridge Academy, started the club. Her inspiration sparked in May 2020 and grew as cries for racial justice thundered during the summer. "I hope that this club will help people understand people who are not like them and in understanding them, learn to respect them," she said. So far, the club has had the opportunity to hear guest speakers talk about Brazil, India, England, Nigeria and Italy.
"As someone who has gone to different countries and seen other cultures, I have found an interest and desire to learn more about them because I think when we do we can learn more about the uniqueness of people," said Sydney Hudson, a junior at Rockbridge and a member of the club.
Timi Akinyelu, a freshman at Rockbridge and a member of the club, echoed a similar advantage in studying other cultures: "If you meet somebody from that culture you would understand them better."
Gracie Solomon, a freshman at Rockbridge and member of the club, said that learning about Nigeria in particular was special to her because it was similar to her family's heritage in Ghanaian culture. Many members of the club specifically mentioned that the Nigerian value of respecting elders is something that particularly inspired them.
Mrs. Nancy Salada, club advisor and teacher at Rockbridge Academy, noted that many other cultures are much older than the American culture, saying, "I admire the centuries old traditions." One tradition that stood out to her was the flaming pudding that the British serve at Christmas. Mrs. Katrina Atsinger, guest speaker, explained to the group that this pudding is made months in advance. Unlike in America, the British call many desserts pudding; this particular pudding has a rather cake-like substance. After it has aged properly, the cook steams it and right before it is served, pours brandy over top the dessert, and sets it on fire.
Students also learned about Nigerian wedding traditions and watched a video of Indian dances. They tasted brigadeiro, a fudge-like Brazilian chocolate, and sampled a Nigerian meal of plantains, chicken, and jollof rice. Mrs. Adriana Schueckler, guest speaker for Brazil, taught the students how to say hello in Portuguese. Mr. and Mrs. Pasquarelli, guest speakers for Italy, shared certain rules that Italians generally accept as the proper way to enjoy cuisine. For example, Italian chefs become extremely upset if diners put cheese on their seafood, because they believe that the strong flavor of the cheese overpowers the delicate flavor of the seafood.
Our God has given each person different gifts and qualities that reflect his perfect nature, and it is a wonderful opportunity when we get to know other people's values and traditions. As Tomilade Akinyelu wrote, "It's been very impactful for me to learn about not only seeing the beauty of the world God has given us, but also the beauty of the diverse people He has put in it."
Mission statement: Our goal is to increase awareness of and develop an appreciation for cultures around the world. It is important to learn about other cultures in order to be well-educated and to show Christ-like love to the world.
Ebenezer Stones that Mark Cross Country in Covid
By Mandy Ball, Varsity Cross Country Coach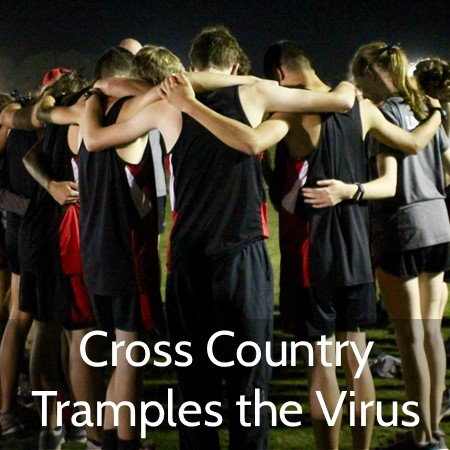 A year ago, I was in the midst of coaching one of the most exciting cross country seasons Rockbridge Academy had ever seen. We were invited to compete on a national stage, not once, but twice, as we traveled to California for the Woodbridge Cross Country Classic and the Nike Cross Regionals in North Carolina, with the girls' team earning second place in their division at the private school state meet. Coming into the 2020 season, we only graduated 2 seniors and were ready to build on the previous year's success, until COVID-19 hit. Schools closed, quarantine was enforced, and in August, the public schools and many of the private schools postponed their fall sports seasons.
This left us with several questions to answer. Is it safe to run in a team setting? If it is safe to run together, is it safe to compete against other teams? Is it worth the extra hassle of wearing masks in warm-ups, organizing a season that might not be, and giving students countless reminders to socially distance? Is it morally responsible to engage in competition, to race, when the world is in crisis, when so much that is familiar is crumbling beneath our feet? After spending the summer reading several research papers about how aerosols spread, I was convinced that we could safely organize practices and small meets with minimal risk while following state and local guidelines. While I researched liquid droplets, the runners ran, and ran, and ran some more in the heat of the summer. The varsity team logged hundreds of miles on their own and as a group at our bi-weekly team long runs, which took us to downtown DC, local trails, and the eastern shore. They faithfully ran, preparing for a season that would at its best be severely different from past seasons, at its worst, cancelled completely. They diligently prepared for the unknown.
This is shaping up to be a season like no other. With the postponement of the public school season, all of our scheduled meets were canceled, but slowly as the month of August progressed, the calendar began to be populated with smaller meets. Instead of competing in large scale invitationals with hundreds of runners, we are running dual meets, head-to-head competition between two schools, complete with socially distanced start lines and minimal spectators. We competed virtually in the meet we traveled to California to run last year. This year it is aptly called the Woodbridge "Trample the Virus" Classic. At this point it looks like there will not be a state championship in which we can compete, but the Lord instead provided an invitational at the end of the season on a battlefield that will challenge all of our runners.
One might expect that there would be a general feeling of disappointment among the team; however, this team, led by their captains, has chosen to focus on the gift and the privilege of competition as they battle together against giving in to the disappointment of what could have been. At our first official team Zoom meeting in April, one of our assistant coaches encouraged the runners to approach this season with open hands, thankful for whatever the Lord brings us. The coaches shared a passage from Dietrich Bonhoeffer's book Life Together, "Let him who until now has had the privilege of living a common Christian life with other Christians praise God's grace from the bottom of his heart. Let him thank God on his knees and declare: It is grace, nothing but grace, that we are allowed to live in community with Christian brethren." In Psalm 90:12, Moses prays that the Lord would "teach us to number our days that we may get a heart of wisdom." The team has taken each of those injunctions to heart. Each practice closes with a prayer of thankfulness and a team member collecting an Ebenezer stone to mark another time the Lord has permitted us to gather. The stones in our jar are not the beautiful, smooth ones you might have collected as a young child as "jewels." No, they are gnarly, rough stones, symbolizing gritty, gutsy workouts in the hot sun and humidity to prepare for a race that might disappear from the schedule in a moment, workouts that mine the latent potential that God has put into each of the runners.
Eric Liddell is quoted in the movie Chariots of Fire saying, "I believe that God made me for a purpose. God made me fast. When I run, I feel His pleasure." It can be difficult to quantify how one might run for God's pleasure, to use even hard days at the track to glorify Him. This special group of students has chosen to give Him a sacrifice of thankfulness for the privilege of gathering together while striving to run as fast as they can to His glory. They are spending time mentoring middle school students and pouring into each other. They are learning how to labor quietly, faithfully, diligently, and joyfully for a future goal. One of the questions we had to answer as coaches was whether or not this season was worth the effort or even a responsible idea. I cannot imagine learning more infinitely valuable and immensely beautiful lessons than the ones the runners and coaches are learning as we navigate the waters of COVID-19. SDG
Soccer for an Audience of One
By Orin Redmond, Varsity Boys' Soccer Coach

"Our best successes often come after our greatest disappointments." Henry Ward Beecher
These words spoken by Henry Ward Beecher serve as an encouragement, especially during a time like this, to our world, our nation, our school, and even the Rockbridge Academy Varsity Boys' Soccer Team. This season has looked much different than seasons past with no gameday routines, no regular season conference matches, no homecoming match, and no MIAC playoffs.
Instead, our boys were given the opportunity to participate in a season consisting of only practices three days a week (Tuesday, Thursday, and Friday), with Friday serving as a designated scrimmage day against each other. During the practice sessions, the focus shifted each week to improve on different disciplines throughout the season. Varsity boys worked to develop in the areas of dribbling, changing direction, accurate passing, receiving the ball, keeping possession, finishing, crossing, headers/volleys, and defending. While all of this seems standard in a soccer season, there was an element missing. A level of disappointment and frustration hung on players' faces, even without them ever saying a negative word. Without having to prepare for matches against other schools, would there be a competitive drive and motivation to train hard? Some would question, what is the point?
Not knowing how the 20-man roster would respond to the unfortunate restrictions, the coaches (including myself, Coach Reardon, and Rockbridge alumni Joel Pasquarelli and Zach Reardon) hoped for the best, and we were amazed at the level of effort and sacrifice displayed by each student. Not long into the season, the boys began to demonstrate integrity and honorable character as they set aside their own disappointment and recognized that they were playing for an audience of One. Every drop of sweat shed on that field this season was done to bring glory to God and to be an example to the Rockbridge community, to accept the circumstances presented, while striving to keep their focus on a purpose beyond the training grounds. What started as a disappointing season began to develop into a season of developing skills, building character, and growing into the God honoring men we were intended to be when faced with adversity.
This year, coaches, players, and parents also watched as two young men, Captain Christopher Crane and Captain Luke Sweeney, rose above the tremendous heartbreak of losing their senior season to stepping into the shoes of mentors to their younger teammates. Both captains may have lost the opportunity to play as a senior in a homecoming match or to make a run at the MIAC title one more time, but they wouldn't miss the opportunity to make a difference in developing next year's team. Their contribution to the team this year has been immeasurable. They have pushed the other players to train harder. They have stepped up their level of competitive play to force those around them to do the same, and they have found those moments between drills and coaches' instruction to demonstrate a skill or explain in more detail to someone that might have been struggling. Their wisdom and leadership abilities far outweigh their skills on the field, and for those that don't know them or haven't seen them play, their skills rank among the best in the conference.
It is because of the hard work and leadership of the captains and the unstoppable attitude and determination of the team that there is hope that next year's soccer season will be one of our best successes. For the boys graduating and moving on, we thank you for your commitment to the team and for your love of the sport. You are both an example to us all. For the boys that will return next season, let's go win the conference title for Crispy and Sweeney…We are Rockbridge!
By Sonmin Crane, Communications Manager
This first day of school was like no other in the 25-year history of Rockbridge Academy. Everyone donned masks. Disinfectant sprays and hand sanitizers stood their guard at every classroom door and entry. The annual first-day-of-school assembly that Headmaster Roy Griffith gave did not take place in the gym this year in front of an audience of students; he addressed them from his office, alone, via Zoom. From their homerooms, students watched his real-time video as he shared about not giving in to fear but encouraging them to "dare greatly" this year; large group assemblies are prohibited this fall under precautionary levels. Students brought in milk crates to keep their belongings close by and minimize hall traffic. Desks were socially distanced, and each student who walked into the building had a thermometer aimed at their forehead for temperature checks to ensure no fevers entered the building.
And yet, some things remained the same as every first day. The excitement mingled with first day nervousness was palpable. Parents hugged their students good-bye at drop-off. Teachers eagerly greeted their new students, especially grateful to be teaching in person after six long months. The stairwells were freckled with fresh cut grass clippings—evidence of students in the building. New school supplies, shoes, and tidy classrooms added to the air of readiness to start. Returning students looked familiar but were considerably taller. Students were genuinely glad to be together after not seeing each other in nearly six months, and the consensus was as one student put it, "being together physically is worth the mask wearing requirements."
The overwhelming impression of the day was one of gratitude—gratitude to be together, gratitude for the little indicators of normalcy, gratitude for physical presence. Despite COVID restrictions, fear and complaints did not rule the day. Gratitude won out.
Rockbridge Academy teachers and administrators worked extremely hard over the summer to strategically utilize and position technology to prepare for possible changes and scenarios this fall, and they are facing the adversity with flexibility and resilience—and so are the students!
A Word of Encouragement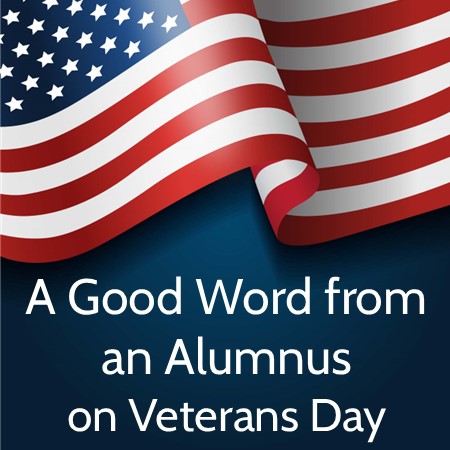 By Daniel Dawson, Class of 2012
I do not account my life of any value nor as precious to myself. -St. Paul in Acts 20:24
What motivates veterans to serve?
For some, it is the steady job, the government benefits, and the look of a good uniform. (Tip: If you're looking for a good uniform, I'll narrow your search–join the Navy.) For others who are more high-minded, it is because they believe in the principles of America like limited government, rights endowed by the Creator, and religious freedom.
Whatever the motive, we can be thankful for all those who have gone before us who did not consider their lives too valuable or too precious to give for us, their fellow citizens.
With this in mind, as Veterans Day approaches, let us examine our motives.
To the veterans: thank you for your service. We are thankful for your sacrifice and owe you a debt of gratitude that can never be repaid.
To those on active duty: keep a servant-mindset and say thank you to your family for supporting you. (Thanks, Emily!)
To the faculty and staff at Rockbridge: you are servants training servants. Thank you for your humility. Thank you for your wisdom. Thank you for your service.
To the parents: we appreciate you sacrificing your financial treasure to give us an education. My parents made a huge sacrifice to send me to Rockbridge, and I am still benefiting from their servants' heart. (Thanks, Mom and Dad!)
To the students: what is your driving motive as you go about your day at school? You cannot build your identity through good grades, sports, or universities. The beauty of the gospel is that who you work for is more important than what you do. Christ already acquired for you all the accolades, approval, and acceptance you need, and thus, you are free to serve others. Meditate on this; it will be a deep well of comfort in the difficult years ahead.
In conclusion, may we be driven to Scripture this Veterans Day. There, we find a story that draws us away from ourselves and points us toward service. By humbling Himself, Christ attained for us the deepest joy, the highest significance, and the greatest life.
Let us say with St. Paul: "I do not account my life of any value nor as precious to myself."
Daniel Dawson (Rockbridge 2012) commissioned out of Annapolis in 2016 and is currently a graduate student at Wharton and Harvard. He is happily married to his wife Emily (Rockbridge 2012).
The views expressed by the author are solely his own, and do not necessarily represent the views of the DON, DOD, or USG.
Dare Greatly!
By Roy Griffith, Headmaster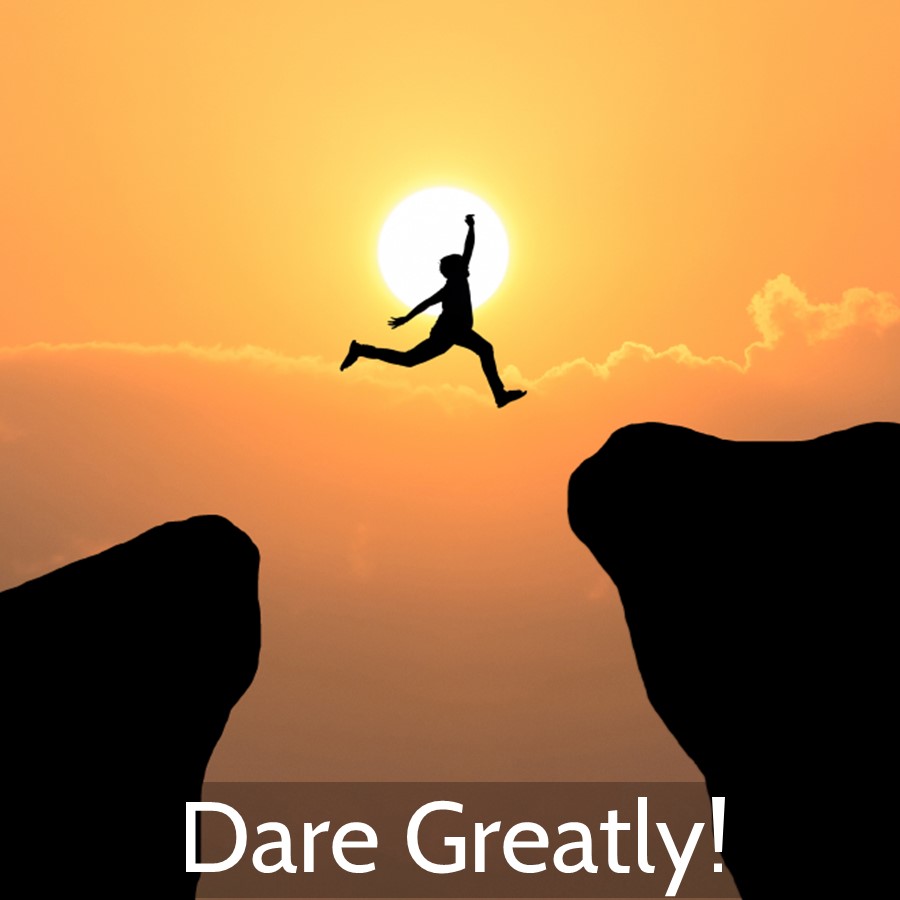 Back in my teen years, I attended a week-long summer camp where one of the defining moments was trekking into the woods with boys in my cabin to complete a ropes course high up in the trees. It quickly became apparent as we harnessed up with carabiners to the safety line that this innocent web of ropes would be the separator of men from boys.
I noticed amongst us three reactions. After getting ten feet in the air, one of my friends absolutely refused to go any further. Despite pleas from the group to push onward, survival instincts in this boys brain stubbornly refused to let his body move further. Meanwhile, the majority were like me, petrified but too proud to give up, inching along timidly with wobbly tread until finishing with the final spine-tingling free-fall swing at the end. However, one dare-devil in our group was somehow transformed when he forced himself to take one bold leap into thin air, leaving his body dangling like a spider from a thread. Having demonstrated to his brain that the safety system held fast, this happy individual began moving along the course with abandon, laughing, leaping, and encouraging his faint-hearted friends to, "just trust the rope!"
Rockbridge Academy students are not immune to fear. Increasingly, our children are vulnerable to a tide of doubt, whether it soaks in by swimming the uncertainty of the greater culture's currents or whether it laps upon their desks as a wave of temptation to measure their worth against their classmates'. Like the frightened boys high in the ropes at camp, the human heart would rather believe lies and half-truths than trust the assuring tether of God's provision in redemption.
Meanwhile, the writer of Hebrews throws us a line. Painting a wonderful picture of spiritual reality, he says in chapter 6 that we, "… have strong encouragement to hold fast to the hope set before us. We have this as a sure and steadfast anchor of the soul, a hope that enters into the inner place behind the curtain, where Jesus has gone as a forerunner on our behalf …" Picture if you will, as you walk through life's daily challenges, shaky and unsure, being harnessed to a tethering cable anchored to the most secure place in the universe. There, behind the curtain of the temple, enthroned upon the mercy seat, the pre-figured Christ reigns as our anchor, with the anchor-line securely held in one nail scarred hand, and all the planets being deftly spun in the other.
One pastor lends this simple insight: "Doubts come when personal experiences make what your mind knows unreal to your heart." Whether you are a parent facing a difficult conversation at work, a student staring down a puzzling math problem for homework, an athlete replaying past failure on the field as you move to the goal, or a headmaster anxious whether COVID-19 will shut down school in the first week, our fears can drive any of us to "fight or flight" instead of into daring actions of faith. Like boys on the ropes occupied by the clawing sensation of gravity, we often find ourselves staring straight in the face of some familiar fear, and in that moment stubbornly refusing our, "…upward call of God in Christ Jesus." (Phil 3:14)
One of the reasons classical Christian education mines the cave of western history is because – while quite imperfect – it is replete with gems of Christian character worth mining. One such character is Teddy Roosevelt, a president with an abiding faith in the Lord who seemed to eat fear for breakfast. Consider, for example, the time Roosevelt had a Secret Service agent lower him by the ankles over a cliff with a rope just to photograph a bird's nest. Unable to be pulled back up, Roosevelt himself cut the rope, only to land thirty feet into water below. Found half-conscious and bruised on the riverbank, Roosevelt exclaimed with his huge toothy grin, "My, wasn't that just bully!"
It was a few years later in a speech at the Sorbonne in Paris that Roosevelt left us these stirring words about sparring with doubt and boxing with fear:
"It is not the critic who counts; not the man who points out how the strong man stumbles, or where the doer of deeds could have done them better. The credit belongs to the man who is actually in the arena, whose face is marred by dust and sweat and blood; who strives valiantly; who errs, who comes short again and again, because there is no effort without error and shortcoming; but who does actually strive to do the deeds; who knows great enthusiasms, the great devotions; who spends himself in a worthy cause; who at the best knows in the end the triumph of high achievement, and who at the worst, if he fails, at least fails while daring greatly, so that his place shall never be with those cold and timid souls who neither know victory nor defeat."
I pray that we find ourselves laughing and leaping along the tenuous course of this year's uncertainties. Despite the "dust and sweat and blood" of the challenge, may we always be confident in our anchor, Jesus Christ. May Rockbridge Academy never be a place of cold and timid souls, but rather may the school year of 2020-2021 be a time of great enthusiasms and great devotions as together we take up the challenge to dare greatly in Christ.
Teacher Highlight
The Marvelous Mrs. Mackes
By Melanie Kaiss
"When you have a kid who has a heart for the Lord and who loves Him, how can you not teach him to read so that he can read the Bible, God's word to him?"
They both burst into tears. It was the consummation of six years of steady and persistent work, culminating in this student's spontaneous and delighted plea, "Mrs. Mackes listen to this!" followed by his clear reading of a paragraph from a book about birds. It wasn't the student who cried, but his mom and his teacher. The unhindered flow of words was a melody of triumph, and the grown-ups knew it, even if the student was oblivious.
This is what inspires Mrs. Mackes. "It's the foundation of everything," she says. Reading, she means. She loved it ever since she was a little kid. "I loved books, and read all the time. And I am kind of a grammar geek because my mom was a journalist."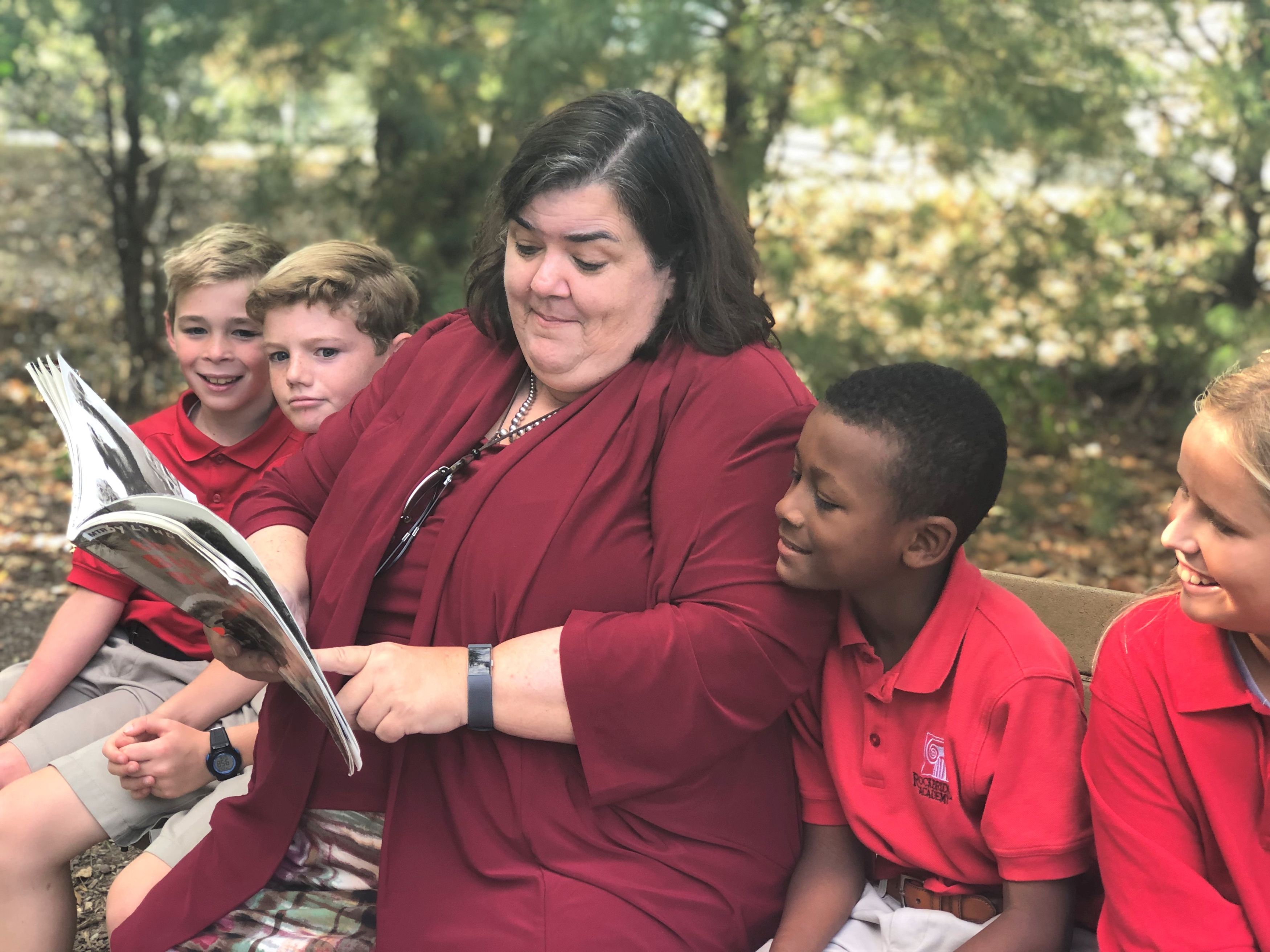 Her passion for teaching also began early. "I was always drawn to kids. I started teaching Sunday school when I was in middle school." A few years later, an aptitude test she took in high school confirmed her inclination, suggesting her strengths bent toward teacher or speech pathologist. "With kids, everything is exciting," she says. "If you are excited about what [you are teaching], they will be excited [about what they are learning.] Asked what her favorite subject is, Mrs. Mackes bluffs that they are all her favorite—at least that's what she makes her students believe.
After reading "The Well-Trained Mind" (by Susan Wise Bauer), she was convinced that classical education was the right approach. When their oldest son, James, was ready for kindergarten, the Mackes applied to Rockbridge Academy, but enrollment surged that year and no openings were available. The four Mackeses joined Severn Run Classical Christian Homeschool Academy, where Mrs. Mackes taught for seven years.
Finally, the time seemed right. The Mackeses applied to Rockbridge again when James was entering 9th grade and Stephen 7th grade. Both were accepted. Claire's journey was somewhat different. Claire has dyslexia, so she also attended the Summit school for several years before coming to Rockbridge. When she was ready to make the transition, Mrs. Mackes shared, "We were nervous, but Claire was determined, and her teachers were great. When there were obstacles, they helped her work around them." James is a 2015 Rockbridge graduate, Stephen 2016, and Claire graduated in May of 2019.
What is likely to keep Mrs. Mackes teaching now that her own children are moving on? Something that runs even deeper than her love of kids and teaching. The thing that lies at the root of both loves, her love of the Lord Jesus Christ and his word, the Bible. This brings us back to those spontaneous tears mentioned at the beginning. Mrs. Mackes cried because, "When you have a kid who has a heart for the Lord and who loves Him, how can you not teach him to read so that he can read the Bible, God's word to him?"
Clearly, Mrs. Mackes cannot not teach. She loves kids, she loves stories, she loves the Lord. This is what she brings to the classroom every day. Every student who has sat in her classroom, or under her teaching in any form, has been blessed by her unique gifts. These gifts spill over to parents and colleagues, too. Rockbridge Academy is a richer place for having her here.
ROCKBRIDGE STUDENTS FOR LIFE
Running for a Greater Purpose
by Olivia Reardon, Rockbridge journalism student
"Let us run with endurance the race God has set before us" (Hebrews 12:1).
The Rockbridge Students for Life, a club consisting of 9th-12th graders, gathered on Saturday, September 21, 2019, to support the pro-life movement at The Annapolis Pregnancy Clinic Walk and Run for Life held at the Mid-Atlantic Community Church. Not only did the Rockbridge Club raise $3,505, making it the third-place fundraising group, but Christopher Crane, a Rockbridge junior, won first place overall in the 5k race.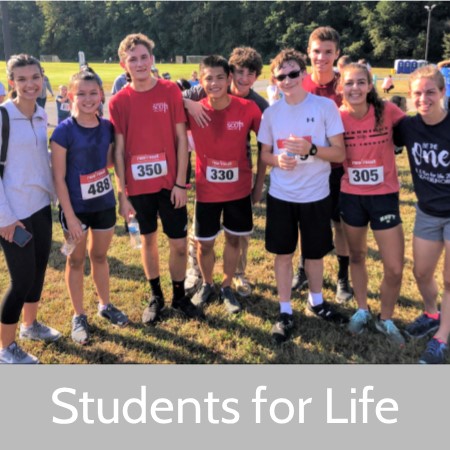 "Besides working together to raise funds, the RA Students for Life members are volunteering in many different ways at the event," said Noelle McDowell, Rockbridge Students for Life founder and president. "They are helping with set-up, running a bake-sale, providing face-painting, and running the toddler and kid's races." To raise funds, the Rockbridge students sent out emails asking people to donate online. A crew of Rockbridge students showed up to the race early and assisted with many tasks including setting up tables and chairs and putting together a balloon arch. A team of Rockbridge girls led by Lilia Bailey, 10th grade Rockbridge Student and 5k finisher, painted faces by the bouncy castle while Clara Atsinger, Rockbridge 9th grader, headed the group selling baked goods.
The proceeds from the 5k race go to the Pregnancy Clinic, which provides free medical services and education on abortion, as well as sharing the gospel with their clients.
According to Bailey, the course at Mid-Atlantic was much flatter and easier than the one they ran previously at Belvoir. Even though Rockbridge could not provide Belvoir as the location for the Walk and Run for Life this year, the Rockbridge Community still significantly supported the cause. Rockbridge Academy students, parents, and teachers alike were there to volunteer and run.
As explained by McDowell, Rockbridge Students for Life started in the Fall of 2018, but Students for Life of America is a national organization including over 1,200 student groups.
"I started the group because I really think this cause is important and I wanted a way for my peers and I to become more active in the pro-life cause," said McDowell.
Besides the Walk and Run for Life, the Rockbridge Students for Life Club participates in events including the National March for Life, the MD March for Life, and the National SFLA conference.
Crane explained why these events, such as the Walk and Run for Life, are important. "It gets the community involved and it kind of rallies everyone for the cause which helps get monetary support," said Crane. "It's really encouraging and cool to see how many people are for pro-life."
Atsinger related why she participates in these events. "I like to think that we are part of a change," said Atsinger.
The Rockbridge Students for Life is just a small part of the pro-life movement, but taking part in events such as the Walk and Run for Life makes an impact.
"It's a way to stand up, to show what you believe through physical actions," said Bailey.
The Rockbridge Students for Life are making an effort to stand up for their pro-life beliefs through physical actions. The Walk and Run for Life was just one of the events they participate in throughout the year in support of life.
Crane said it shows that "there is a next generation who will take up the torch of the ministry."