Drama
Rockbridge Remembers
Rockbridge Remembers...and What an Evening It Was!
Thank you to John Daly for capturing the evening in these lovely photos. Thank you to all of our out-town-guests and the creative team and parents and students who worked so hard to put on a great show.
God is about the business of transforming hearts, building community, and helping us see our need for Him and others, even in and through the variety show.
From Producer, Mandy Ball: "The unseen but beautiful work of the variety show happens when we come to Saturday rehearsals when every bone in our bodies cry out to stay in bed, care about classmates and adults in charge enough to apologize when we make the wrong choices, respond in humility to changes to an act on which we have labored for months, choose to see the Imago Dei in someone who has not met our expectations during the process, and see the needs of others and step in to meet them as the hands and feet of Christ."
ROCKBRIDGE REMEMBERS~A Variety Show
Rockbridge Remembers~Celebrating our Future with a Walk Down Memory Lane
**Don't miss the video of variety show memories starting at 7:00 PM on Friday and 6:30 PM on Saturday!
"The boldest plans for the future invoke the authority of the past..." G. K. Chesterton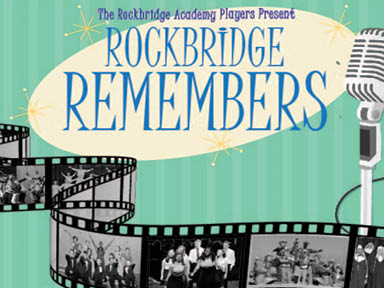 Come see Rockbridge Remembers, a variety show retrospective celebrating Rockbridge Academy musicals and variety shows from years past and looking ahead to the exciting future of our new Evergreen Campus. This year, students have chosen musical numbers from past shows performed by their predecessors. In addition, look for special appearances by Rockbridge friends from days gone by.
Reserve your free ticket to a pre-show reception on Friday evening at CAC* where you can catch up with old friends, including special guests, the McKennas, the Janikowskys, and the Horsts. An after-party on Saturday night at nearby Five Guys Burgers and Fries is also being planned for our community. Bring your family, call your old friends, and tell them all to meet you at this year's variety show as Rockbridge Remembers.
Ticket prices:
Adults 18 and up: $15.00
Youth ages 9-17: $13.00
Children ages 8 and under: $8.00
Special pricing for Rockbridge Academy alumni. Please contact Sonmin Crane at: scrane@rockbridge.org for more information.
Schedule of Events:
FRIDAY:
6:00 PM...Pre-show coffee reception with special guests including the McKennas, the Janikowskys, the Horsts, and more. Please RSVP for the reception when you purchase tickets.
7:00 PM...Doors open and video of variety show memories begins!
7:30 PM...Variety Show begins
9:00 PM...Lobby greetings with memorabilia on display
SATURDAY:
6:30 PM...Doors open and video of variety show memories begins!
7:00 PM...Variety Show begins
8:30 PM...Lobby greetings with memorabilia on display
9:00 PM...After-Party at Five Guys Burgers and Fries**
*Chesapeake Arts Center (CAC)
194 Hammonds Lane
Brooklyn Park, MD 21225
**Five Guys Burgers and Fries
6711 Ritchie Highway
Glen Burnie, MD 21061
Rockbridge Academy Presents!
The Rockbridge Academy drama program is designed to give students an in depth understanding of what it takes to bring a full-length musical, or musical variety production, to completion. Students learn the value of godly character, hard work, and cooperation as they go from initial auditions and read-throughs, to the final curtain, always encouraged to keep in mind standards of Truth, Goodness, and Beauty (Php. 4:8). In addition, musical stage productions serve a distinctive role in giving "flesh" to the concept of rhetoric. Students use their talents to persuade and articulate in a way that a traditional class never could. Students are encouraged to be part of the stage crew if that is where their particular gifts and talents lie.
Typically, students perform a full-length musical and a student-led Variety Show in alternating years. Last year, Rockbridge Academy performed The Pirates of Penzance to rave reviews!