Rockbridge Academy Blog
Posts Tagged "Veterans"
November 02, 2022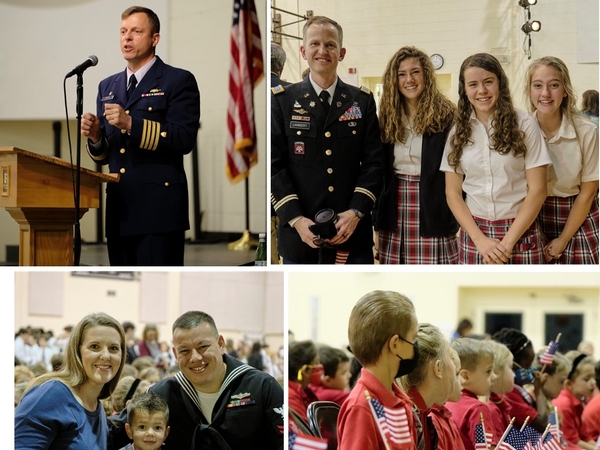 "Remember that you are first and foremost a soldier in Christ's army…"
Nathan Davenport (2020), Marine Corps
The Rockbridge Academy Veterans Day Ceremony, first held in 2008, arose from a desire to encourage the student body, offer a warm welcome to our neighbors, and honor veterans and active service members in the school and community. The ceremony has changed slightly over the years, but the highlights remain the same: an address by an honored military guest, speeches by student winners of the VFW Patriot's Pen and Voice of Democracy competitions, music from the Rockbridge choir, and a time for students to meet and thank veterans personally. The ceremony was warmly received from the start, and with the exception of 2020, it has been a cherished Rockbridge tradition ever since.
Rockbridge has always had close ties to those in the military. Currently, more than 40 families in the Rockbridge community have active or retired service members. Several staff have a military background or military spouses, and because of our proximity to the Naval Academy, Ft. Meade, and other defense employers, the school has always drawn families with military affiliations. These service members work in a wide range of fields—naval aviation, cryptologic warfare, music. Many have served for decades all over the country and world, often in extremely challenging conditions.
But our ties go even deeper, to the values reflected beautifully in the lives of our veterans and service members—values we share as a school.
One of those values is "My Life for Yours": the desire to love others freely and sacrificially, just as Christ came "not to be served, but to serve, and to give His life as a ransom for many" (Mark 10:45). This is something we long to see reflected in the hallways and classrooms of Rockbridge. Kim Williams, who served in the Air Force and Reserves for 23 years and taught at Rockbridge for 11 (ending in 2022), says this verse from Mark was especially meaningful during her time in the military. Just as Jesus came in the flesh to love and sacrifice for His people, a military leader had to be willing to invest in and sacrifice for those she led. Rockbridge service members describe separation from their families and church communities, physical deprivation and danger, and the grave responsibility of protecting life and freedom as some of those sacrifices. For such we are deeply grateful.
Another is acknowledging "Christ as Core"—the reality that all things are integrated under the lordship of Christ, and that in every circumstance, He is working out His sovereign plan for creation. This truth is woven into every subject at Rockbridge and is also a key truth for Christians in the military, especially as they are called to uncertain and sometimes chaotic situations. Rockbridge father Lance Nickerson, Program Manager with the US Army Counterintelligence Command, has served as an active duty member and civilian for over two decades. He says that God's sovereignty was one of the primary spiritual lessons he gained from his time in the service: no circumstance was accidental, and nothing was beyond God's control. Army Major Andre Slonopas drew from Ecclesiastes 3:11 as he witnessed the turmoil of Afghanistan: "He has made everything beautiful in its time. He has also set eternity in the human heart; yet no one can fathom what God has done from beginning to end." Those who serve in the military often experience firsthand the fallenness of our world. Yet as followers of Christ, they trust that He is always at work, redeeming it for His good purposes.
Our alumni are one more link between Rockbridge and the military, and one of the school's most meaningful reasons for honoring those who serve. Rockbridge graduates have pursued careers in the army, navy, air force, and marines; attended military academies, sought ROTC scholarships, enlisted, and supported military spouses. Today they are cyber security specialists, naval officers, aviators, and students pursuing advanced degrees in service of their country.
Many testify to the ways Rockbridge both inspired and equipped them to serve. Several were influenced by the military leaders they met on staff and among the families at Rockbridge—men and women of integrity and courage. Some found that the academic standards, constant practice in public speaking, and leadership opportunities on the athletic field prepared them well for the rigors of officer training.
Perhaps most importantly, many graduates believe Rockbridge gave them a firm foundation as followers of Christ. "Rockbridge gave me access to the deep wells of Christian truth that would sustain me during difficult times," writes Navy Lieutenant Daniel Dawson (2012), currently studying at Harvard's Kennedy School of Government. Private First Class Nathan Davenport (2020), training with the Marine Corps at Camp Lejeune, says Rockbridge taught him to "think critically" and encouraged him to "examine every aspect of life in the light of Scripture and live it to the glory of God"—even when the environment is challenging physically and spiritually.
Rockbridge Academy hopes to continue supporting our military by coming alongside military families, listening to their stories, and equipping future graduates to stand firm in Christ and serve to His glory. We look forward to honoring you this November 11. To those who serve and have served our country, thank you.
Monica Ault serves as the Upper School Administrative Assistant at Rockbridge Academy and has been a Rockbridge parent for 20 years.
November 10, 2020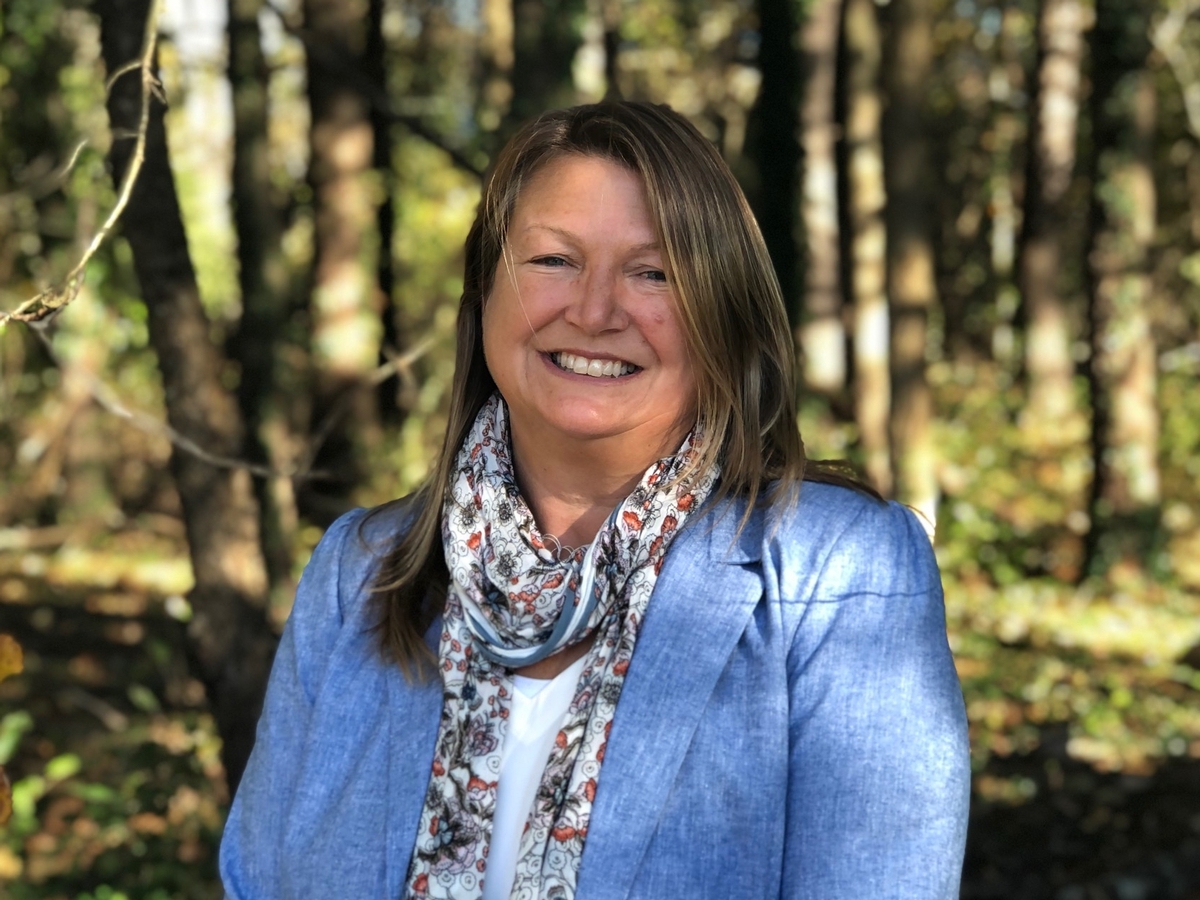 Mrs. Kim Williams is never without a mission. Whether she's piloting airplanes, teaching medieval history in a 4th grade classroom, or raising her three children, she approaches her duties with determination and humility, giving God control of the cockpit. Many of us have benefited from her time teaching at Rockbridge—first 4th grade, now 10th grade Bible. But before she ever graded our papers, she served in the United States Air Force.
Mrs. Williams joined the Air Force when a recruiter came to her high school. Not only was joining the military a way to pay for college, but it offered her a chance to see the world and serve her country. She served 23 years total, 10 on active duty.
While on active duty, Mrs. Williams participated in several missions, but she especially remembers piloting the KC-135, "which was basically a big gas station in the sky," she said. It flew in a circle at a fixed location waiting for planes to refuel. Sometimes, these planes would meet from two different Air Force bases across the country. Mrs. Williams described this meeting of two airplanes connecting mid-air in the same piece of sky as "a controlled collision."
When she first became a mother, she left active duty and joined the Air Force reserves. During this time, she worked at various military bases, including Andrews Air Force Base and even the Pentagon. While at the Pentagon, she worked in the "Lessons Learned" office, where the Chief of Staff sent her team to various active duty units to interview soldiers who experienced an event or were part of a project that had remarkable mission impact. Gathering and publishing lessons like these could then educate or benefit the rest of the Air Force. "Maybe there was a big success story in a unit," she explained, "and he might say, 'Go capture why this was such a success. What made it a success?'" Along the way, Mrs. Williams learned her own lessons.
"Being in the military gave me confidence to try something new," she said. "You're always having to do something new. You just say, 'Here I am, let's figure it out.'"
While still in the reserves, she was called on an additional mission—teaching—a job she approached with the same can-do attitude. When she brought her daughter, Sarah, to Rockbridge Academy, she became interested in the Rockbridge mission. "I watched the teachers and how they had such a big influence on the young people they served," she said, "and I thought, 'Wow, this is a pretty neat mission, and I want to be a part of it.'"
At first, she thought she'd teach in the upper school. But when Mr. Mike McKenna, former Rockbridge headmaster, told her she'd teach 4th grade, she thought, "What in the world?" However, she soon came to love the age. "I love how they love you," she says. "They're not self-conscious, they're just themselves. So, when Jesus says come to me like little children, this might be what he means, to come with hearts wide open, humble, and beautiful."
Mrs. Williams taught 4th grade for 9 years. This past year, she transitioned to teaching the 10th grade Bibliology and Hermeneutics class. She taught many of her current 10th grade students when they were in grammar school, "so they know I'm crazy already," she laughs. Despite the age difference, she hopes to integrate aspects of her 4th grade Bible curriculum into the 10th grade lessons, primarily using the book of Isaiah. Since Bibliology focuses on ideas, Isaiah will help her refer to tangible examples of those ideas. "God must have done that," she said. "He puts these things on your heart."
"It brings me a lot of joy to help people in the next step of their journey," she said. "To watch people grow was more fun than flying airplanes, which perhaps not a lot of people would say."
Mrs. Williams doesn't fly airplanes anymore, but she still aims high. "Be ready for adventure," she advises students. "Have a positive attitude in the midst of it, and be flexible, and have eyes to see those around you." Though no longer serving in the Air Force, she's still serving the Rockbridge community, and her unstoppable mission remains: pointing students towards the Lord.
Mrs. Williams graduated from the United States Air Force Academy in 1993 and reported to Pilot Training at Vance Air Force Base that same year. She met her husband, David, in Pilot Training, and they were married in 1997. Navigating her own life in Christ, raising three beautiful children, returning to school for a masters degree in Biblical Studies, and serving in and out of the military in varied careers over 23 years of marriage has been both challenging and fulfilling. For Mrs. Williams, soaking in and teaching God's Word during these years has been one of her greatest joys.