Rockbridge Academy Blog
Posts Tagged "reading list"
June 23, 2020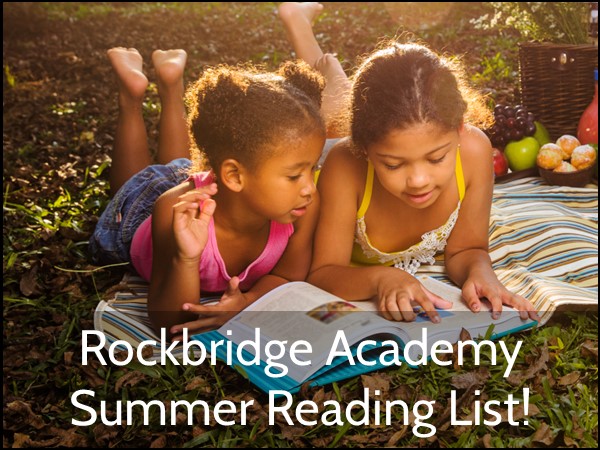 Author: Emily Marsh, class of2019
Emily is excited to build the Rockbridge Blog to highlight the community that educated and guided her. She is now studying Economics at Hillsdale College, where she's a captain of the sailing team and an editor of the Hillsdale Blog.
Summary: Every year, Rockbridge Academy released a summer book list for her students. This year, these lists seem more critical than ever.
Across the country, families' summer plans have changed drastically this year. In the wake of canceled sleepaway camps and postponed vacations, summer reading will claim its place more than ever as a critical defense against the creeping summer malaise. The Great Books broaden horizons when travel isn't an option and don't require any social distancing. Our literature department has compiled a list of some such books for the student body to tackle this summer; here's a sampling of them:
GRAMMAR
Amelia Bedelia — Peggy Parish
Corduroy — Don Freeman
Curious George — H. A. Rey
Frog and Toad are Friends — Arnold Lobel
The Garden of Abdul Gasazi — Van Allsburg, Chris
How the Leopard Got His Claws — Chinua Achebe
Madeline — Ludwig Bemelmans
Mr. Popper's Penguins — Richard and Florence Atwater
Pippi Longstocking — Astrid Lindgren
Shiloh — Phyllis Reynolds Naylor
The Story of Babar — Jean de Brunhoff
The Tale of Peter Rabbit — Beatrix Potter
Where the Wild Things Are — Maurice Sendak
Anne of Green Gables — L. M. Montgomery
Chronicles of Prydain — Lloyd Alexander
The Chronicles of Narnia — C. S. Lewis
D'Aulaire's Book of Norse Myths — Ingri and Edgar d'Aulaire
Harriet the Spy — Lousie Fitshugh
Hatchet — Gary Paulsen
The Jungle Book — Rudyard Kipling
Mary Poppings — Pamela I. Travers
Matilda — Ronald Dahl
Misty of Chincoteague — Marguerite Henry
The Secret Garden — France Hodgson Burnett
Swiss Family Robinson — Johann Wyss
The Wonderful Wizard of Oz — L. Frank Baum
Tuck Everlasting — Natalie Babbitt
Dialectic:
King Arthur and His Knights of the Round Table — Roger Lancelyn Green
The Adventures of Tom Sawyer — Mark Twain
The Enchanted Castle — E. Nesbit
A Tree Grows in Brooklyn — Betty Smith
A Wrinkle in Time, Series — Madeline L'Engle
Alas, Babylon — Pat Frank
Novels — Agatha Christie
Hound of the Baskervilles — Sir Arthur Conan Doyle
Ender's Game — Orson Scott Card
Little Women — Louisa May Alcott
Profiles in Courage — John F. Kennedy
Gaudy Night — Dorothy Sayers
The Lord of the Flies — William Golding
The Martian Chronicles — Ray Bradbury
The Scarlet Pimpernel — Baroness Orczy
To Kill a Mockingbird — Harper Lee
Treasure Island — Robert L. Stevenson
Amazing Grace — Eric Metaxas
Fahrenheit 451 — Ray Bradbury
Frankenstein — Mary Shelley
My Early Life — Winston Churchill
Raft — Stephen Baxter
Robinson Crusoe — Daniel Defoe
The Lord of the Rings, Trilogy — J. R. R. Tolkien
The Three Musketeers — Alexander Dumas
RHETORIC
The Music of Pythagoras — Kitty Ferguson

The Source — James A. Michener
Complete Sherlock Holmes — Sir Arthur Conan Doyle
How Should We Then Live? — Francis Schaeffer
The Killer Angels — Michael Shaara
Mere Christianity, Abolition of Man, Screwtape Letters — C. S. Lewis
Notes from the Tilt-a-Whirl — N. B. Wilson
The Old Man and the Sea — Ernest Hemingway
Things Fall Apart — Chinua Achebe
Uncle Tom's Cabin — Harriet Beecher Stowe
The Chosen — Chaim Potok
Isaac Newton — James Gleick
Mathematics: Is God Silent? — James Nickel
Autobiography — Benjamin Franklin
Thee Confession, City of God — St. Augustine
The Count of Monte Cristo — Alexandre Dumas
East of Eden — John Steinbeck
The Good Earth — Pearl S. Buck
He Leadeth Me — Walter Ciszek
Heart of Darkness — Joseph Conrad
The Last of the Mohicans — James Fenimore Cooper
North and South — Elizabeth Gaskell
Anna Karenina, War and Peace — Leo Tolstoy
Les Miserables — Victor Hugo
Middlemarch — George Eliot
These books represent some of the Great Books, spanning many different eras of literature, that have shaped Western thought and informed much of its progress. Classical education depends on both looking around ourselves at contemporary works and on looking backwards to the great works that have come before. They may report ideas that deserve a meticulous perusal or describe a completely unfamiliar world, but above all else, they offer enchanting stories that have captivated many generations of learners and will continue to captivate readers.