Rockbridge Academy Blog
Posts Tagged "Christ preeminent"
May 11, 2023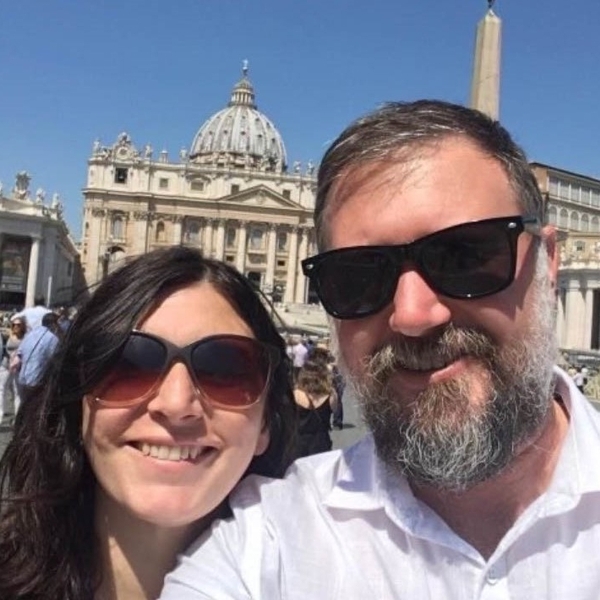 One year ago, Mr. Northup retired from teaching at Rockbridge Academy after being diagnosed with brain cancer. Mr. Northup greatly impacted my life so when I was given the opportunity to write about his life, I took it. This article is dedicated to Mr. Northup and his family for their 17 years of love and support of Rockbridge Academy.
I know many of us are wondering how he is handling the cancer, but more so why he, of all people, got cancer. Mr. Northup was one of the greatest Bible teachers I (and all of Rockbridge) could have asked for. He displayed his faith in every word and deed, and his love for his students and the subjects he taught was unmatched so, why did Mr. Northup get cancer? This question can be restated in this infamous question: why do bad things happen to good people?
That was my main question for Mr. Northup, and he answered it. Before I reveal exactly what he said, make sure to actively look for the providence of God in Mr. Northup's life throughout the rest of this article.
Mr. Northup was born in Rhode Island and moved to California a year later. At eight years old in California, he dreamed of becoming a real-life Tarzan but he had two problems preventing him from becoming the rope-swinging monkey-man. For starters, he lived in California, and one cannot be Tarzan when climbable objects are limited to a "cactus and a palm tree in the backyard." This problem was solved when he moved back to Rhode Island the same year where trees grew as commonly as the California cacti. His other problem was more serious: he needed a Jane, but where to find the perfect girl? He did not need to look far; across the street lived the future Mrs. Northup, Merry Dupre. Mr. Northup said that from a young age he knew he was going to marry her. If she made a great Jane, which she did, then she would make a great wife. Obviously, he convinced the girl across the street that he was worth keeping around as they have been married for 27 years and have had five children.
Mr. Northup's youth in Rhode Island involved street fights and big older brothers. Our teacher was small for his age but hotheaded. He was known for roughhousing and the kids on his street beat him up multiple times. However, they stopped picking on him after Merry's brother began looking out for him. Her brother was big and strong with a statement 70s hairstyle, a mohawk.
While Mr. Northup had his fair share of fighting, he also spent a good amount of time in church. He was brought to church as a child, but only began searching for God in his teenage years. He told me that, "Everyone at church had a testimony but I didn't." Mr. Northup decided to change that by becoming a rebel until he had a good story to tell.
Mrs. Northup said this time was short lived once they had their first child, Samuel, when he was 17 and a daughter, Nadia, at 18. With two children and little stability, Mr. Northup decided to start bringing the family to church, but he made a mistake and joined, as he called it, a "cult" instead. The church that the Northup family joined preached that one's salvation depended upon their daily missionary work. One had to share the gospel every day to a random stranger to secure their own salvation. Mr. Northup realized that this teaching did not match his understanding of the Bible from his youth. The dissonance between his understanding of the Bible from childhood and what this church was preaching lit his heart afire for God and truth.
Mr. Northup was hungry and curious to know God's word, so he sought out the youth pastor from the church he grew up in and began a mentoring relationship with him. To make ends meet he worked as a mechanic until he pursued seminary at age 20. He brazenly decided to attend Moody Bible Institute in Chicago. At first, the college rejected him but that did not stop our teacher. He caught a flight from Rhode Island to Chicago to meet the admissions board face to face. He told them, "I am going to come, but how do I do this?" Seeing the passion of this young teacher changed the hearts of the board. Mr. Northup's grades were not great, and he was behind in the necessary schooling, but his heart was ready to tackle any obstacle presented to him. The college offered him a deal: he would take night classes until he was ready for full admission into regular daytime classes. Eventually, Mr. Northup worked his way up to those daytime classes and even earned a full ride. During this time, he moved his family out to Chicago and received free housing from a nearby church in exchange for his cleaning services. His living costs were low, so he only had to provide food for his family. Thankfully, the window washing business was booming and he received a job cleaning windows for around $100 an hour.
Here, Mr. and Mrs. Northup had their third child, Josiah. After finishing college with a wife and three kids, he moved back to Rhode Island, desiring to impact children's lives. He first thought about working at summer camps, but a week or two was too short to create a lasting impact. He then considered becoming a pastor, which he did for three years, but he still wasn't achieving his goal of teaching children. He decided to change careers once more and become a teacher.

The first and only school Mr. Northup taught at was Rockbridge Academy. When deciding where to teach, Mr. Northup and his wife asked the question, "Who do we want our kids to be?" They came upon this one, strange way of teaching called classical Christian Education. They fell in love with the idea of teaching children with a focus on the liberal arts but centered around Christ. Mr. Northup told me concerning classical Christian Education, "This is the way Christians ought to be training their kids." The Northups found a classical Christian school called Rockbridge Academy which they thought embodied the classical Christian spirit and teaching they desired for their kids. Mr. Northup applied to work here and hit it off with the school board, landing the job for a Bible teacher. He served at Rockbridge for a total of 17 years and during this time, had two more children, Luke and Emma. I asked him which Bible class he enjoyed teaching the most and he answered, "Christ in the Old Testament . . . We get to explore the question 'where specifically is Christ?'"
Sadly, as we all know, Mr. Northup has left Rockbridge and pursued treatment for his cancer. He said that in these hard times, his wife, Merry Northup, has been his continuous rock and constant companion, a true helper. He is also very grateful for the time he can now spend with his immediate family and his three grandsons. God's providence, which has shown itself time and time again, is clearly woven throughout Mr. Northup's life. God has provided in countless ways from protection in his youth to free housing in college and ultimately a job at Rockbridge Academy. To end this story, I want to provide you with Mr. Northup's answer to the question, "Why do bad things happen to good people?" He said, "This sounds cheap, but I don't think that people are good; I think that God alone is good and He's gracious. I don't expect that I should get things because I'm good or because I'm not. He is. That's one part. The rest is grace. He's been gracious to me with everything from my family to provision. I don't expect that I should be taken care of. Everything is grace. I am grateful for the provision of my family. I can't do anything more than simply be grateful. I don't know if that's the right way to think about it, but that's what I think."
Hannah Bates is currently in 11th grade and a member of the Rockbridge Review (student-run school newspaper) editorial team.
September 09, 2021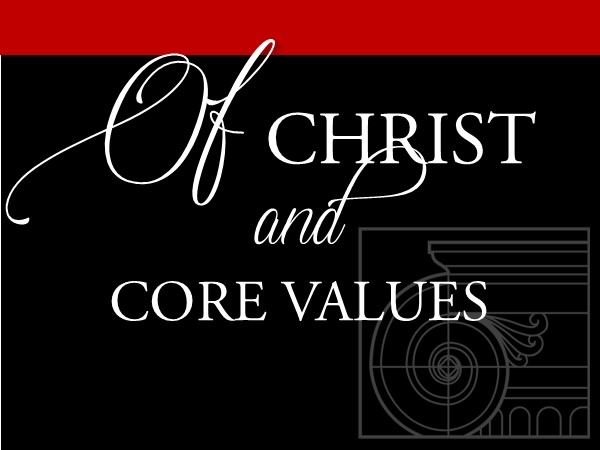 VISION and MISSION
Talk to any business guru, and you will encounter the terms vision, mission, and values. If vision is an institution's overarching reason for being, mission describes the work they do to achieve this vision. Meanwhile, values (often called core values) are the collective beliefs and behaviors required of those who partake in the mission and subscribe to the vision.
Is all this just pragmatic business banter? No. At its foundation, the vision-mission-values triad reflects the heart of God. If God himself had the vision to create a universe, set about a mission of redemption through His Son, while continually calling his people to live out the values of a kingdom, then we as a Christian school should emulate the pattern, both in form and content.
What is the vision of Rockbridge Academy—the intent behind why we exist—in the first place? What role do we play in this little corner of God's kingdom? Space does not allow us to print our multi-paragraph vision script (Click here to find Our Vision. It's worth the longer read!), but if I were to unofficially summarize the Rockbridge vision in a statement, I'd simply say it this way:
OUR VISION:
Rockbridge Academy exists to be a transformative learning community, graduating young men and women as thinking, compassionate, and intentional disciples of Jesus Christ.
Meanwhile, Rockbridge Academy's mission statement brings greater focus to how we go about realizing this vision. If you look on our homepage, you'll see a condensed version of our overall plan of action, stated more fully here:
OUR MISSION
To partner with parents in a distinctively classical and unwaveringly Christian education for their children, encouraging the pursuit of goodness, truth, and beauty in all of life.
Thus, confident in our vision to graduate thinking Christians, and having our mission set before us to do this through classical Christian methodology, we gird our loins in anticipation for the first school year unified on the Evergreen Campus as One Rockbridge. So far so good.
Nevertheless, just like Nehemiah surveying the walls of Jerusalem, tracing his way from tower-gate to tower-gate before proclaiming his intent to reset their foundations, it is worth tracing our way back through Rockbridge history to enumerate the core values that make us who we are. Faithful Jews surveying the wall that defined and laid claim to Jerusalem reflect the importance of rehearsing the distinctives that define our school. As a community then, we lock arms to proclaim to ourselves and to a watching world what it means to be part of Rockbridge Academy.
"There is not one square inch in the whole domain
of our human existence over which Christ, who is Sovereign over all,
does not cry, Mine!"
Abraham Kuyper
CHRIST AS CORE
First and foremost, we acknowledge that our identity as a school flows from one person, Jesus Christ. We joyfully submit ourselves to his Lordship. We proclaim along with early 20th century Dutch statesman, Abraham Kuyper, "There is not one square inch in the whole domain of our human existence over which Christ, who is Sovereign over all, does not cry, Mine!"
If this truth does not permeate all of what we do as a school so that our students grow up in the humidity of God's sovereignty, all is for naught. When we gathered through the summer as staff and board to assemble the core values of Rockbridge Academy, the centrality of Christ was the refrain, because He is the source from which the following five values flow:
ENTHUSIASTICALLY CLASSICAL
We joyfully mine the content and pedagogy of a tradition that edifies our humanity in its celebration of truth, goodness, and beauty, while equipping us to see the integration of all things under the lordship of Christ.
You see, the best way we've found to raise up thinking disciples of Jesus is to leverage classical education because it not only frees our children to think through the tools of learning (grammar, dialectic, rhetoric), it also captivates their hearts with truth, goodness, and beauty, and uniquely proclaims the unity of all subjects. All of this allows us to point students to the fact that all of life coheres under the Lordship of Christ.
PARENTAL PARTNERSHIP
We believe education is a command of God to parents, who actively partner with teachers to pursue Christian discipleship of their children's heart, mind, soul, and strength.
We need look no further than Deuteronomy 6 in the Old Testament and Ephesians 6 in the New Testament to be reminded that it is the parent's grand and humbling privilege to daily educate their child in the whole of life [paideia, Gr]. From academics to etiquette, tying shoes to reading to respecting mom, parents are entrusted with an 18-year (and further) discipleship program to grow up their children. Meanwhile, the school comes alongside to provide and reinforce what is needed through these years. Daily, parent and teacher shoulder together in this effort. Partnership is paramount.
MY LIFE FOR YOURS
We seek in every situation to empty ourselves with love for others, encouraging adults to mentor students and older students to mentor younger, with everyone learning to serve from union with Christ.
Contrary to our children's universal aversion to emptying the dishwasher at home, we find that students love to serve. Young men and women long to be reminded of the masculine and feminine reality of the adults they are becoming. Boys love to demonstrate their muscles at work. Young ladies love to show their resilience and diligence. Entrusting both with sacrificial work in community answers that age old question they long for adults in their lives to answer for them.
Do I have what it takes? Absolutely, you have what it takes!
Do you see me? Yes, beautifully done!
WORK FROM A PLACE OF REST
We find our value and identity in Christ, measuring success by faithfulness, thereby encouraging habits of rest for mind, body, and spirit that fit us for our best work.
School, like any other aspect of life, can be a place where we as individuals—staff, student, or parent—pursue our idols. Idols around success create unrest in our hearts and lead anywhere from anxiety to avoidance to burnout. Rest acknowledges our human limitations, glories in God's sovereignty, and helps us recall the limitless blessings of Christ. We want to be a school that reinforces habits of rest so that we are continuously restored to pursue our best work.
RELATIONALLY REDEMPTIVE
We prioritize love for one another by pursuing peace at the source of conflict, remembering that biblical peacemaking starts with self-examination, and that relationships are redeemable through the gospel of Christ.
Since its inception, Rockbridge Academy has put a high premium on the strong fellowship required in the learning environment, whether inside or outside of the classroom. The relationships between staff, students, and parents have opportunity to reflect the fellowship of the Trinity either beautifully or poorly. Sin is the reality that infects us all, yet the gospel is the greater reality that redeems even the most desperate breaches in relationships. Peacemaking can be hard work, but biblical peacemaking is essential to reflecting Christ as a community.
IN CONCLUSION
It is important to remember that core values are both instructive and aspirational. Core values unify us toward shared understanding and action, yet we acknowledge that even our best efforts to embody such ideals will fall short. Remember, though, that the author of vision, mission, and values is God himself. His sovereign intentions never lack for His abundant supply; therefore, we pray:
Dear Father, as we fully submit ourselves to the lordship of Jesus Christ, equip Rockbridge Academy to flourish as an enthusiastically classical community of learners dedicated to parental partnership, faithfully pursuing a relationally redemptive culture in which we work from a place of rest and serve under Christ's banner of "my life for yours."
November 19, 2020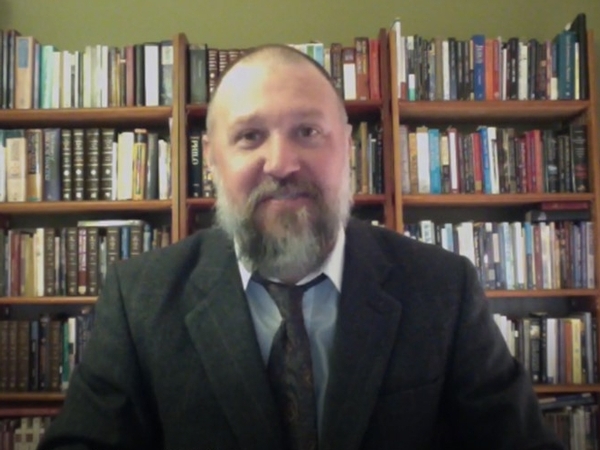 Since 2005, Mr. Nathan Northup has been faithfully teaching Bible at Rockbridge Academy in the upper school. He shares IN THIS VIDEO the heart of why we teach Bible at Rockbridge Academy. More than Bible knowledge, our desire is that each and every student would see and know and love Jesus, our Savior, and that they would be able to evaluate their whole range of life experiences in light of the Scriptures.