Rockbridge Academy Blog
Posts Tagged "school culture"
February 16, 2023
Thomas Jefferson readily preferred a newspaper without the government than the government without a newspaper. Alexander Graham Bell declared the greatest inventors were those who write the newspaper. Presidents and many other notable figures such as George Orwell completely disregarded the newspaper, assuming it was not to be trusted.
With all these ideas on newspapers circulating throughout the country, one may misunderstand the true value of a newspaper. People now don't know whether to listen to everything the news feeds them, take it with a grain of salt, or throw it in the recycling bin without a glance. People could take the wrong side on important issues simply because one writer presented a fallacious yet persuasive argument or because they refuse to read any article which might actually provide concrete data.
I decided to begin a newspaper the student body can trust; a newspaper that does not satirize our school, yet informs the readers; a place to discuss, learn, and maturely disagree. Although we can't tackle all the world-wide issues in our small school newspaper, we can still foster meaningful discussions, critical thinking, and responsible reporting.
Will we use this newspaper to manipulate the student body into conforming to our standards? Or keep our "government" in check? No. I hope to find a balance between publishing anything we want and filtering the content in such a way that we avoid real-world problems which we ought to learn to discuss.
In order to maintain this balance, the students run and fund the newspaper. Along with my editor's board, we write (or enlist other students to write) articles which foster a student's understanding on different topics or ideas. Through this newspaper, students will use the skills they learn in class and apply them. They will experience real-life discussions outside of a classroom environment. Additionally, because it is student-run, the students will learn to exercise good judgment and prudence as they decide what to publish.
Unlike many school newspapers today, we do not publish our newspapers on the website or online. Instead, we send our newspaper to a printer in order to have hard copies. I think paper copies give the newspaper a certain kind of value and increase the likelihood of someone reading it. Today, we can access a news story with a few clicks on our phone. A paper newspaper brings the student body outside of the world on their phones and teaches them to interact with important issues that don't necessarily originate from our electronics. The newspaper adds a communal aspect to a student's day as they gather around the newspaper, especially since students are not allowed to have their phones out during the school day. Additionally, as many people agreed, a paper newspaper is real and lasting. A paper newspaper distinguishes our school from other schools and the culture around us as everything is going digital. However, because we only provide paper copies, the only way to obtain a newspaper is from our school building. You can find our newspapers dispersed throughout the common hangout areas in our school. In later years we hope to create a subscription plan so that alumni and donors can order a copy.
After getting the newspaper up and running, I interviewed a collection of students who I then appointed to an editorial board. The editorial board plans to expand our content and discuss issues concerning race, pronouns, and abortion. Of course, we will have a balance of both heavy discussions and funny stories or reviews.
In the end, my goal with the newspaper is to give students a responsibility, an opportunity to share and build their worldviews, and a place to learn to maturely disagree. One day, the teenagers attending Rockbridge high school will graduate. I hope this newspaper will teach them to formulate and stand up for their worldviews, yet also respectfully and maturely disagree with those who differ from their beliefs.

Hannah Leeman is a current tenth grader. Through the school newspaper she gets to use her passion for reading and writing. She also loves biking and hiking, especially with friends.
March 17, 2022

We all know about Gryffindor, Ravenclaw, Hufflepuff, and Slytherin. But Athens, Corinth, Florence, Rome, and Siena? Well, they're just old cities. Right? When Rockbridge Academy introduced its very own house system this year, a buzz shot through the school. "Which house are you in?" "Go Rome!" "Wait . . . is our mascot supposed to be a ram or a goat?" House cheers and special hand signals began springing up in a matter of hours. To many, the new house system was a surprise, and many students, teachers, and parents alike still have questions. Read below to discover the who, what, why, and how of the new Rockbridge House System.
What is the House System? In September 2021, Rockbridge Academy introduced its new house system. Upper school students (7th-12th) and teachers were sorted into one of five houses: Athens, Corinth, Florence, Rome, Sienna. Siblings are assigned to the same house. In future years, students will receive their house assignment at the beginning of seventh grade.
Why did Rockbridge create a House System? The houses are intended to create smaller communities within the student body. They also serve as groupings for grammar school mentoring, school service assignments, intramural sports, and other school competitions. Upper school principal Mandy Ball shared her vision for the house system: "I want the house system to be about looking out for the interests of others, not choosing to just be with the people it's comfortable to be with, and finding fellowship with people throughout all the grades, even the grammar school. We want faculty to work regularly with students, who work with younger students. It's mentoring and relationships from the top down."
So . . . Harry Potter? While the idea of "houses" does remind us of Harry Potter, there is no intentional connection to the four houses in the book series. Rockbridge's five houses were not intended to have personalities or characterizations, but, of course, some houses have already started to claim unique identities.
How did the House Names get picked? The five houses—Athens, Corinth, Florence, Rome, and Siena—were named after stops on the Grand Tour, Rockbridge's capstone field trip to Greece and Italy for rising seniors.
How about the mascots? The house mascots and colors were inspired by different contradas in Siena. Athens is the eagle (blue/yellow), Corinth is the dolphin (blue/white), Florence is the dragon (gray/pink), Rome is the wolf (black/white), and Siena is the ram (red/gold). As Rockbridge students learn in fourth grade, the city of Siena divided itself into districts during the Middle Ages to create military companies. Each contrada has its own flag, mascot, church, and tight-knit community. To this day, the contradas dress up in their respective colors and compete at the Palio, Italy's most famous horse race.
How do intramural sports work? The five houses compete in different intramural sport tournaments throughout the year. Although intramurals were delayed in the fall because of COVID, athletic director Timothy Stewart shared that his plan for the intramural sports rotation is flag football (Sept-Oct), kickball (Nov-Dec), volleyball (Jan-Feb), dodgeball (Mar-Apr), and ultimate frisbee (Apr-May). At the end of each sport's season, the two houses with the best record compete in a championship match to be the tournament's winner.
What's the point of intramural sports? Mr. Stewart hopes that there will be a high participation rate in intramural sports among the student body. These games are opportunities for people who don't want to commit to playing in a sports team but would like to participate in a lower-stakes competition.
Will this create division among the students? Of course, intramural sports are intended to create an aspect of fun, healthy competition between the houses. Most of the games are self-called, meaning that there is no referee and students must work out any disputes among themselves. This is a great opportunity for students to show leadership and good sportsmanship. Mr. Stewart shared, "I want the students to care about winning, but it's not more important than just enjoying the sport and making sure everyone is having a good time. We're doing this to build the overall culture of the school. The students will have to sacrifice some of the allure of winning for those things."
Are there prizes? Nope. Mr. Stewart explained, "Right now there's no prize; it's just glory. If you won kickball, well, then you won kickball."
What might the House System look like in the future? Mrs. Ball hinted that she is hoping to incorporate other non-athletic competitions between the houses and encourage more mentoring between the upper and lower school students in the future. Once the impacts of COVID and adjusting to a new building have mostly passed, the possibilities are almost endless. In the end, Mrs. Ball hopes that the house system will become a hallmark of fun and fellowship within the school: "It can be a really cool part of our school culture."
September 23, 2021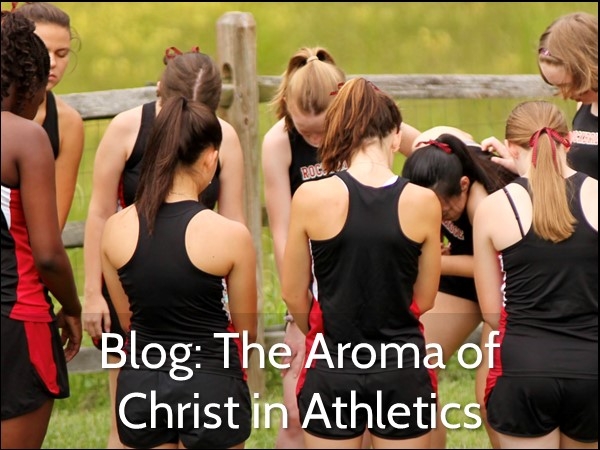 At Rockbridge we confess together that the primary purpose of life is to glorify God. In his first letter to the Corinthian church, Paul instructs the believers: "whatever you do, do all to the glory of God." As a Rockbridge athlete, the goal remains the same, we strive to glorify the Lord through our sport! As we aim for this high objective we will look, act, talk, and think differently than the world. People will notice. In his second letter to the Corinthian church, Paul writes about Christians being the aroma of Christ:
But thanks be to God, who in Christ always leads us in triumphal procession, and through us spreads the fragrance of the knowledge of him everywhere. For we are the aroma of Christ to God among those who are being saved and among those who are perishing, to one a fragrance from death to death, to the other a fragrance from life to life.
Rockbridge athletes have a different aroma because of their commitment to the team, because of the unity among teammates and coaches and because their identity is found in Christ. Imagine another team driving onto the Rockbridge campus and crinkling their noses as they sniff a few times asking one another, "Do you smell that?' 'What is that?' 'It's different!' 'It smells like...Jesus!" As a result, fellow Christians will be encouraged by our conduct while non-believers will be repulsed, frightened, or confused. This opens the opportunity to share "the hope that is in you . . . with gentleness and respect" (1 Peter 3:15).
The Rockbridge athlete will start to smell different because he is fully invested in his team. Commitment is a virtue that is severely lacking in society. People are afraid to commit; many can only half-heartedly commit, or commit only to back out later. The Rockbridge athlete is expected to fully commit to her team for the entire season. That means buying into the coach's program. Athletes should not question the coaches every time something goes wrong. Athletes should complete the season whether it is fun or not, victorious or not, going as planned or not.
My college wrestling coach said he measured his success as a coach by how many of his former wrestlers were committed to their wives and avoided divorce. At the beginning of each wrestler's college career, my coach lays out the expectations and asks the wrestler to verbally agree to devote himself to the team for the next 4 years. This method has taught his teams many valuable lessons. Commitment does not change based on feelings; life will be difficult and it requires sacrifice but it is worth it! "Let us not grow weary of doing good, for in due season we will reap, if we do not give up," as Paul said to the Galatians (6:9). Commitment should not be taken up lightly, but once a person commits, he should stick to it. In one of his parables, Jesus said:
For which of you, desiring to build a tower, does not first sit down and count the cost, whether he has enough to complete it? Otherwise, when he has laid a foundation and is not able to finish, all who see it begin to mock him, saying, 'This man began to build and was not able to finish' (Luke 14:28-30).
The Rockbridge athlete will wear the fragrance of Christ by uniting with their teammates and coaches. This is where personal glory quickly fades in importance because the overall success of the team is more satisfying.
The Rockbridge athlete will wear the fragrance of Christ by uniting with their teammates and coaches. This is where personal glory quickly fades in importance because the overall success of the team is more satisfying. Every member of a team has a role to play and every role is vital. In this way, our teams should also help athletes prepare to be good and faithful church members. Paul compares the church to a human body, and we can use that same metaphor for a sports team. Paul writes, "there are many parts, yet one body. The eye cannot say to the hand, 'I have no need of you,' nor again the head to the feet, 'I have no need of you.' On the contrary, the parts of the body that seem to be weaker are indispensable" (1 Corinthians 12:20-22). The lead scorer, the backup player, and the manager are all working to make the team successful and through their efforts bring glory to God.
Paul continues this metaphor in verse 26, "If one member suffers, all suffer together; if one member is honored, all rejoice together." I was blessed to witness that verse lived out as a member of my college wrestling team. First is an example of suffering together. In my sophomore year, two of my teammates, Matt and Mike, were both among the top wrestlers in the nation, but they were in the same weight class. That meant that only one could be the starter and wrestle for our team in the conference championships. In wrestling, the starters are decided by a wrestle-off, a match between the teammates where the winner gets the starting position. Matt and Mike had wrestled each other before and they had each beaten each other at different times. I was in the room for the wrestle-off, and it was a tight, well-fought match. Mike was able to pull out a narrow victory. He had just earned his starting spot, but there was no celebration. The room was silent and downcast as everyone on the team--maybe most of all Mike--was hurting along with Matt, his teammate, whose season and hopes of becoming an All-American were now over. A united team suffers together.
We also rejoiced together. During my senior year, I was one of two wrestlers on the team that qualified for the national tournament. In college wrestling, there are ten starting spots and we had about thirty guys total on the team. There were a lot of good wrestlers on the team. A handful of my teammates had even beaten me in matches before, but now their season was over, and I was where they wanted to be. I never felt any tinge of jealousy or resentment from my teammates but instead overwhelming support and pride. There was a large caravan that all traveled from Pennsylvania to Wisconsin to attend the national tournament and cheer us on like crazy, so much so that wrestlers from other teams commented on how loud and enthusiastic our cheering section was. A united team rejoices together.
A Rockbridge athlete will surely have the aroma of Christ when she knows, believes, and trusts that her identity is in the person and work of Christ. This allows the athlete to stop worrying about winning and losing. Rockbridge athletes are able to stay calm when the referee makes a bad call or the other team is not playing fair, and to not fall into despair from a season-ending injury. None of those situations change our value because who we are in Christ is secure no matter what. Galatians 2:20 tells us our identity: "I have been crucified with Christ. It is no longer I who live, but Christ who lives in me. And the life I now live in the flesh I live by faith in the Son of God, who loved me and gave himself for me."
A Rockbridge athlete will surely have the aroma of Christ when she knows, believes, and trusts that her identity is in the person and work of Christ. This allows the athlete to stop worrying about winning and losing.
Embracing this truth as an athlete was such a relief to me. No matter what happened during a competition, the Lord still looked upon me as his adopted and loved son. God doesn't think of you less when you lose and does not think of you more when you win. My response was to give my best effort and to praise God for the opportunity. I am not saying that Rockbridge athletes should not care about the results of a competition. The Bible encourages the pursuit of excellence. "Do you not know that in a race all the runners run, but only one receives the prize? So run that you may obtain it" (1 Corinthians 9:24). I am saying that as Christians, we are not defined by the results of a competition. Feel free to work as hard as you can, take risks, and go for gold. You will fail at times but it won't break you. It just provides an opening to give God more glory.
This distinction of being in union with Christ takes precedence over any other identifying factor. "There is neither Jew nor Greek, there is neither slave nor free, there is no male and female, for you are all one in Christ Jesus." (Galatians 3:28) This line of thought can be extended to our Rockbridge teams. There is neither varsity nor middle school, neither soccer nor cross country, neither athletes nor spectators, for Rockbridge is one in Christ Jesus.
When Rockbridge athletes are committed, unified, and secure in their identity they will bring glory to the God who gave them the ability to play their sport. We will know we are achieving that goal when the aroma of Christ starts to permeate the campus. Students, parents, and coaches should all be able to smell that a Rockbridge athlete is around, and not only because they have not showered yet.
Tim Stewart is our new Athletics Coordinator and Discover Summer Director. Tim works with athletic teams and coaches, scheduling and coordinating all practices and games as well as overseeing our athletic program. He graduated from Messiah College with a BA Health and Exercise Science.
Recent Posts
Categories
Archives