Rockbridge Academy Blog
November 17, 2022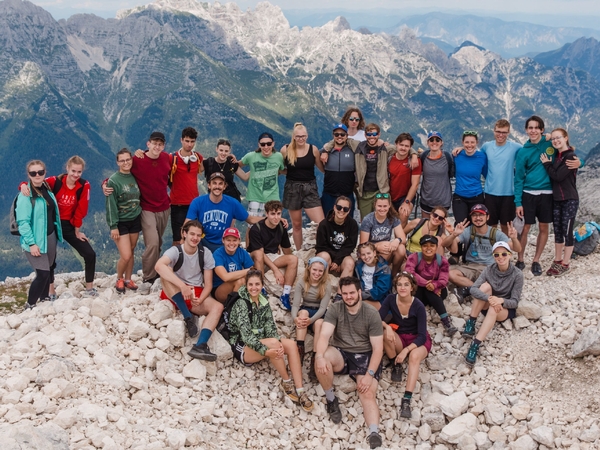 Faithfulness over time works wonders in the heart of man. This past summer, I had the wonderful opportunity to experience this firsthand. I traveled to Budapest, Hungary for a month with the Navigators, a worldwide Christian organization.
I learned so much from this trip, but I learned something special—that Hungarians take friendship very seriously. Once you make friends with a Hungarian, you will be friends for life. Because of this cultural norm for friendship, ministry in Hungary is relational. This basically means forming relationships and building trust are a necessary part of sharing the gospel in Hungary.
One sweet example of spiritual conversations stemming from relational ministry happened when my team and I took a trip into the mountains of Slovenia with twenty-three Hungarian college aged students. In most of their minds, this was just a really cool summer camp opportunity. For my team, it was a gateway to relationships, trust, and spiritual conversations. One day, my group was sitting in a beautiful grassy field at the foot of a mountain. As we waited to begin hiking, we split into pairs to discuss the question, "What is trust?" I was paired with Martzi, a student in school studying psychology. He typed me as an extrovert five minutes after he met me. (Who would've thought Sarah Williams would be typed as an extrovert? I was proud of that!) I had talked to him a good bit before, so when it came to this question, we were able to jump right in. Martzi is not a believer, but he shared with me that he liked this community because they were different. He felt like he could trust us immediately. "You are all such good people," he said. "My other friend groups aren't like this." As the conversation went on, I explained to him why I am able to trust at all. "Because I put my trust in Jesus," I said, "I no longer need to lean on my own understanding. He fills my heart, and he is more than I could ever imagine or desire. When Jesus directs my path and I trust Him, He multiplies my ability to extend trust to others and be vulnerable." Martzi nodded, and we continued talking about his experience in the Christian community. It was such a special conversation stemming from shared trust in one another.
Another example of a memorable conversation happened about a week before we left to return home. In Slovenia, I became friends with a girl named Anna (pronounced like Anna in Disney's Frozen) who is a fairly new believer. We met on the first day of the camp and after a few days she came up to me and said, "I know we've been joking around a lot, but I would really love to be real friends and get to know each other better!" This was so encouraging to my heart. Trust had been built. From that day on, we spent lots of time together. We talked about many things, including the importance of having Christian friendship and community. A few days before I left Hungary, I asked her what she thought of our team coming into her community and then leaving after only a month. "It just seems strange to be here, make friends, and leave," I said. She looked at me and said something I won't ever forget. She said, "Just because someone is in your life for a short period of time does not mean that you can't make a difference to them." She continued, saying, "It's like if the people in your life were beads on a necklace. Just like each bead makes some sort of change to your necklace, every person you meet makes some sort of change to you. Even if you only spend one week with someone, you have the ability to make an impact. The bead that represents you on their necklace will never be unthreaded. Therefore, every interaction you have with another person, for however long, is special and important."
Just because someone is in your life for a short period of time does not mean that you can't make a difference to them.
I thought about what she said the whole way home. Every interaction I have is an opportunity: an opportunity to impact lives for Jesus. We know the good news of the gospel. In Christ, the joy of Jesus should pour out of us to everyone that we come in contact with. He can and will use us to be the bead in someone's life that makes a difference for the kingdom when we surrender everything to Him.
The best part about this is that you don't have to travel halfway across the world to do relational ministry! Though I highly recommend that Rockbridge students consider short term missions work, it is first vital that we as Christians and as the Rockbridge community start by focusing on the way we interact with those we see every day. Faithfully showing Jesus to those around us is such a beautiful way to glorify God and enjoy Him. I urge you to think about the way you can share Jesus with those around you. Not just once, but faithfully. Not to build yourself up, but to humbly serve the Lord and build His kingdom.
If any student is interested in learning more about short term missions or what the Navigators ministry looks like on a college campus, my email is sarahkwilliams17@gmail.com. Please feel free to reach out with any questions! I would love to have a conversation with you.

Sarah Williams, '20, is in her third year at Clemson University. She is studying psychology and business management and is planning on pursuing Biblical counseling. She is thankful for the Lord's providence in allowing her to have such beautiful communities both in Maryland and South Carolina.
November 02, 2022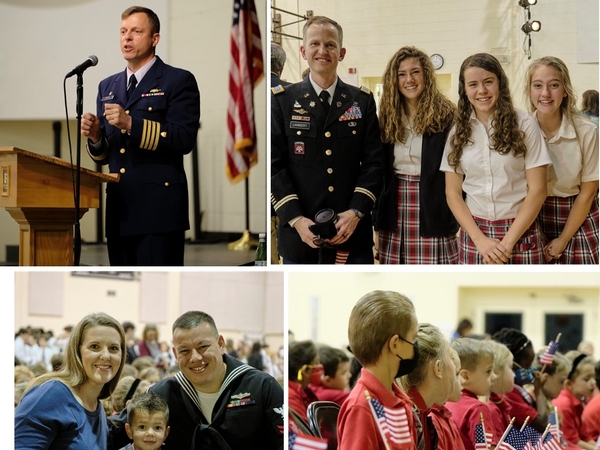 "Remember that you are first and foremost a soldier in Christ's army…"
Nathan Davenport (2020), Marine Corps
The Rockbridge Academy Veterans Day Ceremony, first held in 2008, arose from a desire to encourage the student body, offer a warm welcome to our neighbors, and honor veterans and active service members in the school and community. The ceremony has changed slightly over the years, but the highlights remain the same: an address by an honored military guest, speeches by student winners of the VFW Patriot's Pen and Voice of Democracy competitions, music from the Rockbridge choir, and a time for students to meet and thank veterans personally. The ceremony was warmly received from the start, and with the exception of 2020, it has been a cherished Rockbridge tradition ever since.
Rockbridge has always had close ties to those in the military. Currently, more than 40 families in the Rockbridge community have active or retired service members. Several staff have a military background or military spouses, and because of our proximity to the Naval Academy, Ft. Meade, and other defense employers, the school has always drawn families with military affiliations. These service members work in a wide range of fields—naval aviation, cryptologic warfare, music. Many have served for decades all over the country and world, often in extremely challenging conditions.
But our ties go even deeper, to the values reflected beautifully in the lives of our veterans and service members—values we share as a school.
One of those values is "My Life for Yours": the desire to love others freely and sacrificially, just as Christ came "not to be served, but to serve, and to give His life as a ransom for many" (Mark 10:45). This is something we long to see reflected in the hallways and classrooms of Rockbridge. Kim Williams, who served in the Air Force and Reserves for 23 years and taught at Rockbridge for 11 (ending in 2022), says this verse from Mark was especially meaningful during her time in the military. Just as Jesus came in the flesh to love and sacrifice for His people, a military leader had to be willing to invest in and sacrifice for those she led. Rockbridge service members describe separation from their families and church communities, physical deprivation and danger, and the grave responsibility of protecting life and freedom as some of those sacrifices. For such we are deeply grateful.
Another is acknowledging "Christ as Core"—the reality that all things are integrated under the lordship of Christ, and that in every circumstance, He is working out His sovereign plan for creation. This truth is woven into every subject at Rockbridge and is also a key truth for Christians in the military, especially as they are called to uncertain and sometimes chaotic situations. Rockbridge father Lance Nickerson, Program Manager with the US Army Counterintelligence Command, has served as an active duty member and civilian for over two decades. He says that God's sovereignty was one of the primary spiritual lessons he gained from his time in the service: no circumstance was accidental, and nothing was beyond God's control. Army Major Andre Slonopas drew from Ecclesiastes 3:11 as he witnessed the turmoil of Afghanistan: "He has made everything beautiful in its time. He has also set eternity in the human heart; yet no one can fathom what God has done from beginning to end." Those who serve in the military often experience firsthand the fallenness of our world. Yet as followers of Christ, they trust that He is always at work, redeeming it for His good purposes.
Our alumni are one more link between Rockbridge and the military, and one of the school's most meaningful reasons for honoring those who serve. Rockbridge graduates have pursued careers in the army, navy, air force, and marines; attended military academies, sought ROTC scholarships, enlisted, and supported military spouses. Today they are cyber security specialists, naval officers, aviators, and students pursuing advanced degrees in service of their country.
Many testify to the ways Rockbridge both inspired and equipped them to serve. Several were influenced by the military leaders they met on staff and among the families at Rockbridge—men and women of integrity and courage. Some found that the academic standards, constant practice in public speaking, and leadership opportunities on the athletic field prepared them well for the rigors of officer training.
Perhaps most importantly, many graduates believe Rockbridge gave them a firm foundation as followers of Christ. "Rockbridge gave me access to the deep wells of Christian truth that would sustain me during difficult times," writes Navy Lieutenant Daniel Dawson (2012), currently studying at Harvard's Kennedy School of Government. Private First Class Nathan Davenport (2020), training with the Marine Corps at Camp Lejeune, says Rockbridge taught him to "think critically" and encouraged him to "examine every aspect of life in the light of Scripture and live it to the glory of God"—even when the environment is challenging physically and spiritually.
Rockbridge Academy hopes to continue supporting our military by coming alongside military families, listening to their stories, and equipping future graduates to stand firm in Christ and serve to His glory. We look forward to honoring you this November 11. To those who serve and have served our country, thank you.
Monica Ault serves as the Upper School Administrative Assistant at Rockbridge Academy and has been a Rockbridge parent for 20 years.
Recent Posts
Categories
Archives