Our Blog
Rockbridge Academy Blog
January 29, 2019
During my many years at Rockbridge Academy, I'm often asked what curriculum we use for science, history, math, or Bible. While we provide many resources to our teachers and have a few typical textbooks for occasional student use, for the most part we use original sources. An original or primary source is evidence from the past. For example, diaries, letters, constitutions, wills, naturalization papers, treaties, and military papers are all primary source documents. A secondary source is developed from primary sources. It tries to make sense of the past and can be very helpful, but our bias is to encourage our students to go ad fontes. Ad fontes is the Latin phrase which means "to the sources."
Even the average man or woman on the street can see the benefit of going ad fontes. A more common paraphrase of this idea nowadays is when you hear folks say they got their information "straight from the horse's mouth." This indicates that their knowledge is from the highest authority. We say this to make the point that our source can personally verify the fact in question because they were there. In our court system, we get after truth by excluding hearsay from witnesses and desire only what they themselves have witnessed or experienced.
Of course, there are weaknesses with original source documents. An original or primary source is likely biased in one direction on the issue at hand. The identity of the author may even be in question. Often in our school selections the author is usually no longer alive so they can't be questioned further to verify what was meant. Semantic range often changes over time, and older writings can be difficult to read and even more difficult to understand. So why not just give the student the Reader's Digest version of the facts and move along?
What some consider a weakness about ad fontes, we consider a strength. Primary source documents must be evaluated within their context, compared with other evidence from the time period, and students must think and reason out their conclusions. Sounds like a dialectic or logic exercise, right? Right! So what does this have to do my third grader? Well, grammar school students gather facts in preparation for later learning. A well-informed foundation in history makes research and evaluation of original sources easier and more familiar. As grammar students grow and are able to read to learn, they learn about The Histories by Herodotus who tells of Demosthenes the great orator (384-322 BC). Later when they read Patrick Henry's moving "Give me liberty or give me death" speech, it makes sense that the founding fathers called Henry the Demosthenes of his age. Fourth graders memorize the Nicene Creed, and read excerpts from Augustine's Confessions and Marco Polo's The Travels. Fifth graders read from Poor Richard's Almanack by Benjamin Franklin and memorize the Mayflower Compact, the famous beginning to the Declaration of Independence, and the Preamble to the Constitution. Sixth graders read from the Constitution, the Monroe Doctrine, refer frequently to its amendments, memorize the Gettysburg Address, and read MLK's I Have a Dream speech. In Latin, these students translate from Livy the Younger's letters. The gift of reading original source documents gives the flavor of the times, which not only enlivens the facts but gives emotional insight into the zeitgeist of the times being studied.
While going ad fontes gives a foundation for the past, the greatest original source document to read, re-read, memorize, and meditate on is, of course, the Bible. This text builds a foundation for all our lives. Our first graders begin to read from the translated ancient text during this trimester. Second graders read from it with help from their teachers. Third graders read from it daily as a class. Fourth through sixth graders read from it daily, either as a group or individually. While we teach older students about Bible dictionaries and commentaries, we try to keep the main thing the main thing.
As your child's primary educator, you can reinforce this love for first things by reading original source documents together or even going to visit some of the most famous. The Magna Carta, the Declaration of Independence, the Constitution, and the Bill of Rights are a Metro ride away in our National Archives. There is a floor in the Bible Museum that traces the history of the Bible ad fontes. A day trip for your family may help you develop more of an appreciation for a curriculum that is filled with original source documents, especially that most authoritative document of all.
December 12, 2018
As I look forward to this last week of school in 2018, I know there will be many expressions of love given and many will take the form of gift giving. I've been on the receiving end of many sweet gifts over my 18 Christmases at Rockbridge. Some were huge memory makers for my family. One year, I got an overnight trip with my husband and kids to ICE. Most years, I got gift cards for a new hairdo or "teacher shoes" or dinners out, and Starbucks or Bean Rush cards. I do love my coffee! Favorite gifts are always handmade ornaments that adorn my tree each year still! I love to hang them and reminisce. I would be inconsiderate to ignore the many ways parents give to the school all year long–not just at Christmas, and not just financially. I've been the grateful recipient of free babysitting, meals for my once large family, grading, and one of my favorites: a prayer for me each Monday morning for the entire school year written out in their child's communication book for me to read. This mom had placed a scripture reference and then a prayer about Mrs. Hollidge that demonstrated real care for my well-being spiritually. That meant a great deal to me.
This past week, I saw moms with younger siblings in tow, sitt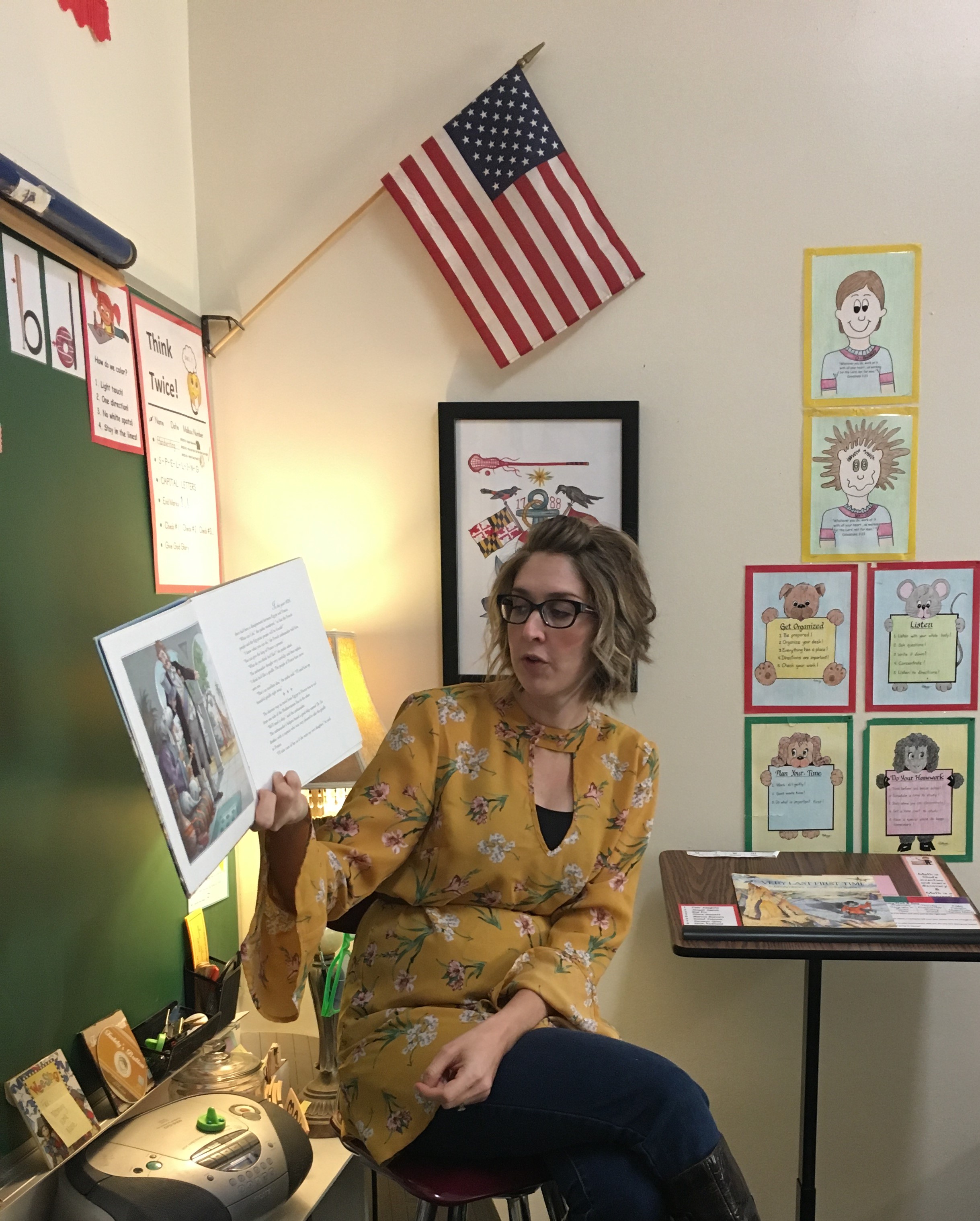 ing in the front of classrooms at lunch reading to their child and their classmates so the teacher could do yet another class prep, grade another set of papers, or do a little gift project for you! I see kindergarten parents helping with Race Reading or driving to The Nutcracker, 6th grade parents volunteering to drive to Ford's Theatre, and 5th grade parents taking a trip with their child's class to Mount Vernon. The list goes on. Our school is so blessed to have parents who deny themselves, take up their cross daily, and follow Christ, the God of giving.
The Lord Jesus came to give. We often refer to that fact as we give temporal gifts during this season. "Peace I leave with you, my peace I give unto you: not as the world gives, give I unto you" (John 14:27) is one way Jesus spoke about His giving. His gift was His peace and He teaches us much about Himself in this one sentence. He teaches us that His peace comes from Himself. This peace He gives belongs to Him, and it is His to give away. It also tells us that His peace is different from the gifts the world gives to their children and one another. As the great American preacher and theologian, Jonathan Edwards, tells us in his sermon on this text:
The peace of the Christian infinitely differs from that of the worldling, in that it is unfailing and eternal peace. That peace, which carnal men have in the things of the world, is according to the foundation upon which it is built, of short continuance like the comfort of a dream, 1 John 2:17; 1 Cor. 7:31. These things, the best and most durable of them, are like bubbles on the face of the water. They vanish in a moment, Hos. 10:7. But the foundation of the Christian's peace is everlasting. It is what no time, no change, can destroy. It will remain when the body dies. It will remain when the mountains depart and the hills shall be removed, and when the heavens shall be rolled together as a scroll.
As we traverse this broken world as pilgrims looking for a better country, He goes with us and gives us His peace, a peace that passes human understanding and never changes.
Two thousand years ago, an army from heaven praising God and announcing peace joined the angel announcing Jesus' birth to the shepherds outside of Bethlehem. Unto you is born this Giving God of Peace, our Lord and Savior, Jesus Christ. Merry Christmas!