Our Blog
Rockbridge Academy Blog
February 23, 2018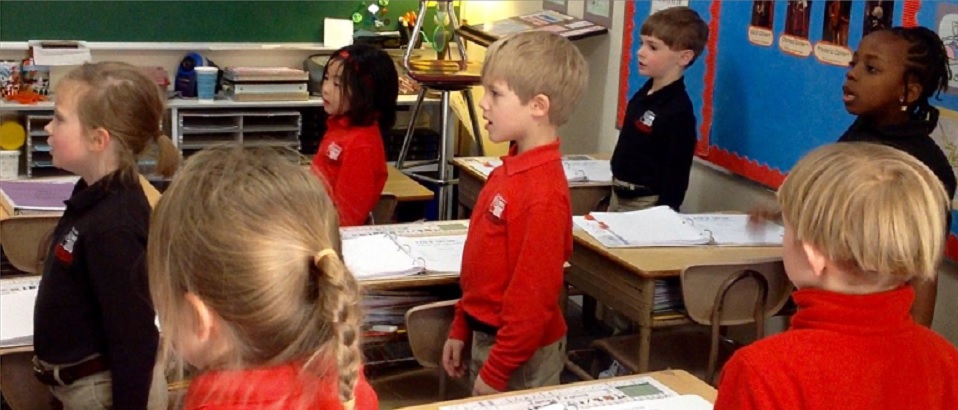 "Memory is the scribe of the soul," says Aristotle, and though this scribe called 'memory' stores up the bits and pieces of what makes up our lives, memorization has fallen on hard times. Memorization is the activity of the mind to learn something so well that it can be written or recited without thinking. While memorizing Latin verb conjugations or a poem may not seem like an important or valuable achievement, it is training your child's brain to remember better and creating a reservoir of beauty upon which to reflect. Information that is memorized, rather than crammed for a data dump on the next day's test, is retrievable and useful for the future.
Recently, a mom reached out to me with these questions: "Why memorize? Why memorize the Bible? And why memorize math facts?" That question took me right back to my son's first grade poetry recitation. I stood in the back of the room wincing with pain every time he made a mistake. Inside, my heart was breaking for him, and I, too, asked, "Why does he have to memorize this poem? This is really hard!" But today, this same boy--a man in his junior year at college--is getting the benefits of those mental workouts from his days as a Rockbridge grammar student. Just knowing his math facts, history dates, English parts of speech, or patterns for writing a logical argument leave lots of room in his brain to learn new things. If foundational information is memorized, your child can retrieve it easily and move on to more challenging and complex ideas rather than looking everything up.
Even more important is the memorization of scripture. At Rockbridge, kindergarteners memorize a verse each week and the 6th graders memorize an entire letter of the New Testament over the course of the school year! Charles Haddon Spurgeon, Victorian England's best-known Baptist minister, reminds us that, "The Bible in the memory is better than the Bible in the book case." The reasons for this are given to us all over scripture, but to consider one, the Psalmist in chapter 119:11 tells us that the young man can keep his life pure by "storing up [God's] word in [his] heart, that [he] might not sin against [God]." That alone is sufficient reason to memorize the scriptures. I am sixty-one, and I memorized that scripture when I was 15. It has blessed me over and over again, along with many others.
There are many reasons to memorize, and your children know the value of it. I asked a few kindergarteners why we memorize in school and here are a few of their answers. Claire Gannett: "We memorize important stuff like a penny is worth one cent, a nickel is worth five cents…" etc. Tomi Adgebite: "Memorizing means to remember something." MJ Bailey: "That's how we learn stuff from the Bible." The Apostle James reminds us that, "the one who looks into the perfect law, the law of liberty, and perseveres, being no hearer who forgets but a doer who acts, he will be blessed in his doing."
Aristotle may not be able to testify to what a blessing it is to have the truly important inscribed on the soul of your child, but the simple Christian knows.
September 29, 2017
Blessed are those who dwell in your house, ever singing your praise! Blessed are those whose strength is in you, in whose hearts are highways. As they pass through the valley of Baca, they make it a place of springs; also the early rain covers it with pools. They go from strength to strength; each one appears before God in Zion. (Psalm 84:4-7)
Last week we saw that one who is blessed by God takes care about where he walks. He carefully chooses his path so that he doesn't find himself taking advice from those who despise God, eventually listening to that advice as a habit, and finally joining them in the seat of scoffers. In Psalm 84, we see the opposite perspective: those blessed by God (ashrey) desire to dwell in God's house. It's interesting that the word "dwell" here is the same Hebrew word as "sit" in Psalm 1. The psalmists are giving us a clear choice: dwell in the seat of scoffers, or dwell in God's house, ever singing His praise.
We aren't called merely to sit there, though. We are to give thought to how we get there. That is what verses 5-7 tell us. First, we are to find our strength in God. Only in Him can we make it through this valley of tears that the world so often is.
Second, because our hearts long to be with God, they should pull us in that directon. The psalm tells us that in our hearts are highways (literally, a road for pilgrimages). Most English translations capture this by adding "to Zion." If we are blessed by God, the highways in our hearts lead us, as if by pilgrimage, directly to Him.
Of course, that is not the whole story. The final verses of this passage tell of our impact on those around us as we travel the pilgrimage road. As we pass through the Valley of Baca (literally, the Valley of Tears), it becomes a place of abundant life: instead of a desert, it is full of springs and the blessing of rain. Not only does God's blessing transform us, it allows us to be agents of transformation for those around us who might be suffering!
We can go from strength to strength, not because we are strong, but because our strength is in our God who sustains us. Finally, when our road is done, we will appear before God.
Living in Psalm 84 Today
How can we live in light of this psalm today? First, by remembering that we don't have the strength to do anything of significance on our own. Most importantly, that applies to relationships. Comparing the thoughts from Psalm 1 with those of Psam 84, we can either be those who distract others from the road to God (by giving ungodly advice, encouraging sinful thoughts and actions, or just scoffing at righteousness), or we can be those who bless others.
When we bless others, we are taking up the role of the ashrey, those who have already been blessed by God. When we encourage others who are suffering, living in the Valley of Tears, we are taking up our calling to be a blessing to others, to serve them before worrying about ourselves. We don't do it because it somehow benefits us; we do it because of our love for them and for God.
What might our school be like if each of us saw our relational roles in this way? We could care for others, not being troubled that we are weary travelers, but instead stopping to bring a moment of abundant life to someone who is more than weary, who is weeping. That is worth being passionate about.