Our Blog
Rockbridge Academy Blog
Archive for the "Worship" Category
April 07, 2021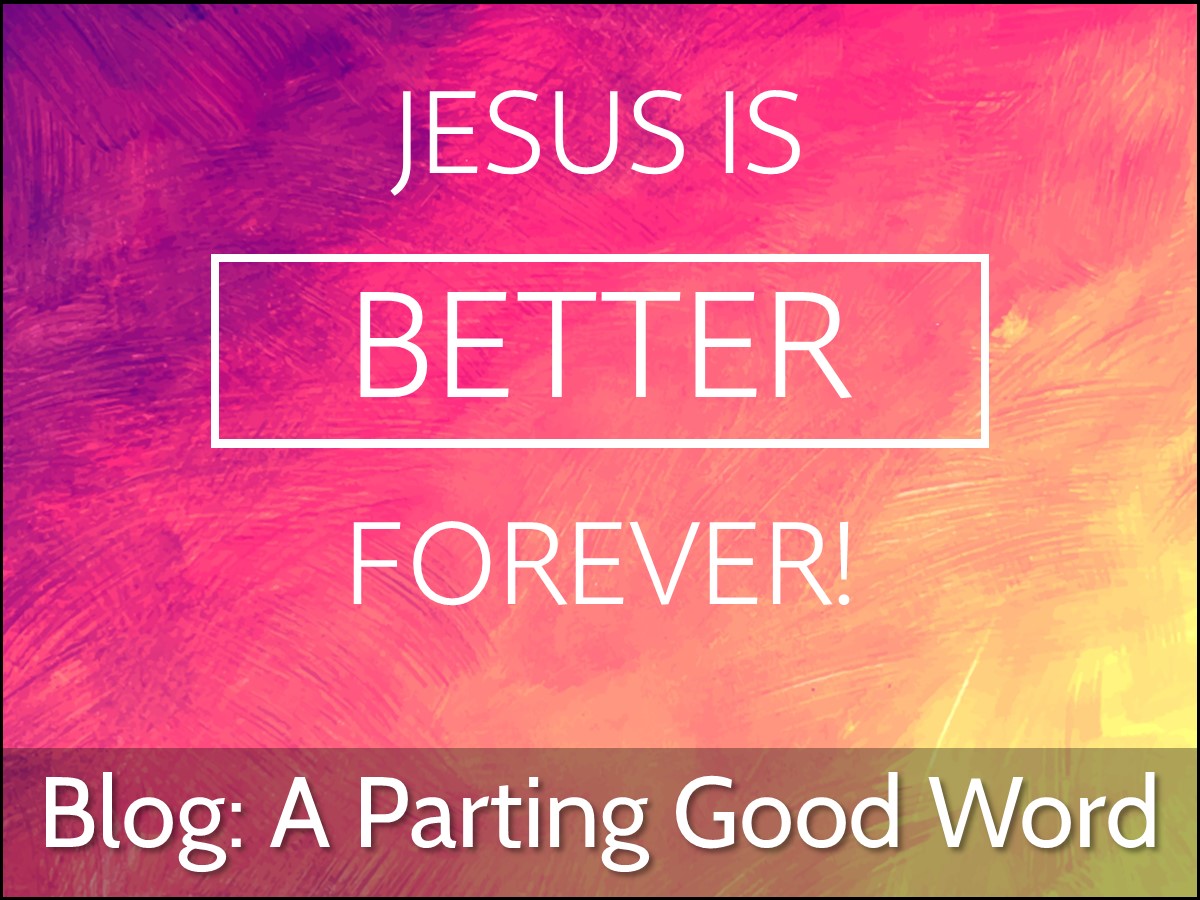 I have been asked to write a final word as my date of retirement nears. It was easy to decide, really. I came to Rockbridge 20 years ago with knowledge of this truth, "Jesus is the most excellent way." I longed for a school that would help me to teach that truth to my children. I believed that Rockbridge was such a place, and I pray it remains that kind of place for generations to come. We are all longing for the best for our kids, aren't we? But do we really know what the best is? The writer of the Book of Hebrews mentions at least 13 times that Jesus is better, superior, or more excellent. Why does he say this with such passion and repetition? Because he was keenly aware that his audience was being wooed away from that truth to embrace something less.
Is our time any different? Some may ask why I state the obvious. "Everybody at Rockbridge Academy already knows that Jesus is better, Denise, even your kindergartners. Why waste your last words on what is clear and apparent to all?" I would assert that everyone might know it, but few of us believe it, including myself. The writer of Hebrews clearly believed that any of us could fall away from that truth. He reminds us that our disordered loves, our fallen nature, our chaotic, messy souls continuously search for other gods to worship. What is so sneaky about it is that most often these rivals for our hearts are good things.
There are many points of comparison within the Book of Hebrews to demonstrate that our hearts will only be well-ordered if we truly believe Jesus to be better, and all of these things are good. Jesus is compared to all past prophets who speak to us as mediators. He is compared to Moses and Joshua, and he is better. Jesus is compared to the angels who are sent as ministering spirits to us while he is the Conquering King to whom alone we owe worship. Jesus is compared to all past priests from the line of Aaron who all die, but He lives above eternally to intercede for us. Jesus is a better hope and the guarantor of a better covenant. He is a better sacrifice. Because of his blood, Jesus prepares a better place for us, a heavenly one. He is the better temple eternal in the heavens. All these Old Testament people, places, and things are good, but incomplete. They are preparatory, all pointing to the great truth that "Jesus is better…forever!"
So we are not so different from first generation Christians it would seem. Like our brothers and sisters of the past, we are still needing to hear that our hearts are easily drawn away to idols that are good but steal from us what is best. C.S. Lewis states in The Weight of Glory, "It would seem that Our Lord finds our desires not too strong, but too weak. We are half-hearted creatures, fooling about with drink and sex and ambition when infinite joy is offered us, like an ignorant child who wants to go on making mud pies in a slum because he cannot imagine what is meant by the offer of a holiday at the sea. We are far too easily pleased." A similar idea to that is a child wanting to stay at South of the Border rather than traveling on to Disney World. They are too easily pleased with the pleasure of the moment to make the further leg of the trip.
"It would seem that Our Lord finds our desires not too strong, but too weak. We are half-hearted creatures, fooling about with drink and sex and ambition when infinite joy is offered us, like an ignorant child who wants to go on making mud pies in a slum because he cannot imagine what is meant by the offer of a holiday at the sea. We are far too easily pleased." c.s. lewis
In all times, our hearts have easily misled us. We are encouraged on every side today to look inside ourselves to find truth and define the world with our own internal feelings. We need this reminder from the writer of Hebrews, "Therefore, since we are surrounded by so great a cloud of witnesses, let us also lay aside every weight, and sin which clings so closely, and let us run with endurance the race that is set before us, looking to Jesus, the founder and perfecter of our faith, who for the joy that was set before him endured the cross, despising the shame, and is seated at the right hand of the throne of God." Hebrews 12:1-2. We need to run together with the church of Christ throughout all time. We need the body of Christ, his church, to preach the truth to us and our children. We need to encourage one another here at Rockbridge Academy in times of difficulty and delight that there is only One who is best. We need Jesus to save us from ourselves and transform us. We must have his help to order our lawless, tangled, topsy-turvy hearts so we never lose our first love. We all grow weary. We all lose heart. So my last words to you are, "Standfast, Scots. Jesus is better…forever!"
Denise Hollidge currently serves as our grammar school principal and will be retiring spring of 2021 after 20 years of service at Rockbridge Academy. She is married to Steve Hollidge and has 4 Rockbridge Academy graduates: John ('07), Anna ('09), Mary ('13), and Daniel ('15).
February 22, 2021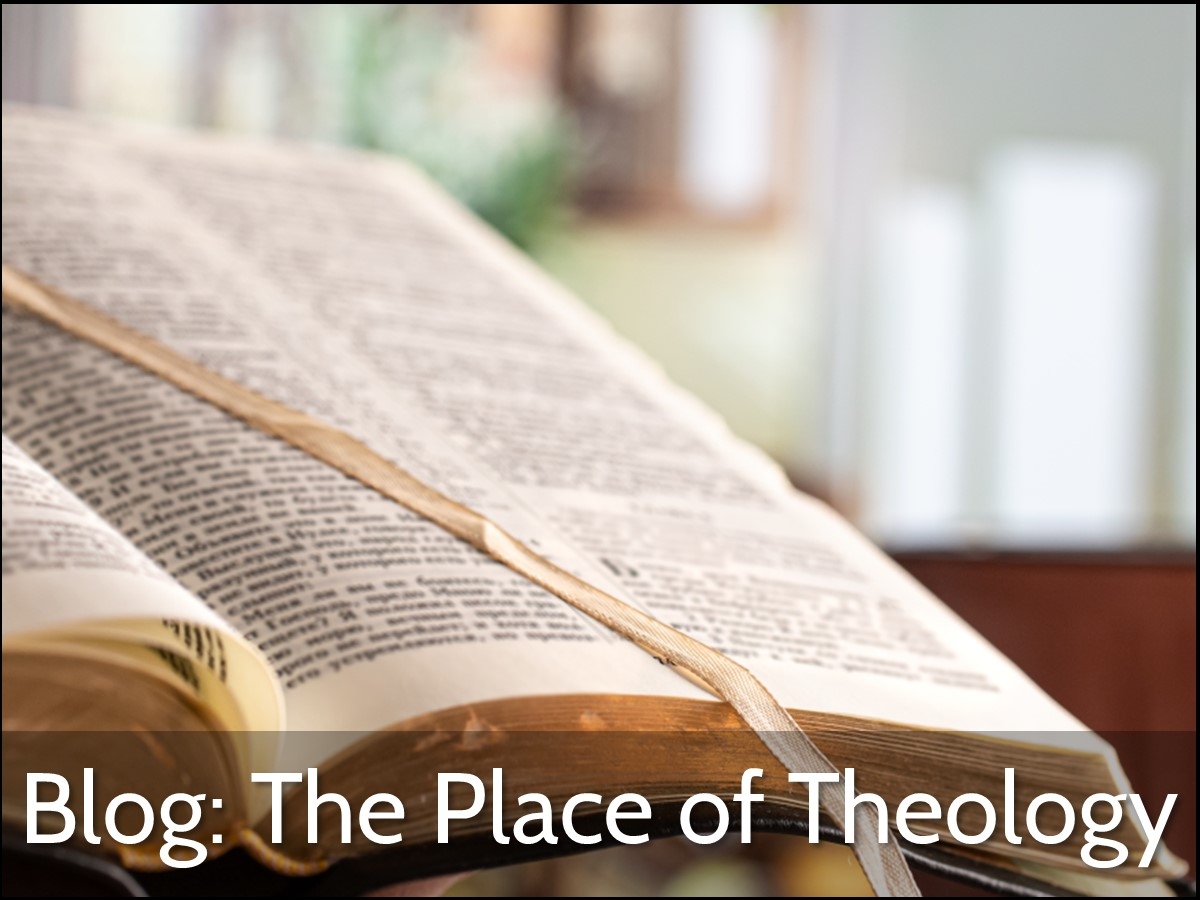 We believe that God made the heavens and the earth and everything in them, man and woman, beast and bird, land and water, sun, moon, and stars. We also believe that God made man in His own image to be in communion with Him and to love and adore Him for who He is and what He did, does, and will do.
Because we believe these things, theology has both a foundational and pervasive place within Rockbridge's curriculum.
Rockbridge students take one theology class every year. In these, they learn about God as He has revealed Himself in His Word. God, supremely wise and good, has spoken many things for our good, and we think it's well worth the time to listen and to learn how to listen to everything He's said. We spend a lot of time reading, thinking about, learning how to interpret, writing on, giving speeches on, and discussing Scripture and what others, whether Christians or non-Christians, have said about it.
Knowing what He has communicated to us is a necessary part of our communion with Him. It shapes our minds, affections, and wills to image His, and opens our eyes to and fills our hearts with the reality of what He's done in creation and salvation, inciting us to love and serve. We want to think the things He thinks, since He knows everything, and we want to love the things He loves, since He loves only the things that are perfectly good.
Body and soul, we are His creatures, intent on relearning what we were created to be, ideally and experientially. A significant part of this happens in studying the Bible. Whether we're asking if Bertrand Russell's interpretation of Jesus's cursing of the fig tree is defensible, where in Scripture you would turn to defend the deity of Christ or the Holy Spirit, what the Bible teaches about divorce, church attendance, homosexuality, oaths, or anger, how the Old Testament points us to Jesus Christ, what redemption secures, or how to exegete a Psalm, we are aiming to commune with the heart, mind, and will of God and so be shaped by our vital union with Him. As His image and thoughts take hold of us, we cannot help but image Him more. Since we believe this to be our beginning and our end (see Gen 1:26-27; Eph 4:22-24; 1 John 3:2), ruined by us but remedied and in the process of being remedied by Christ, the Rockbridge curriculum keeps Him front and center for Kindergarteners, Seniors, and all grades between.
In addition to having its own course each year, theology envelops every Rockbridge course. This naturally follows from our affirmation of God as Creator. Since He created all things, He is related to every subject. He is the context in which each subject operates. This does not mean that the answer to seven and fourteen is God. What it means is that the design of plants and animals, as seen in Biology's labs, the beauty of sound or sight or words in Music, Photography, Rhetoric and Art, and the fixed laws of Science have their origin, final explanation, and full appreciation only in God.
The 12th-grade theology class is Apologetics, the rational contention for the Christian faith. One of the arguments for God studied by that class is called the Transcendental Argument: without God, not this. In that formulation of the argument, "this" refers to the world and everything in it, including human beings and their capacity to think, to feel, and to will. If God lies back of everything, you cannot fully explain anything apart from Him. I can appreciate and understand to a degree the uniformity and complexity of Mathematics without believing in God, but I cannot explain them. With God, I have the only explanation.
This holds true for all things and governs every question we raise. If we're asking "What is justice?" with Plato, "Was the American Revolution justified?" in History, "What is the good life?" in Literature, or "Is man an animal?" in 6th grade, we want our first impulse to be to look through the lens of Scripture in order to see with His eyes, and we want to be equipped to know how to look and how to think.
Seeing God and God's world, ourselves included, as He and it is, is a lifelong endeavor, fueled by God at every turn, and one Rockbridge is committed to commending K-12.
Dr. Seufert is in his fifth year teaching 11th grade New Testament and 12th grade Apologetics. He is interested in his wife and three daughters, the local church, Scripture, teaching and preaching, reading and writing, baseball, food, music, the Psalms, the mountains, and almost any kind of physical exercise.
March 13, 2019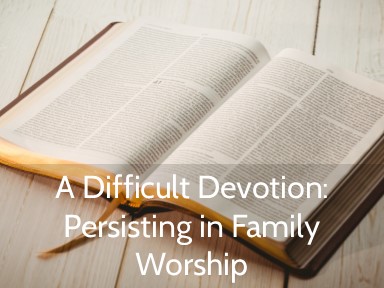 Family, worship. Two words, each of which standing alone is richly warm and evocative. "Family" connotes community, belonging, and love. "Worship" conjures thoughts of reverence, jubilation, and communion. However, curiously (and sadly), when these two precious terms are conjoined into a single phrase (family worship), the associated words that come most immediately to mind are "boring" and "bland."
Having lead family worship in our home for nearly thirty years with reasonable consistency and intentionality, I must confess that it is not one of my more successful endeavors. Although I have not had the courage to poll them, I suspect that "boring" and "bland" might summarize my children's collective assessment. Nevertheless, by grace, my wife Deni, and I have persevered through the years clinging to the conviction that, in conducting family worship in some form on a regular basis, we are about a noble business the ultimate success of which is not only determined by God but is best left to Him to measure as well.
At our house, family worship has taken on many different forms over the years, but almost always it has consisted of three essential elements: God's word, prayer, and singing.
1) The Scriptural Component—For many years, we used a family worship card distributed by our church that listed daily Bible readings designed to prepare us for the upcoming Sunday's sermon. At other times, I have simply read a Psalm or other short passage. More recently, I have used a daily reading from a devotional book such as (a) My Utmost for His Highest by Oswald Chambers, (b) C. H. Spurgeon's Morning and Evening, and (c) Note to Self by Joe Thorn. In the early years, when we had only young children, our Bible readings were "age appropriate." However, in those middle years when our children's ages spanned 17 to infancy, I refused to "dumb things down" and stubbornly taught to the eldest level, trusting that the younger ones would glean what they were able and calling on the older children to explain any difficult concepts to their younger siblings.
2) Prayer—The prayer component of our family worship has consisted primarily of thanksgiving and intercession. We collectively identify prayer items, and one or more of us leads in prayer about those particular matters.
3) Singing—Typically, we close our worship with a song, which could be a hymn, a contemporary chorus, or simply the doxology.

Beyond content and format, I have learned that consistency is critical to family worship. As in virtually all other worthwhile endeavors, whether it's physical fitness or personal devotions, so it is with family worship: much more is gained by small incremental efforts consistently applied over a long time than by lavish outpourings that occur only sporadically. Of course, this does not mean that family worship has occurred in our home every day of every week for the past thirty years. However, it does mean that Deni and I, together, have battled hard alongside our children not to succumb to their apathy, my indolence, or the innumerable distractions presented by our varied schedules.
Consistency also should not suggest rigidity. In fact, consistency over the long haul is fueled by flexibility. For example, adjusting the time that we conduct our family worship to accommodate our schedules has been the saving grace to this daily endeavor. There was a period of a few years during which we shifted family worship from the dinner hour to the breakfast table because it offered a better fit.
If flexibility is the fuel, then brevity is the oil that helps to overcome the frictional forces that grind against consistency. Except for those occasional times when genuine discussion springs forth, our family worship time generally last no more than 5 to 8 minutes. While such brevity imposes limitations, it has been central to preventing family worship from being crowded out by competing demands.
So, why do it? We have persisted in this difficult devotion because it affords our family a corporate opportunity to exalt the wisdom, power, and love of our heavenly Father and to acknowledge our need for the grace of Jesus Christ. It is a propitious moment in the day for all of us—together—to be reminded of the gospel. In this sense, family worship is yet another means of grace, literally empowering us to live our lives in a manner worthy of our high calling.
As such, can it be said that family worship is "bland" or "boring?" If that is my perspective, then it is simply indicative of my need. And that realization should not discourage me to pursue this blessed opportunity as one who is desperate to drink more deeply of God's precious grace—desperate for me and desperate for my family.
Jay Mitchell currently serves as an elder at Annapolis EP Church. He also served as chairman of the board of directors for Rockbridge Academy. Jay practices law professionally, but adds his favorite avocation is teaching. He has been married to his wife, Deni, for nearly 40 years, and they are blessed with eight children (5 of whom are Rockbridge alumni) and 12 grandchildren. This article was originally published in the spring 2013 issue of The Rockbridge Reporter.

Recent Posts
Categories
Archives