Welcome to Rockbridge Academy
Rockbridge Academy is a K-12 classical Christian school serving the Annapolis area (including Baltimore and Washington, DC). We were established in 1995 as one of the very first classical Christian schools in the nation and have lead the way since in classical Christian pedagogy. Though excellence in educational training is clear through the academic results of our students, the heart of our mission is and ever will be an unwaveringly Christ-centered focus where students are prepared, not just for a vocation, but for a life-long journey with Christ.
Registration is now open for our Discover Summer programs. How will you and your children engage your minds and cultivate a love of learning this summer? Take a look at our summer offerings. Parents, you join us for our Summer Teacher Training to grow your vision for classical Christian education!

By the Lord's grace we had a successful transition to distance learning which enabled each of our students to finish on track for the school! Take a look at how we tackled the challenges to online learning and with some fun along the way.

The recording of our Live Virtual Information Session is now available! Missed the live webinar? No problem!

CLICK HERE to access our live recording.

We covered the top 11 most asked questions. Contact us at: admissions@rockbridge.org so we can address any of your specific questions.

How our school community has "come together" to support one another and pivot to an online system that has enabled each of our students to finish on track this year.
Ask questions about STEM
How tuition assistance has been re-tooled to make Rockbridge more accessible.
The academic results of classical education. This year our graduates will attend Princeton, William and Mary, and Johns Hopkins in the fall with additional acceptances to the University of Virginia, Auburn, Rensselaer, and Wheaton College, and more.
At the heart of all this is our Christ-centered approach; Christ is the foundation of all we do. To Him be glory.

Every year, Rockbridge Academy releases a summer book list for her students. This year, these lists seem more critical than ever. Emily Marsh, class of 2019 alumna, writes for our Blog on summer reading.

A message from our Headmaster Roy Griffith to our community regarding recent events.

Dear Rockbridge Families,

The past few months have been exceedingly challenging. The weight of a global pandemic, an economic crisis, and the re-imagining of "school" in an uncertain future felt heavy enough. But then we witnessed something weighty and tragic in a very different sense—the needless and unjust killing of a black man, George Floyd, at the hands of a white police officer. Such carelessness with life is unconscionable. But this tragic event—along with the killings of Ahmaud Arbery and Breonna Taylor as well as the video recording of Amy Cooper in Central Park—has raised the issue of racial injustice in ways that cannot be ignored, and the ensuing protests and riots have left our nation's communities in turmoil.

At Rockbridge Academy, we take a deliberate approach to helping our students see Christ ruling over every thought, every subject, every historical moment. This is a responsibility that we don't take lightly and something we cannot do alone. By God's grace, the support of an all-Christian faculty who prays together each day for one another and for our students helps keep our eyes set on Christ. We acknowledge our dependence on Christ and make an effort to point our students to Him daily.

Our Summer Teacher Training has been CANCELED.

As with many states, Maryland has had stay-at-home orders and school closures in place since March. As the state of Maryland slowly begins to consider re-opening, the prospects of holding indoor large group meetings does not look likely by July. The safety and well-being of each of you and all our staff are of utmost importance. Additionally, as you are probably aware, ACCS has canceled the Repairing the Ruins conference and is offering a shorter 2-day conference that is open and free to all. In light of these factors, we have decided to cancel our Summer Teacher Training for this summer; we encourage you to attend the online Repairing the Ruins conference.

In the meantime, we have learned a lot from the pivot to distance learning and look forward to sharing those lessons in the future. Please look for our Summer Teacher Training to resume next summer! We pray each of you remain healthy and safe and we look forward to holding an in-person training in the summer of 2021.

Trusting in the Lord, who is our Rock. May the Lord provide and protect each one of you.

A feast for the eyes and ears, indeed!

Our first musical at our new Evergreen Campus was spectacular! Bravo to all the cast, crew, creative team, and many, many helpers who poured their time and hearts into making our inaugural show amazing!

Congratulations to Ben Ault, Alanna Craig, Jillian Schwartz, and Ryan McDowell who have been recognized by the National Merit Scholarship Program. Ryan McDowell has been named a semifinalist.

The NMSP recognizes the top 1-3% of the highest scorers in the nation for those who take the PSAT in their junior year. Most schools reflect the national percentage of 1-3% (at best). At Rockbridge Academy, these 4 out of 30 students in the graduating class reflect over 13%. Last year, nearly 17% of our graduates were recognized by the NMSP. Our average SAT score over 2017, 2018, and 2019 is 1312.

What makes a Rockbridge education so unique when we do not teach to the test? Come. Ask. Discover.

Our integrated, classical, Christian approach aims to graduate students who love Christ first and foremost and are equipped to move into their next steps (whether college or the workplace). Clearly they are well-equipped academically, a natural fruit of the classical method. To God be the glory.

Read more about our vision for our students, staff, parents, and community here.

Pastor Unthank was asked to give the charge at the end-of-year Awards Assembly. Enjoy his exhortation to laugh.

In Jesus Christ, our future is set—there is a glorious inheritance to be enjoyed, unending joy with Christ, laughing as we inevitably will be around the table and feast which Revelation calls the Marriage Supper of the Lamb. No matter how dark the world around us gets, no matter how interesting our era becomes, remember Christ and look forward to Christ and in him find true joy. Laugh well and laugh often!

The 5th grade Colonial Ball is one of the most anticipated feasts of the year in the K-6 grammar years.

Learning activities outside the classroom like feasts and field trips bring history to life. Our 5th graders get to sail the shores of the Chesapeake Bay on the Sultana and also participate in an overnight field trip to Colonial Williamsburg.

Read more about student life in Beyond the Classroom here.

Bringing Some Rockbridge to the Woodbridge

by Natalie Watson, Rockbride Journalism Student and Cross Country Runner

The Rockbridge varsity cross-country team traveled to Los Angeles, CA, from September 19-21 to run in the Woodbridge Classic, a nationally acclaimed annual meet with over 15,000 runners and 400 teams present. As the only MD team to participate in the history of the Woodbridge meet, the team witnessed beautiful running. When the 2018 varsity girls' cross-country team won the small school division in the Maryland Private School State Championship last year, no one expected to wind up in California at a national invitational 10 months later.

Thanks be to God for a wonderful dedication weekend full of celebrations, great homecoming games, a festive pep rally, a tree planting ceremony, beautiful fall weather, and prayers for the next 10 years.

Photo credit: John Daly

Come out and join us on October 11th and 12th for our Homecoming and Cominghome dedication weekend!

Friday night we will hold our Homecoming games under the lights at Old Mill High School at 6:00 PM and 8:00 PM (girls' and guys' games respectively).

Saturday night we will have a special dedication ceremony and a tour of the Evergreen Campus (680 Evergreen Road, Crownsville, MD 21032). We thank the Lord for establishing our steps for 25 years and invite everyone to join us for this historic evening.

How does your family engage in family worship? Honestly, it is a struggle for many, if not most, families. First of all, how does one even lead a family worship time? How do we carve out time for this? Is it really worth fighting for that time? Why do it?

Jay Mitchell, our former board chairman, shares how he persisted through the years with 8 children and now 12 grandchildren.

By Denise Hollidge, Grammar School Principal

During my many years at Rockbridge Academy, I'm often asked what curriculum we use for science, history, math, or Bible. While we provide many resources to our teachers and have a few typical textbooks for occasional student use, for the most part we use original sources. An original or primary source is evidence from the past. For example, diaries, letters, constitutions, wills, naturalization papers, treaties, and military papers are all primary source documents. A secondary source is developed from primary sources. It tries to make sense of the past and can be very helpful, but our bias is to encourage our students to go ad fontes. Ad fontes is the Latin phrase which means "to the sources."

We have been praying for and seeking $3 million in pledges and 100% participation from our community. So far, we are grateful to announce that we have reached $2.35 million in pledges and 70% participation from our community! If you have not yet participated, please help bring our 70% up to 100%!

Click here for information on ways to pledge and give.
Our Mission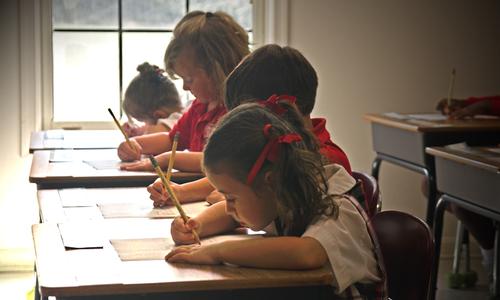 To provide a distinctively classical and unwaveringly Christian education, encouraging the pursuit of goodness, truth, and beauty in all of life.