Our Blog
Rockbridge Academy Blog
Posts Tagged "upper school"
January 28, 2021

"It's a historical method on how to examine someone and their rhetoric. It's all about being articulate, thinking on your feet, putting together your thoughts, integrating your subjects, and expressing your world view." That's how Rockbridge's Headmaster, Roy Griffith, described Rockbridge Academy's oral examinations. These graded conversations between two teachers and a student are Rockbridge's unique version of midterms. Every rhetoric student is assigned a fifty-minute slot in which they verbally answer questions about any material from across the subjects they have studied that year. Exams are most successful when students integrate information from multiple subjects in their answer while weaving in their Christian worldview. Thanks to the ingenuity and hard work of the Rockbridge Academy staff, oral exams became a tradition that has been benefiting our rhetoric students for years.
Back in 2007, the Rockbridge staff was struggling with the idea of exams. Midterms and finals felt like time consuming disruptions to learning, but the students' understanding of the material still needed to be assessed. Mike McKenna, Rockbridge's Headmaster from 2000-2015, said, "We started by asking the question, "Why?" Why midterms and final exams? Do we have to do it the same old way that everybody does it?" It turns out, the answer is no. McKenna said, "We wanted to think outside the box to come up with a way to assess the students' understanding of what they were learning, but we also wanted to do it in a way that was in accordance with a classical model." Ralph Janikowski, who was Rockbridge's upper school principal from 2005-2016, came up with the solution that fit all of these criteria: oral exams.
The oral exams concept put Rockbridge into relatively uncharted territories in the world of high school. As far as Rockbridge knew, no one else—not even other classical Christian schools—were doing something like this. Rockbridge made oral exams more casual than typical midterms by encouraging students to take the conversation in the direction of a subject matter that interests them and to articulate the thought process behind what they are learning and why it is significant rather than asking obscure questions or simply getting the student to parrot information they have memorized. Heidi Stevens, a retired Rockbridge art teacher who was on staff at Rockbridge for twenty years, said that orals were originally meant to be something you could do without having to study; if you paid attention and participated in class you would be fine.
McKenna said, "I always wanted the students to feel like they were having a dinnertime conversation with Uncle Mike about what they were learning at school." Despite this, the students are understandably intimidated in their first year of exams. But it seems that as the years progress, the students become more and more comfortable. Each sophomore class is almost always nervous, but juniors are usually a bit more comfortable, and seniors tend to enjoy the experience. Oral exams are actually more convenient for students because, "rather than taking an hour written exam in each subject over the course of a day or two, now they [have] a fifty-minute conversation with their teachers. And then they [are] allowed to spend the rest of the day getting some solid work done on their thesis papers," said McKenna. Oral exams ended up being exactly what Rockbridge rhetoric students needed, in so many ways.
Fast forward fourteen years, and oral exams are still going strong, much in the same manner that they began. Two teachers still act as interlocutors, terrifying sophomores and exciting seniors for their fifty-minute graded conversation. Through the years of doing oral exams, the benefits this unique test offers have become apparent. The testing method itself gives the student more freedom to express themselves and what they believe. McKenna put it this way: "If I talk to you about your view of mathematics I can see whether you understand it from a biblical perspective or not. But, if I put a trigonometric equation in front of you and ask you to solve it, you could be a Secularist or a Christian and still solve that problem. I won't understand your worldview." Having a worldview and being able to winsomely express it is an important part of Rockbridge's education.
In a blurb about oral exams in the 2007-2008 Rockbridge Yearbook, former Rockbridge teacher Donna Duarte said, "'Orals are an appropriate form of evaluating a rhetoric student's progress, and the goal is to indicate how the student is progressing toward an integrated biblical worldview.'"
Oral exams also provide students with ample future benefits. Nathan Griffith, Rockbridge teacher and former Rockbridge student, said, "Orals are preparing you to have a long conversation about topics you may not be comfortable talking about," and also that "it's a great opportunity to get comfortable talking to someone in authority over you." Being able to think through difficult questions as well as verbally articulate answers are valuable life skills.
Emma Williams, Rockbridge eleventh grader, said, "I can just picture myself being really nervous for an interview or something, but now I will be much more confident having done orals." Oral examinations fit perfectly into the rhetoric years as they test both knowledge and oratory skills, allowing a student to weave together what they have learned with their worldview. Oral exams are the optimal midterms for Rockbridge Academy because the integration that naturally occurs demonstrates that a classical education is a Christ-centered education.
Olivia Reardon, '22, loves to write and can usually be found reading a good book. She is part of a dance company and enjoys spending time with friends and eating ice cream.
November 19, 2020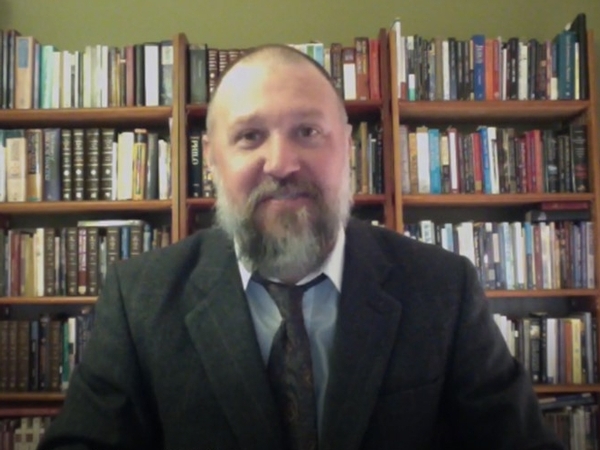 Since 2005, Mr. Nathan Northup has been faithfully teaching Bible at Rockbridge Academy in the upper school. He shares IN THIS VIDEO the heart of why we teach Bible at Rockbridge Academy. More than Bible knowledge, our desire is that each and every student would see and know and love Jesus, our Savior, and that they would be able to evaluate their whole range of life experiences in light of the Scriptures.
November 10, 2020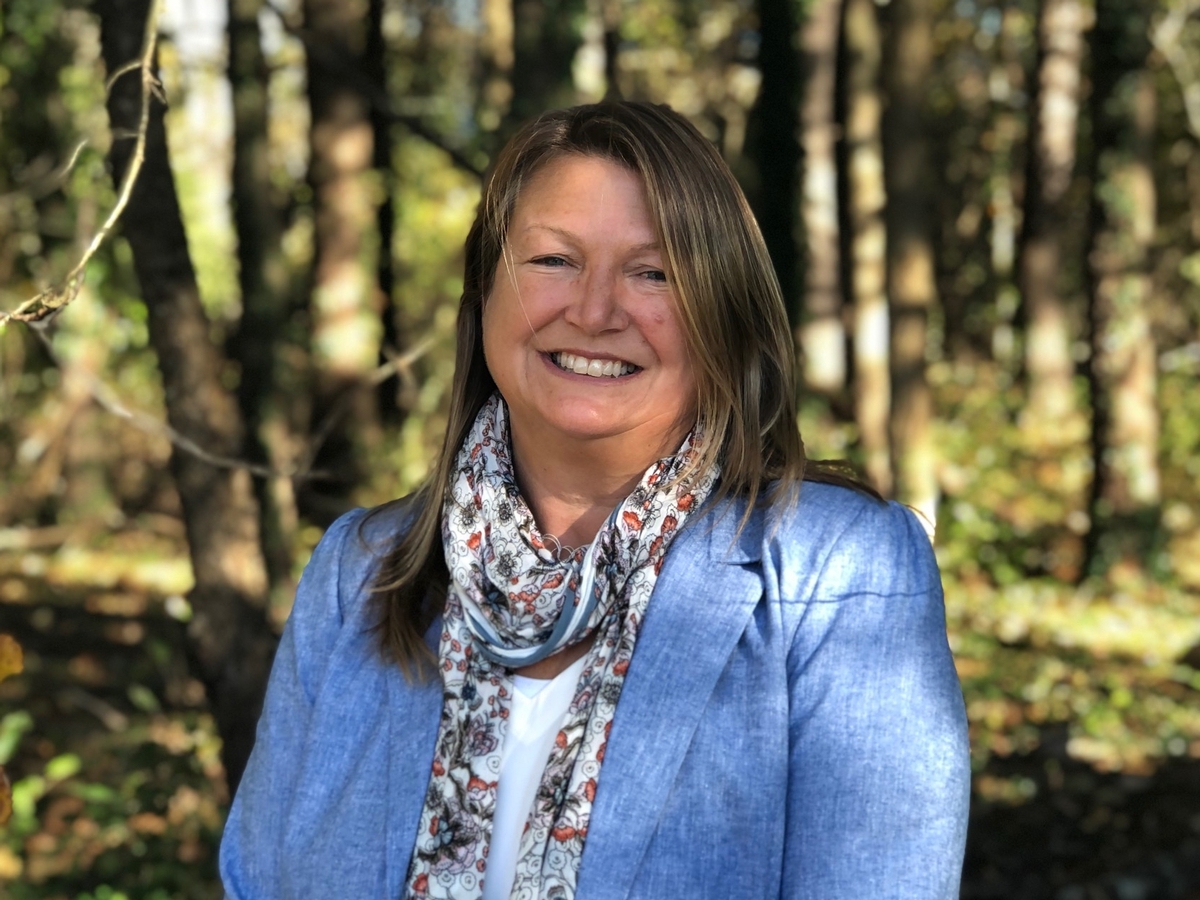 Mrs. Kim Williams is never without a mission. Whether she's piloting airplanes, teaching medieval history in a 4th grade classroom, or raising her three children, she approaches her duties with determination and humility, giving God control of the cockpit. Many of us have benefited from her time teaching at Rockbridge—first 4th grade, now 10th grade Bible. But before she ever graded our papers, she served in the United States Air Force.
Mrs. Williams joined the Air Force when a recruiter came to her high school. Not only was joining the military a way to pay for college, but it offered her a chance to see the world and serve her country. She served 23 years total, 10 on active duty.
While on active duty, Mrs. Williams participated in several missions, but she especially remembers piloting the KC-135, "which was basically a big gas station in the sky," she said. It flew in a circle at a fixed location waiting for planes to refuel. Sometimes, these planes would meet from two different Air Force bases across the country. Mrs. Williams described this meeting of two airplanes connecting mid-air in the same piece of sky as "a controlled collision."
When she first became a mother, she left active duty and joined the Air Force reserves. During this time, she worked at various military bases, including Andrews Air Force Base and even the Pentagon. While at the Pentagon, she worked in the "Lessons Learned" office, where the Chief of Staff sent her team to various active duty units to interview soldiers who experienced an event or were part of a project that had remarkable mission impact. Gathering and publishing lessons like these could then educate or benefit the rest of the Air Force. "Maybe there was a big success story in a unit," she explained, "and he might say, 'Go capture why this was such a success. What made it a success?'" Along the way, Mrs. Williams learned her own lessons.
"Being in the military gave me confidence to try something new," she said. "You're always having to do something new. You just say, 'Here I am, let's figure it out.'"
While still in the reserves, she was called on an additional mission—teaching—a job she approached with the same can-do attitude. When she brought her daughter, Sarah, to Rockbridge Academy, she became interested in the Rockbridge mission. "I watched the teachers and how they had such a big influence on the young people they served," she said, "and I thought, 'Wow, this is a pretty neat mission, and I want to be a part of it.'"
At first, she thought she'd teach in the upper school. But when Mr. Mike McKenna, former Rockbridge headmaster, told her she'd teach 4th grade, she thought, "What in the world?" However, she soon came to love the age. "I love how they love you," she says. "They're not self-conscious, they're just themselves. So, when Jesus says come to me like little children, this might be what he means, to come with hearts wide open, humble, and beautiful."
Mrs. Williams taught 4th grade for 9 years. This past year, she transitioned to teaching the 10th grade Bibliology and Hermeneutics class. She taught many of her current 10th grade students when they were in grammar school, "so they know I'm crazy already," she laughs. Despite the age difference, she hopes to integrate aspects of her 4th grade Bible curriculum into the 10th grade lessons, primarily using the book of Isaiah. Since Bibliology focuses on ideas, Isaiah will help her refer to tangible examples of those ideas. "God must have done that," she said. "He puts these things on your heart."
"It brings me a lot of joy to help people in the next step of their journey," she said. "To watch people grow was more fun than flying airplanes, which perhaps not a lot of people would say."
Mrs. Williams doesn't fly airplanes anymore, but she still aims high. "Be ready for adventure," she advises students. "Have a positive attitude in the midst of it, and be flexible, and have eyes to see those around you." Though no longer serving in the Air Force, she's still serving the Rockbridge community, and her unstoppable mission remains: pointing students towards the Lord.
Mrs. Williams graduated from the United States Air Force Academy in 1993 and reported to Pilot Training at Vance Air Force Base that same year. She met her husband, David, in Pilot Training, and they were married in 1997. Navigating her own life in Christ, raising three beautiful children, returning to school for a masters degree in Biblical Studies, and serving in and out of the military in varied careers over 23 years of marriage has been both challenging and fulfilling. For Mrs. Williams, soaking in and teaching God's Word during these years has been one of her greatest joys.
October 01, 2020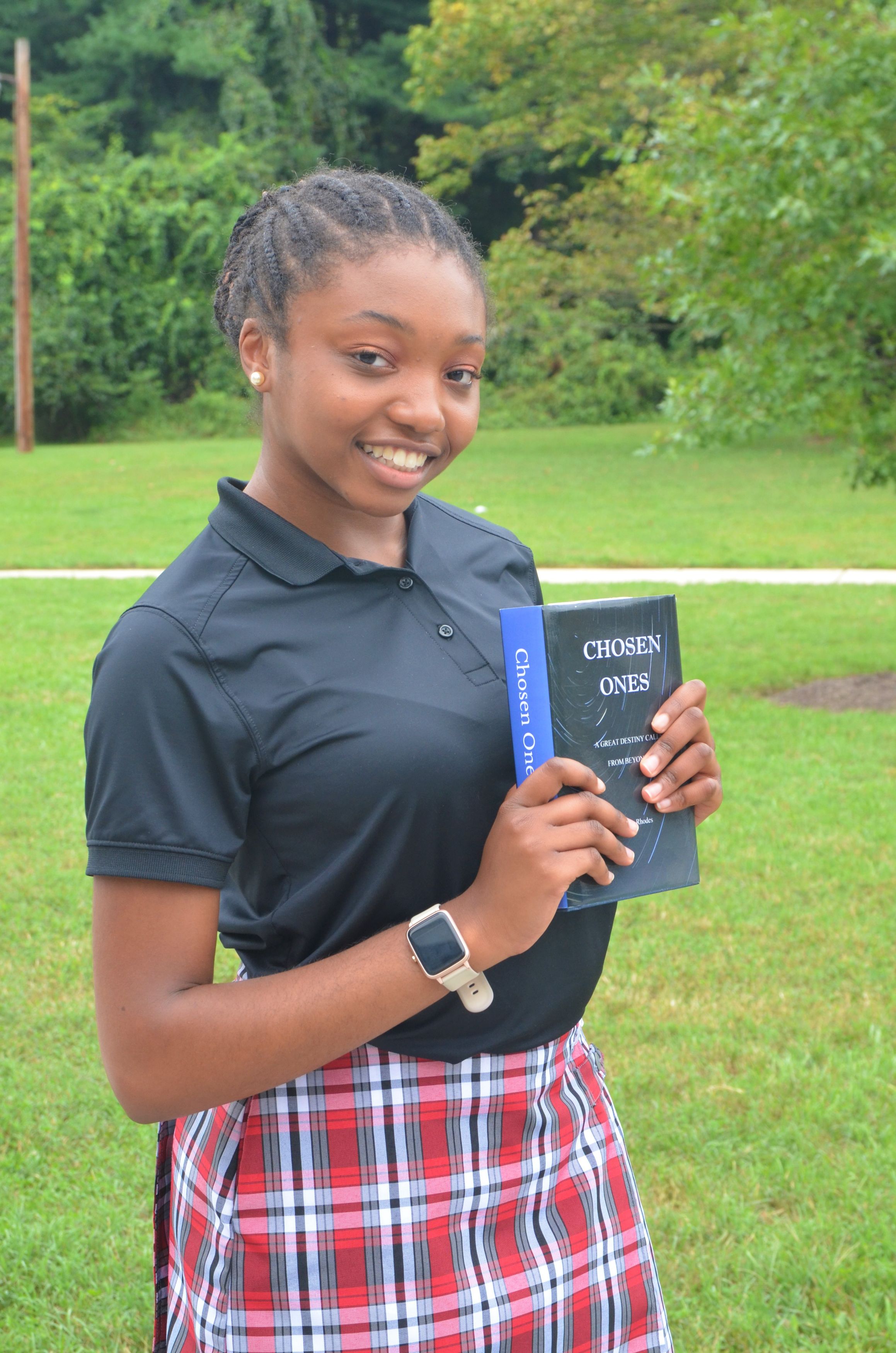 In May 2020, Ivanna self-published her first book, Chosen Ones. This fantasy fiction novel is now available to the public on Amazon and at Barnes and Noble. The road to getting her first novel on the shelf was not easy or straightforward, but it was a rewarding process nonetheless. I interviewed Ivanna about the process of writing Chosen Ones and how Rockbridge Academy influenced her ability to achieve this goal.
What was the process of writing and publishing Chosen Ones like?
"Publishing a book is not an easy process. After you finish writing something, in order to protect it from infringement, you have to get it copyrighted with the US copyright office so you can have all of your intellectual property protected. After that I started looking for an editor to edit it because I wanted to make sure it was completely fine before I started to put it out there. My editor is actually a former graduate of Rockbridge [Catherine Roshner], and she herself is an author with a major in English, so she knew what she was doing. My violin teacher knew her and recommended her to me and me to her, and so she took my first draft, and she did it in a month; she did content and grammar and style, all of that. She gave me her comments and I went from there. When I went to turn in my second draft to her though, she was unable to do it due to her own job, and so I decided that I would have to self edit. So I ended up doing an extra twenty-four drafts, all self edited, so it took a total of twenty-six drafts and it was only then that I was like, 'okay, I think I can publish this.'"
How has your time at Rockbridge influenced your ability to write a novel?
"I always thought that I was an okay writer, and then I got to dialectic and Mr. Head's writing class. Structured writing has not always been my thing, because with fantasy you can pretty much do whatever you want and no one will care, but with structured writing there are guidelines you must stick to. But it has been helpful because learning the right structure, even though it's not always necessary in the realm of fantasy fiction, is still a very good skill to have and it is a skill I did not have. Literature classes and writing at Rockbridge has improved my strengths in research and in grammar and style."
Is there a message or moral in Chosen Ones that you want your readers to take away?
"There are several messages and morals that I tried to bring out in Chosen Ones. One of the biggest is the theme of redemption. The idea that even those who have gone wrong can be turned back to the good side."
How has your time at Rockbridge influenced the moral of your novel?
"At Rockbridge we read a lot of books that are fictional but have underlying moral themes like A Tale of Two Cities, or Macbeth, or stuff like that. So the moral was influenced by the fact that I started paying more attention to how the authors would hide the underlying moral value of their story underneath the fictional aspect of it. That definitely influenced the moral, especially how to do it in a way that it is clear, but also flowed well with the story."
What would you tell someone trying to finish a book?
"Commit! You have to commit to finishing a book. Because it's on the shelf it looks like it was easy, but it wasn't. You must commit and you must be willing to go through both the hard and the easy in order to make it to the end. I know for me there were a lot of times I wanted to give up, I was like 'this is too hard, I don't even know what I am supposed to do.' But I was like, 'I've come this far and it would be a shame to stop because I quit.'"
Is there anything else about you or Chosen Ones that you would want people to know?
"Chosen Ones probably would not have gotten finished if it hadn't been for my back surgery which I had the summer of 2019. It was a major surgery, I was on bed rest for six weeks. Because of all that downtime I had, I was able to get a huge chunk of it done. I had not been able to find time to do it before, so because of that I was able to do a lot of writing. I feel like if I hadn't then it would probably still be in process today. So that was a huge blessing, and I am very glad for that time I had to finish it."
July 31, 2020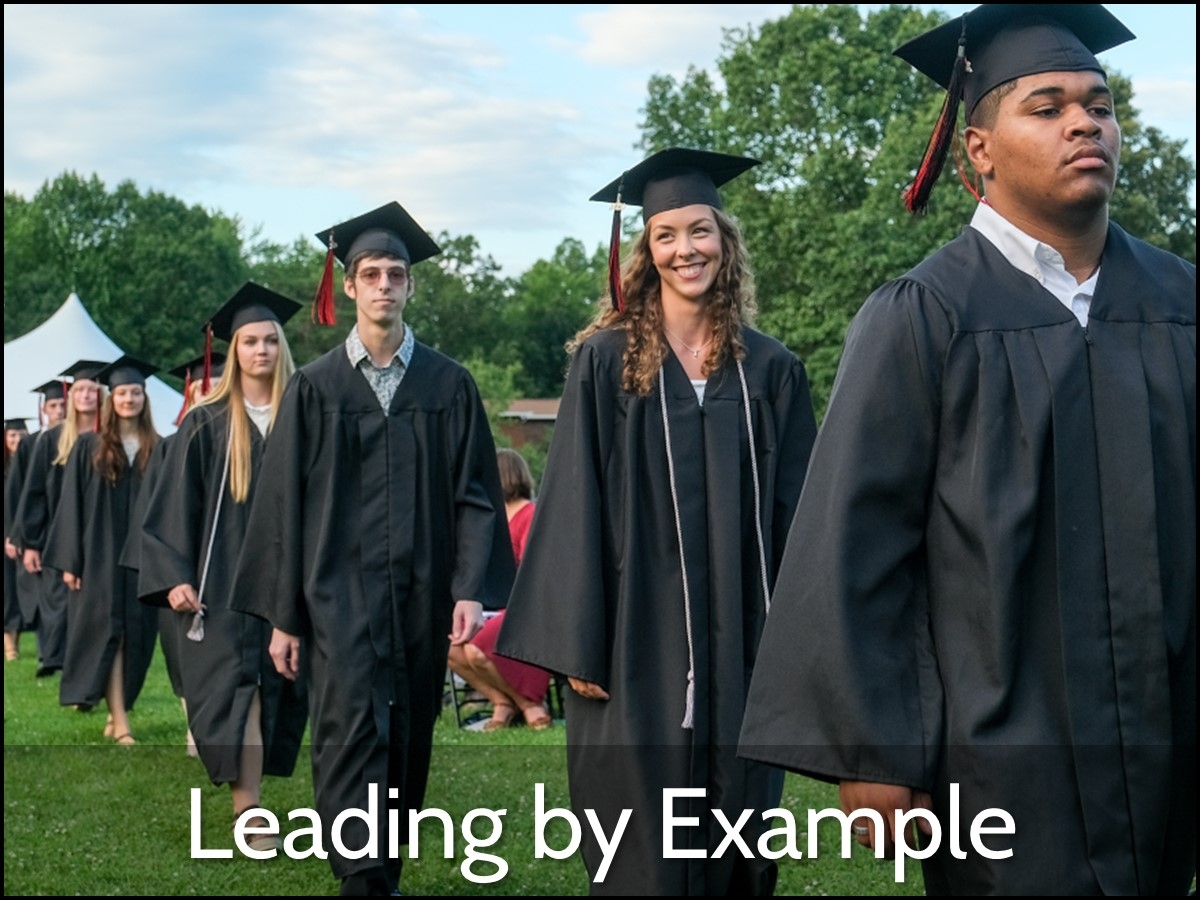 I was sitting outside in mid-July watching the first ever outdoor Rockbridge Academy graduation when it hit me. The young men and women in caps and gowns, that I had grown so accustomed to having around, weren't seniors anymore. They were graduates—off to start a new chapter in their life, likely far away from Rockbridge. As the school year approaches, the idea that the class of 2020 won't be there is becoming all too real. And, as a rising junior, watching this class graduate made me realize how I want to graduate: having made an impact, a difference in the lives of those I will leave behind. It was a privilege to watch this class graduate because they have done just that. This fall, the class of 2020 will be gone, off to do God's will elsewhere, but through their exemplary leadership, they left behind lessons in love, joy, and faith that won't be forgotten.
This class taught me much about how to love one another in a Christ-like manner. Their constant encouragement and support of one another is a great example of how to be a good friend. When my brother, Zach, tore his ACL, I watched his classmates come together and support him by praying for him, visiting him after surgery, and encouraging him through a difficult time in his life.
Not only was this class a tight knit bunch who cared strongly for one another, they poured out this love on younger students. As a new student at Rockbridge this year, I barely knew anyone, but on the first day of school multiple seniors went out of their way to get to know me. I stepped out of my car and was immediately welcomed by Lauren Bailey who later took the time to follow up with me at lunch. There was not a day that went by in which I didn't see a senior assisting someone else. Whether that was giving rides between campuses or to events, sharing helpful advice, or just being someone to laugh with, they were there and eager to serve. Their leadership in events such as FCA, sports, and clubs will surely be missed; but they have left me with a deeper understanding of how to love one another in Christ.
Radiant, abundant joy exuded from the class of 2020. On any given day you could hear laughter pouring into the halls from either twelfth grade homeroom. They kept laughing through quarantine in their late night zoom calls where they shared jokes and showed off their pets. These graduates brought their joy wherever they went, but that isn't to say they were never serious; I have watched them tackle difficult tasks with persistence, carry each other's burdens, and deal with important matters discerningly. At the 2020 March for Life, Rockbridge's group got separated into multiple small groups, many of which didn't have adults in them. I witnessed the seniors take charge, letting people borrow their phones, offering to wait for parents with younger students, and leading everyone in making a human chain in order to get to the metro station across the march without losing anyone. I am continually inspired by this class's ability to be hardworking and dedicated while still being able to laugh and have fun. This kind of joy is infectious and their laughter and smiles brightened Rockbridge. This class has shown me how to find the joy in every circumstance and share it with those around me.
Each graduate's faith was highlighted through their demonstration of love for others and uncircumstantial joy. During quarantine, this class kept our FCA bible studies alive by way of Friday morning zoom calls. Ryan McDowell, Alex Lawing, and Jillian Schwartz led us through Phillipians and 2 Timothy where they explained God's word and applied it to our lives while many other seniors offered valuable insights. This class has always been ready and willing to share their own stories in order to help or inspire others. My faith has been strengthened in indescribable ways from my time at Rockbridge, and these graduates have played a huge part in that. I am sad that their continual example won't be around anymore, but I couldn't be more grateful for the ways in which their faith has ministered to me.
This class has made a tremendous impact on myself and many other students. As a rising junior, my class will soon be in a position where we too can make an impact on the other students. Being an example is a responsibility that should not be taken lightly, and I am so thankful for the example of the recently graduated class. They taught me to never be too busy to help someone out, to take the time to enjoy the wonderful gifts God has given me, and to trust in the Lord for my future. I want to graduate having taught these lessons to the classes that come after me. This class will be missed deeply. However, after seeing and cherishing the effect they had on Rockbridge, I know they will continue doing great things for the Lord wherever they go. So, while Rockbridge won't feel quite the same without them, their influence in how to love like Christ, be persistently joyful, and have a faith that can move mountains, will live long after they leave.
Olivia‌ ‌Reardon,‌ ‌'22,‌ ‌loves‌ ‌to‌ ‌write‌ ‌and‌ ‌can‌ ‌usually‌ ‌be‌ ‌found‌ ‌reading‌ ‌a‌ ‌good‌ ‌book.‌ ‌She‌ ‌is‌ ‌part‌ ‌of‌ ‌a‌ ‌dance‌ ‌company‌ ‌and‌ ‌enjoys‌ ‌spending‌ ‌time‌ ‌with‌ ‌friends‌ ‌and‌ ‌eating‌ ‌ice‌ ‌cream.‌